Coi Leray & Nicki Minaj: 'Blick Blick' Meaning and Lyrics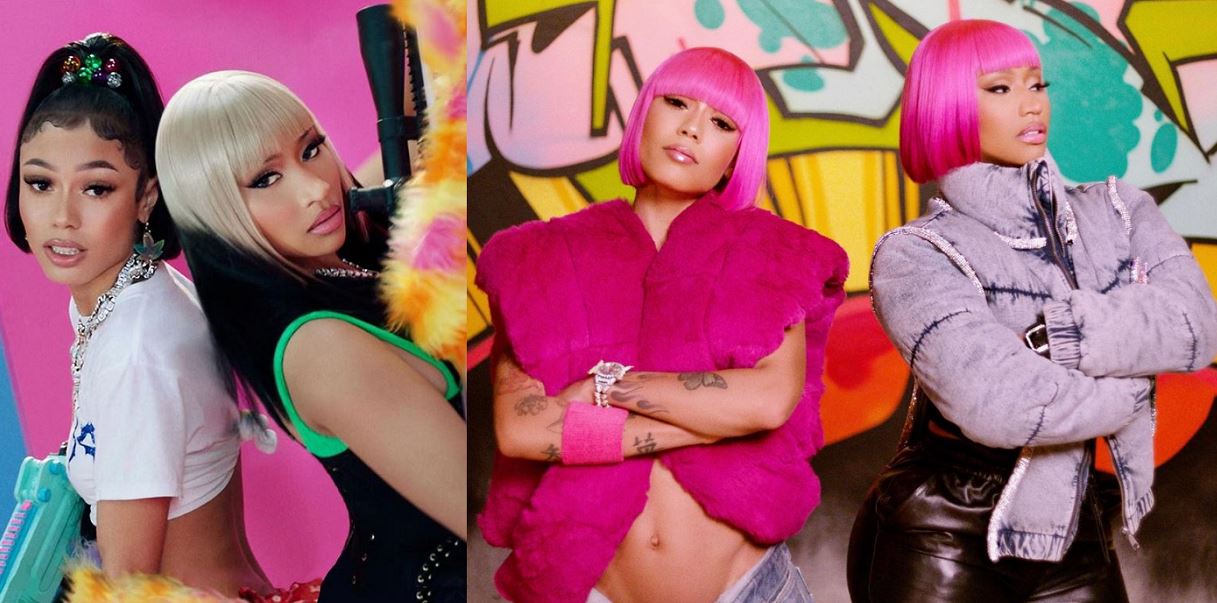 Coi Leray and Nicki Minaj collaborate on a new song titled, Blick Blick and its fire. What is the meaning of Blick Blick and the lyrics?
There has been a lot of drama surrounding the two music stars. You can read up Here.
"I did pull it. but the label hit me going hard. But rlly I had a private convo w|coi & that's what changed my mind. Not the label." Nicki wrote on Twitter after she changed her mind.
"I just felt bad that she was robbed of telling the world in her own way @ her own time. But that's water under the bridge now. Good vibes all 2022".
She added: "And no you won't be able to learn the verse right away so don't try. Breath control. Breathe. Meditate. Diction exercises. Do that for the next 4 days. Then maybe. but I can't make any promithis promithis promithis #BlickBlick 3.18.22".
After all the whole dispute, Nicki finally featured in the music.
Blick Blick Meaning and Lyrics
Blick has different meanings but in this context, it actually means to "Bust Open". If you have a different idea you can use the comment section below.
Check out the Lyrics Below;
I said, "Uh, push it, push it, click-click"
Yeah, pop up on a opp and watch it blick, blick
Yeah, uh, push it, push it, click, click
Yeah, pop up on an opp and watch it blick, blick

Yeah, want a bad b***h like me? Keep on wishin', baby (Keep on wishin', baby)
Bust it open, first you gotta kiss it, baby (Bust it, gotta kiss it, uh)
Yeah, want another ni**a, I go fishing, baby (I go fishing)
Yeah, I never let these broke ass ni**as fix me, baby (Never let these niggas fix me, baby)
Yeah, I hop on top and ride that d**k, he actin' lazy
Get this p***y soakin' wet, it's drippin' like a navy
Yeah, yeah, I call him big daddy, he call me lil' baby (Uh)
They know I'm the shit, I need some tissue, baby
Ayy, hold up, hold up, hold up
All these diamonds different color, color, color
I done ran up all these commas, commas, commas
Eat the cookie like a Nutterbutter-butter-butter
Lick this p***y like just fa-la-la-la-la
Island ting, she a Bahama mama, mama
Do whatever for a dollar, dollar, dollar
Gucci snake up on my collar, collar, collar
F**k that nigga, never gave that boy my number

[Chorus: Coi Leray]
Uh, push it, push it, click, click
Yeah, pop up on an opp and watch it blick, blick
Yeah, uh, push it, push it, click, click
Yeah, pop up on an opp and watch it blick, blick
I said, "Uh, push it, push it, click-click"
Yeah, pop up on a opp, watch it blick, blick
Yeah, uh, push it, push it, click-click
Yeah, pop up on a opp, watch it blick, blick

Ayo
Hoes ain't f**kin' with Barbie (Brr)
Tae did my pink, Bob Marley (Brr)
I got a whole army, ask Charlie
Pull up with a killer, he the Joker, I'm Harley (Brr)
Wrist on chunky Barbie (Barbie)
Me Onika Tanya (Tanya)
All these PR stunts, but b**h, you ain't Puertorriqueña ('Queña)
Fresh 'do, guess who? Drip, need a wetsuit
One and the two, give a f**k about the next few
Step one, cross me, there won't be a step two
Come through with some b***hes that's bad
They gon' step, too
Every n***a tryna pop, ain't the next Woo (Oop)
Don't run up in my DM, R.I.P. to X, too (Ooh)
Check who?
N***as'll really spin your block if Queen send a text through
Textin' with Jeff Bezos (Bezos)
'Bout to cop new Dracos (Dracos)
Opps is on the block, we 'bout to spin it like tornadoes ('Nadoes)
I'm 'bout to put some Louis seats inside my Lambo' (Lambo')
You-you know you bad when you can pose from any angle (Angle)
He said he upgraded, L.O.L., did you really? (Really?)
Well, I just turned Mr. Patek into Richard Millie
Ayy, hold up, hold up, hold up
All these diamonds different color, color, color
I'm the leader b***hes follow, follow, follow
I created this shit, Tyler, Tyler, Tyler
Grab his mic and sing it, fa-la-la-la

Uh, push it, push it, click, click
Yeah, pop up on an opp and watch it blick, blick
Yeah, uh, push it, push it, click, click
Yeah, pop up on an opp and watch it blick, blick
I said, "Uh, push it, push it, click-click"
Yeah, pop up on a opp, watch it blick, blick
Yeah, uh, push it, push it, click-click
Yeah, pop up on a opp, watch it blick, blick