Nigerian Lady caught and beaten after fake bank alert & transfer scam in Edo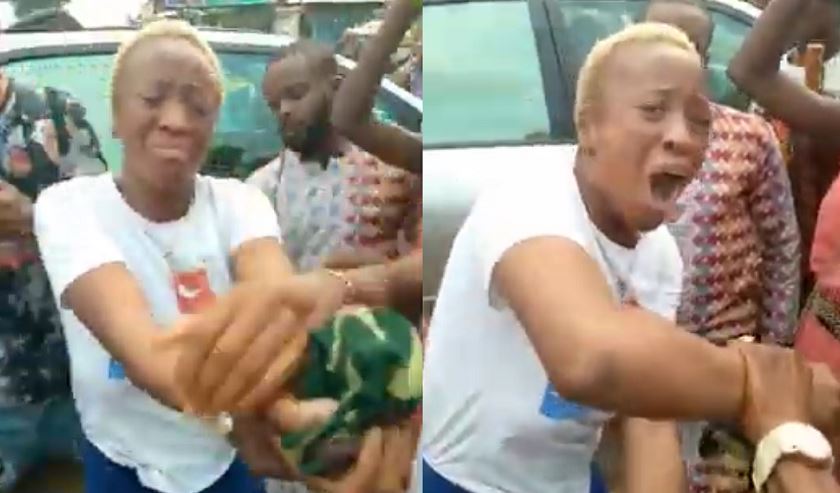 A unidentified Nigerian lady was caught in Edo State after she performed a fake bank transfer/alert scam on an individual in Benin city, Edo state.
"Na fake transfer, hee no con show for the account when he reach bank", The lady pleaded as she was beaten by angry mob.
This is reportedly the second time she was caught in the fake bank alert scam.
Watch video below:
WHAT REALLY HAPPENED
On Wednesday, The slayqueen was caught buying items worth three thousand naira (N3,000) with a fake bank alert.
It was gathered that the lady went into a store and purchased an item. When asked to pay, she requested to use bank transfer. She was given the account details and after some minutes, she presented a message on her phone telling the shop owner that she had been debited.
However, luck ran out of her when the shop owner checked his balance, and discovered that the money did not reflect in his account despite the alert. There was a brief argument between the customer and the seller, with the lady insisting on leaving the shop with the items. She told the seller that the delay in the transaction was from his end, as she had received her own alert.
When some onlookers approached the duo, it was discovered that it was same girl who had been caught in the act of paying items with fake bank alert twice before that day but pleaded for her dear life and was pardoned. This forced the onlookers to pounce on the lady who admitted carrying out a fake transfer for the shop owner.
The lady is reportedly a former student of the Benson Idahosa University, in Edo.