#Endsars Journalist found dead: Who is Pelumi Onifade?
Nigerian journalist, Pelumi Onifade found dead in Ikorodu Mortuary.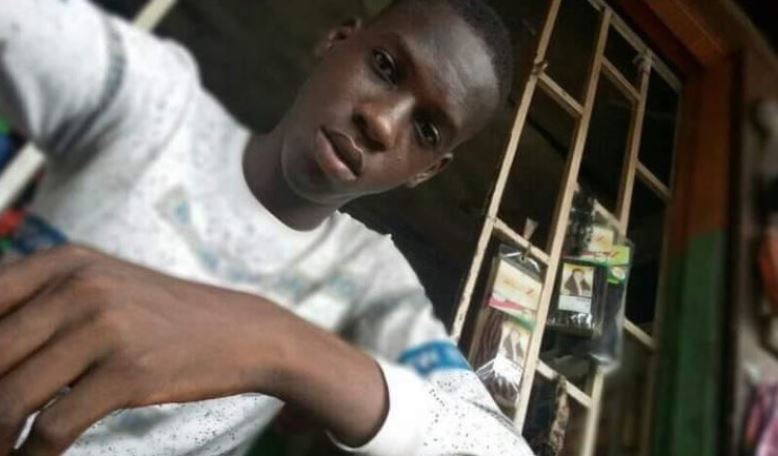 A Nigerian journalist, Pelumi Onifade , 20, who recorded politician Abiodun Bolarinwa shooting at unarmed protesters has reportedly been found dead.
Before his death he was arrested by the Lagos State Task Force, reports said. #JusticeforPelumi trends on Twitter as Nigerians call for the justice of 20-year-old Pelumi.
On Tuesday, October 20, Comrade Abiodun Bolarinwa was videoed shooting into the air after he was denied a public address in Abule egba area of Lagos. The angry politician came from his vehicle and shot multiple times into the air — two people reportedly died from the gunshot according to eyewitness.
How Pelumi Onifade was killed by Lagos State Taskforce and found dead in Ikorodu Mortuary.
Reports reads:
On 24th of October 2020, there was a crowd in a compound at Oko-oba, Agege. Onifade Pelumi and his colleague were sent as media personnels to know what exactly was going on in that area.
During an interview with the residents, Taskforce Officers came with cutlasses, throwing bottles and shooting live bullets as they attack the crowd. Out of fear, the crowd including Onifade Pelumi ran for their lives. In a short while, his colleague saw that Pelumi Onifade had already been injured and was being carried by 4 Taskforce Officers into their Van(Black Maria).
His colleague tried to defend him showing his ID Card and making them understand that he was putting on a GBOAH TV jacket, they threatened him with a cutlass and cocked their Gun at him.
A thorough search was conducted from Police Stations to Prisons all over Lagos state for 4days (Saturday 24th to Tuesday 27th) after which a 'Missing Person' Graphics was shared across all social media platforms to aid the search of Onifade Pelumi which went viral.
That same evening of Tuesday 27th of October, the head of Taskforce Lagos State called, saying he saw the post, and they agreed to meet on wednesday 28th of October at the State Headquarters, Ikeja, After the meeting with task force, the officer that led the squad said that they arrested 5 people at the Ministry of Agriculture Abattoir, Oko-Oba, Agege, but 1 person died and they have dumped his corpse at Ikorodu Mortuary.
They scheduled a meeting for Thursday to confirm if his name was in the list of those arrested, If not they will go to the mortuary at Ikorodu to confirm. Due to the public holiday on Thursday the appointment was rescheduled for Friday.
On Friday Morning they got to Ikorodu and behold it was Pelumi Onifade's Corpse.
20-years-old Pelumi who was the bread winner of his family, had 2 junior sisters and was a member of the Boys Brigade.
Some Nigerians submitted a petition against Mr. Abiodun Bolarinwa to the CP, Lagos for the shooting and killing of protesters during the #EndSARS protest.