Credit One Bank Online Banking Login | Credit Card Online Account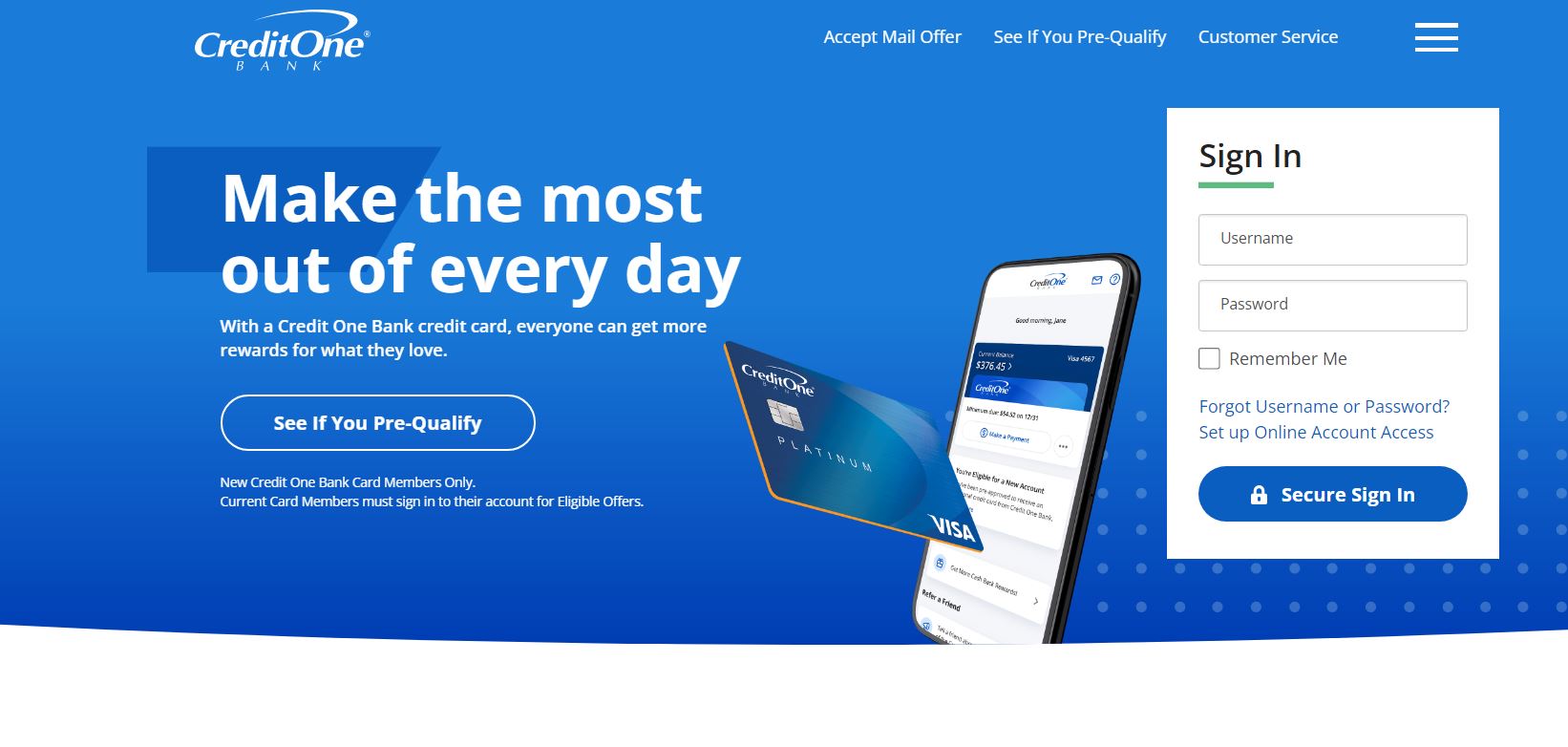 Given the stringent measurement technologies used to construct credit scores nowadays, maintaining a decent credit score is a difficult task. It may seem counterintuitive to have more credit cards in order to increase your credit score, but it is true!
Credit One Bank specializes in credit card services and may help you improve your credit score by promptly entering data into three credit score databases when you pay your bills.
Furthermore, if you sign up for their card, they will provide you with a myriad of deals and incentives. It's a simple card service that puts all of the control in your hands thanks to their IOS and Android apps.
Continue reading to learn more about this unique credit card experience.
Log in Credit One Bank Online 
The most significant benefit of having a Credit One Bank account is that you can access and manage it on the move by registering an online account and downloading their IOS or Android phone app. You can pay bills, check statements, manage your account, and much more once you have access.
Follow these steps to get your online log-in:
Visit creditonebank.com.
A blue tab titled "Set up online account access" can be found under the sign in tab under "Online Account Access."
When you click on it, you will be sent to a new page where you will be asked to fill out a few fields.
Fill in your card number, expiration date, security code (3 or 4 digit number on the front or back of your card), and Social Security number. Continue by pressing the enter key.
After that, you'll be prompted to provide basic information, a user id (which must be at least 8 characters long), and a password (min 8 char with one upper and lower char). This user ID and password will be used to access the web portal in the future. Continue by pressing the enter key.
A few security questions will be posed to you. Make sure you put anything in there that you will remember but that trespassers will have a hard time guessing. When you're finished, click submit to complete your Credit One Bank Online Log in.
Now enter your new user id and password and sign in. By sending an OTP to your phone or email – ID, you will be prompted to authenticate that it is you. You can choose to bypass this step each time you log in by clicking on remember this device.
You may now log in to your Credit One Bank account using your user ID and password by downloading the Credit One Bank app from the App Store or Play Store. This allows you to access your account at any time and from any location without needing to use a computer or laptop.
The advantages of having this login are numerous; just make sure you safeguard it with a strong password and never use an untrusted device to check-in.
About Credit One Bank 
Credit One Bank is a financial services company established in Las Vegas, Nevada that specializes in credit card services and offers them throughout the United States. They are a wholly-owned subsidiary of Credit One Financial, a S Corporation that has partnered with Sherman Financial Group. Credit One Bank is governed by the CEBA National Bank Charter, which prohibits it from offering depository services, limiting it to just credit lending.
They are a data-driven and technology-driven company that offers a variety of credit card options to assist you to improve your FICO credit score. They currently offer credit cards from American Express, Master Card, and Visa.
Each card provides you with a variety of perks, including cutting-edge security, practical benefits, and helpful features. Credit One Bank has a corporate connection with NASCAR, the Big 12 Conference, and the Vegas Gold Knights, and these Card members can take advantage of a variety of incentives.
Credit One Bank serves over 10,000,000+ Card members and has 9,500,000+ downloads for their mobile app, according to current data.
History of Credit One Bank 
Credit One Bank was founded in 1984 as the First National Bank of Marin in California. As a full-service bank, they offered a wide range of services to their customers back then. Moving forward, by 1995, they had narrowed their focus to a few key sectors, including partially and fully secured credit cards.
This is how the top Credit Card company got started. They were given a "limited purpose designation" by the United States Office of Comptroller of the Currency, and they opted to relocate to Nevada about the same time. First National Bank of Marin was granted CEBA status in 2005, and they later changed their name to Credit One Bank, specializing and focusing solely on credit card services. They are currently located in Las Vegas, Nevada, and provide services throughout the United States.
Merits of Credit One Bank 
Cutting Edge Security: Credit One Bank is a technologically advanced organization that gives utmost priority to their customers' security. They use top-notch security measures to protect you from misuse of your card after the theft, secure your data, and counterfeiting. These are Credit One Bank's promises to ensure your peace of mind:

Protection against theft: You can easily report about theft using their mobile application or their customer service number and they will make sure you aren't charged for any fraudulent activities. They guarantee you a "Zero Fraud Liability".
You can feel safe about your card, as the EMV chip technology prevents counterfeiting.
Your data is kept secure with paperless documentation and everything can be accessed through your online bank account. All mails are marked important to ensure no crucial mail is lost in spam.
Rewards and Cashbacks: Credit One Bank has various reward cards that promise you up to 5% cashback on your payments. It is big merit because it is very rare to come across credit building cards that give you cashback and rewards. Each card has a different reward scheme from cashback on everyday purchases to cashback on all purchases and rewards in specific stores.
Improves Credit Score: Credit One Bank's credit cards are meticulously designed for customers who have a low credit score and want to build it. They do this by updating 3 crucial databases that are used for calculating your credit score, each time you make honor your due payment. The high-interest rate might be a turn-off but that forces you to pay on or before time and hence, improves your payment scores criteria.
They also provide you detailed insights into your Experian Credit Score by giving you a monthly summary and telling you how it changes over a period of time and because of what factors.
According to reviews, Credit One has provided services to people with a credit score as low as 300 (TERRIBLE SCORE!!) and helped them build it to 500 and beyond.  
$300 Credit Line: Usually a minimum credit is hard to decipher because of the extravagant terms & conditions. The majority of the provided minimum credit goes in paying annual expenses and other maintenance charges, but with Credit One's card, you get a for sure minimum $300 Credit which is precisely presented in their Terms & Conditions.
Personal Touch: You can personalize your card and account the way you like. You get various options to choose from for the design of your card (fee may apply), you can prioritize notifications to keep what's important for you on top and furthermore you can fix your payment due date.
On-the-go Access: The Credit One Bank's mobile application lets you manage your account anywhere and everywhere, all you need is their application and internet. You can manage your payment, check your payment due date, check your credit score, make payment using google, apple, or Samsung pay, pay bills, and a lot more using their applications or online portal. 
Demerits of Credit One Bank A/C
Comparatively Higher Interest Rates: The card is meant for people looking to build their credit scores, hence, Credit One Bank feels at greater risk and charges higher than usual interest rates on overdue payments. The higher interest rates also make sure the customers pay on time, as this helps in building a credit score. However, the rates may seem steep to normal credit card users.
Volatile Annual Fees: Well, you do get a few Credit One Bank Credit Cards with $0 annual fees, however, most of them carry an annual charge which is split into monthly payments. The fees go up to $99, but what makes it a demerit is that the fees are not fixed. It varies with your Credit Score, a lower Credit Score would attract higher fees and a higher Score would attract a lower fee. Adding to this, the monthly payment for these fees is another disadvantage, as you might not use the card for a month and assume you have no bill to pay but this annual fee charge creeps up and also charges interest on overdue payment.
Better offers elsewhere: Credit One Bank offers at max a cashback of 5% in their premium cards, which isn't at par with other Credit Card Companies who provide way better and handsome offers at lesser interest rates and annual fees. If you are looking for Credit Card with offers and rewards this isn't definitely for you, but Credit One does provide a deal when it comes to Credit Score building Cards.
3% Transaction Fees: Foreign transactions attract a 3% fee. If you use your card outside the specified vicinity you will be charged a 3% transaction fee. This applies to stores in foreign lands and even online stores which are beyond the country boundaries. So keep note that you cannot do an international trip with this card as it'll attract a lot of fees for usage.
Types of Cards
Credit One Bank offers various card options, you can choose what suits your needs the most. Each card provides different offers, read ahead to understand more about them:
Credit One Bank American Express Card

This card is meant for everyday uses and provides an unlimited 1% cashback rewards on any and every purchase.
Adding to this you also get the American Express Offers and special benefits.
The annual fee is $39 and you must have an average – excellent credit score.

Platinum Visa (rebuild Credit)

This card suits best for everyday purchases as it provides 1% cash back on select purchases.
You get the freedom to set your due payment day and since this is a card for people who are rebuilding credit, you get regular reviews on your credit line.
The annual fee ranges from $0 – $99 based on your Credit Score

Platinum Visa (Reward Max)

This for the shopaholics looking to gain maximum rewards with your credit card. It offers 5% cashback on your initial $5000 purchases and then you get unlimited 1% cashback on all purchases.
You get an additional 10% more cashback on shopping from select partner merchants.
The annual fee is $95 and you must have an average – excellent credit score.

 Platinum Visa (Rewards, no annual cost)

This is to make the most of your credit card, as this has a $0 annual fee and a good reward program.
You get 2% cash back on select purchases and additionally 10% more cashback from partnering merchants.
You must have an average – excellent credit score.

Platinum Visa

Best for earning rewards every day. You get 1% cash back on select purchases and additionally 10% more cashback from partnering merchants.
You get free access to your online Experian Credit Score.
The annual fee is $39 and you must have an average credit score.

NASCAR

This for all those NASCAR fans, as you get 2% cashback in all NASCAR shops and all deals and special rewards from partnering NASCAR merchants.
You also get a basic 1% cash back on select purchases.
The annual fee is $0 – $99 based on your credit score and you can have a rebuilding credit score.

VEGAS GOLDEN KNIGHTS

This is simply meant for Vegas Golden Knights Fans, you get an amazingly designed card to show off.
You will get exclusive deals for the Vegas Knight and 1% cash back on select purchases.
The annual fee is $0 – $99 based on your credit score and you can have a rebuilding credit score.
How to create a Credit One Bank A/C?
There are two ways to get your Credit One Bank Credit Card:
1) E-mail Invite
If you already have a low credit score, there are good chances that you will get an invite from Credit One Bank to open your account.
If you receive such an email, this is what you do-

Head over to creditonebank.com.
Click on "Accept Mail Offer", which is visible on the top bar, or you can click on "menu" (a three-bar icon) and select this option.
Then you will have to enter your "Approval Card" and "Zip Code" which will be present in your mail.
Click "Continue" and follow the required steps.
2) From the website and by writing a letter
If you don't have a mail from Credit One Bank, you can still create your A/C
Head over to creditonebank.com
Click on "See if you pre-qualify" or select a card and click apply.
You will be asked to enter basic personal information and your income. Based on this, Credit One Bank checks if you qualify and then allows you to apply for the card, which is processed after acceptance.
If you do not pre-qualify, you can put up a formal application through mail or post for your preferred card. 
Customer Service
Credit One Bank has a good Customer Service department. They have a 24/7 toll-free number for automated accountant information and to register complaints about the stolen cards.
1-877-825-3242 (toll-free)
1-702-405-2042 (outside the U.S.)
And for Application related information you can contact:
1-800-752-5493 (Monday – Friday – 5:00am to 9:00pm & Saturday – Sunday – 6:30am to 5 pm, Pacific time)
You can also use there mailing addresses for payments, general issues, errors with bill and credit protection.
For Payments:
Payment Services
P.O. Box 60500
City of Industry, CA 91716-0500
For other support:
Credit One Bank
P.O. Box 98873
Las Vegas, NV 89193-8873
For further customer, service details visit: creditonebank.com/customer-service
Conclusion
To summarize, Credit One Bank is an excellent choice for folks who are seeking to rebuild their credit. They are one of the few banks that, first and foremost, provide loans to people with bad credit and, on top of that, offer a variety of benefits!
Yes, their annual costs may appear excessive, especially given the variable pricing based on credit score, but it's a little price to pay for improving your credit. Credit One Bank is here to help you with your low credit score, which can lead to a slew of restrictions and denials. Now is the time to receive your Credit One Bank card!