5 Best Face Swap Video Editor Software For PC 2023 (Updated)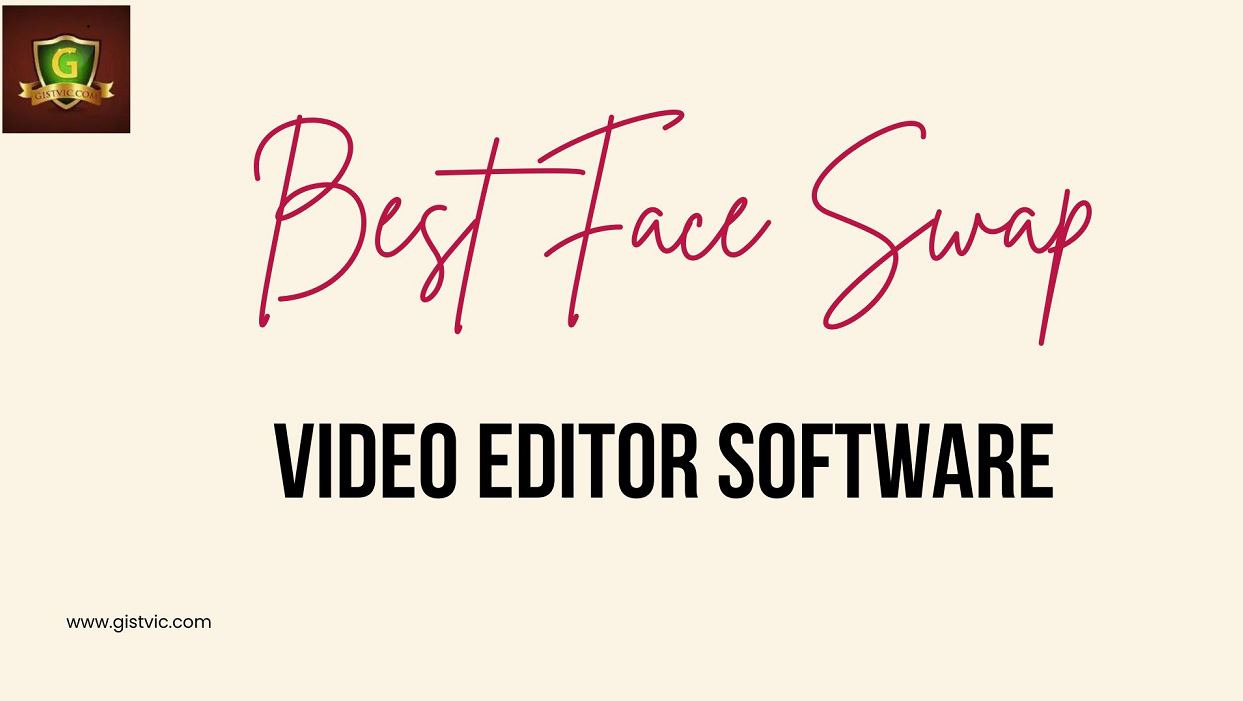 I will be sharing the 5 best face swap video editor software of 2023 for pc that you can choose from and will be right for your business.
Face Swap is a process where images and videos are altered through AI to look like someone completely different.
The Face Swap software can be used by, Influencers, video producers, social media ad creators, online business owners, stock video producers, stock image producers, website owners, and anyone who uses videos or images online.
We are all aware of the enormous time and financial investment required to produce visual content. Photoshop and other video editing software are used by some people.
However, In this article I will go over the best face swap video editor software in the market right now, helping you decide on the right solution for your business.
Let's get right into it.
What Are The Best Face Swap Video Editor Software For PC?
The following are the best face swap video editor software to consider.
1. FaceSwap
With no technical skills, you can create unlimited fresh visual content in minutes with FaceSwap.
Key Features:
Change faces on any human/animation/toon in a VIDEO or IMAGE
One video or image can turn into unlimited content
Quickly create brand new video & image content
Create engaging video & image content with "fun" face swaps
Resell content you create as stock video & images (Commercial License)
Upload and recreate any video or image
Face swap in motion in videos with perfect facial match
Massive library of faces/actors ready for use
Use Creative Commons for unlimited supply of video and images 
Remove the need for professional actors in videos & images
Recreate video scenes with background removal & replacement
Recreate image scenes with background removal & replacement
User Experience:
FaceSwap welcomes new users. No specialized knowledge or learning curve is necessary.
To help you get started, They have instructional videos that walk you through each stage of the software.
Pricing:
The following plans are available with FaceSwap:
Personal $47 (ONE TIME!) – You will be given 15 credits which renew each month.
Commercial $90 (ONE TIME!)- You will be given 40 credits which renew each month + BONUS 10 credits for testing.
Note: There is a 30-day money-back guarantee for FaceSwap. Within 30 days of your purchase, if for any reason you are dissatisfied with FaceSwap, simply send them an email with your refund request, and they will complete your return. support@synthesys.io.
FaceSwap runs on credits. Up to 15 credits for personal use and 50 credits for commercial use may be rendered each month. You will have to wait until the following month to generate additional photographs and videos once your monthly credits have been used up. The following month, your credits will renew for the same sum. There won't be any credit rollovers.
Check out: How To Swap Face on Faceswap Software
2. Photoshop
You can also use Photoshop for face swap.
Photoshop supports masks, alpha compositing, and a variety of color models, including RGB, CMYK, CIELAB, spot color, and duotone. It can also edit and compose raster pictures on numerous layers.
To accommodate these functionalities, Photoshop employs its own PSD and PSB file formats. Photoshop has limited capabilities for editing or rendering text, vector graphics (particularly using clipping path for the latter), 3D graphics, and video in addition to raster images. Plug-ins, applications created and released separately from Photoshop that run inside of it and provide new or improved features, can expand its feature set.
Key Features:
Design posters and print ads with an artistic eye
Retouch and remix your pics
Your go-to for Instagram-gorgeous graphics
Build a following and a brand with photoshop edit
Cylindrical transform warp
Emoji shorthand support for in-app commenting
User Experience:
Photoshop has a good user experience.
When Photoshop is launched, a sidebar with numerous tools with various image-editing features pops up to the left of the screen. Generally speaking, these tools can be divided into the following categories: drawing, painting, measurement and navigation, selection, typing, and retouching.
The toolbox icon for several tools has a tiny triangle in the bottom right corner. Expanding them will show related tools. Several recurrent tools that are present in all versions of Photoshop are covered below, even if subsequent versions of Photoshop are upgraded to include new tools and features. In some more recent versions, hovering over the tools displays a brief video demonstration of the tool.
Pricing:
Photoshop is a part of a number of Creative Cloud subscription programs. It is available for standalone app purchase for US$20.99/month or annual billing for US$239.88/year.
Check out: How To Face Swap on Photoshop (Easy Way).
3. Davinci Resolve
In a single software program, DaVinci Resolve combines editing, color correction, visual effects, motion graphics, and audio post-production. Its sleek, contemporary interface is simple for beginners to use and quick to master while still being strong for experts.
DaVinci Resolve eliminates the need to master numerous apps or switch between different pieces of software, allowing you to work more quickly and with higher quality. This implies that you can use photographs captured by the camera in their original quality throughout the procedure. With only one app, it's like having your own post-production studio! The best part is that by studying DaVinci Resolve, you'll be able to use the same equipment that experts in Hollywood do!
On the DaVinci Resolve software for Windows, MacOS, and Linux, you can swap faces. It is a potent video editing program that provides all necessary and some sophisticated video editing capabilities.
Key Features:
Edit – The world's fastest andmost advanced professional NLE.
Cut – Designed for editorsto turn around work fast!
Color – Hollywood's favoritecolor corrector!
Fusion – Cinematic quality visualeffects and motion graphics!
Fairlight – Professional toolsdesigned for audio post production
Media and Delivery – Incredibly wide formatsupport, finishing and mastering
A significant update, DaVinci Resolve 18 offers cloud-based workflows enabling a brand-new method of remote collaboration. Using Blackmagic Cloud, you can host project libraries and allow users from all over the world to work together in real time on the same timeline.
User Experience:
The "pages" of DaVinci Resolve each provide a dedicated workspace and tools for a particular activity.
Editing is done on the cut and edit pages, visual effects and motion graphics on the Fusion page, color correction on the color page, audio on the Fairlight page, and media organization and output on the media and deliver pages. All it takes is a single click to switch between tasks.
Also, DaVinci Resolve also a Speed Editor also Editor keyboards.
Since you can use both hands simultaneously, DaVinci Resolve keyboards are a speedier alternative to using a mouse for editing. The DaVinci Speed Editor features dedicated edit function keys on the left and a high quality search dial with electronic clutch and transport controls on the right.
DaVinci Resolve Speed Editor  is at $395 and DaVinci Resolve Editor Keyboard is at $595.
Pricing:
You can DaVinci Resolve for free or get the DaVinci Resolve Studio at $295.
Check out: How To Face Swap on Davinci Resolve Software.
4. Shotcut
Shotcut is a free and open-source, cross-platform video editing app for FreeBSD, Linux, macOS and Windows.
This video editor is functional on Windows, MacOS, and Linux operating systems. This software contains all the tools you need to replace a face in a video with a static face image.
Key Features:
Wide Format Support
Audio Features (Audio mixing across all tracks, Tone generator, JACK transport sync, Audio scopes among others)
Video Effects (Deinterlacing, 360° Video Filters, Eye dropper tool among others.)
Editing Features (Multitrack timeline with thumbnails and waveforms, Keyframes for filter parameters, 3-point editing among others)
Cross Platform & Codec Independent
Display and Monitoring
Hardware Support (Webcam capture, AMD, Intel, and NVIDIA hardware encoding, OpenGL GPU-based image processing with 16-bit floating point linear per color component among others)
User Experience:
Via FFmpeg, Shotcut is able to support several image, audio, and video formats. For non-linear video editing of numerous tracks that could be made up of different file formats, a timeline is used. Multiple video and audio filters are provided, and OpenGL GPU-based processing aids in scrubbing and transport management.
Pricing:
Shotcut is free for download. Shotcut at Microsoft US is at US$9.79.
Check Out: How To Face Swap on Shotcut Software.
5. Videopad
NCH Software created the video editing program known as VideoPad Video Editor (sometimes known as just VideoPad). The VirtualDub plug-ins that are compatible with the program complete it.
WavePad, MixPad, and PhotoPad, three sound-editing, sound-mixing, and image-editing programs, are all integrated into VideoPad.
With this software, you can swap face by replacing a video character's face with a static image of another character.
Key Features:
Stunning Video Transitions and Effects
Pure Digital Audio Tools
Complete Video Optimization
Share With Family and Friends
Smooth Transitions
Nice Video Templates
Easy ways to stabilize your videos
User Experience:
Videopad has Easy-to-use video editing tools for enhancing and professional tools for creating videos.
Pricing:
Videopad is free for download. It also has premium versions at:
Master's Edition (All features unlimited audio tracks and plugins) – $49.99
Home Edition (Fully featured, but allows only two audio tracks and no external plugins) – $24.99
Master's Edition Quarterly Plan (Unlimited ongoing use of all professional version features and all upgrades billed $11.64 quarterly) – $3.88/mo.
Check out: How To Face Swap on Videopad.
What is Deepfake?
Deepfakes have been around for sometime.
Deepfakes is when a person in an existing image or video is replaced with someone else's likeness.
Deepfakes use potent machine learning and artificial intelligence techniques to edit or synthesize visual and audio information that can more readily fool, even though the act of producing fake content is not new.
The most common deep learning-based machine learning techniques for producing deep fakes involve training generative neural network designs like autoencoders or generative adversarial networks (GANs).
However, The 19th century saw the development of Photo manipulation, which was quickly used in movies. Through the 20th century, technology advanced slowly and more quickly with the advent of digital video.
Applications
Fraud:
Social engineering scams have used audio deepfakes to trick victims into believing they are receiving instructions from a reliable source.
A U.K.-based energy firm's CEO was conned over the phone in 2019 when he was instructed to transfer €220,000 into a Hungarian bank account by a person posing as the top executive of the firm's parent company using audio deepfake technology.
Blackmail:
Deepfakes can be used to produce blackmail documents that falsely accuse a victim. This is very common.
Cybercriminals threaten to release incriminating videos of victims if they don't provide the requested amount of money. Even while there need not be a video for the fraud to work, deepfake gives thieves a way to produce real compromising content.
Politics:
Well-known politicians have been misrepresented in videos using deepfakes. Joe Biden's cognitive deterioration was the subject of numerous deep fakes throughout the 2020 US presidential campaign: reports of his dozing off in an interview, getting lost, and mispronouncing words all used to support these claims.
How to Protect Yourself Against Deepfakes
There are several ways you can protect yourself against Deepfakes.
Stop Sharing all your videos and photos online:
Deepfake technology-using cybercriminals will find you more appealing if you take a lot of selfies and post them online. To protect yourself you can also make your account private.
Maximum Security:
You can also add better security to your device to protect yourself.
This can be achieved by using a firewall, antivirus software, using complex passwords, using two-factor authentication, or by using encryption.
 Clean your browsing history:
In order to offer hackers as little information as possible to work with if they do hack into your phone, clear it frequently, including cookies and cached files.
Conclusion
You can use any of the software above for face swap on your PC.