Who is NBA Geeboy "On Gaad"? What We Know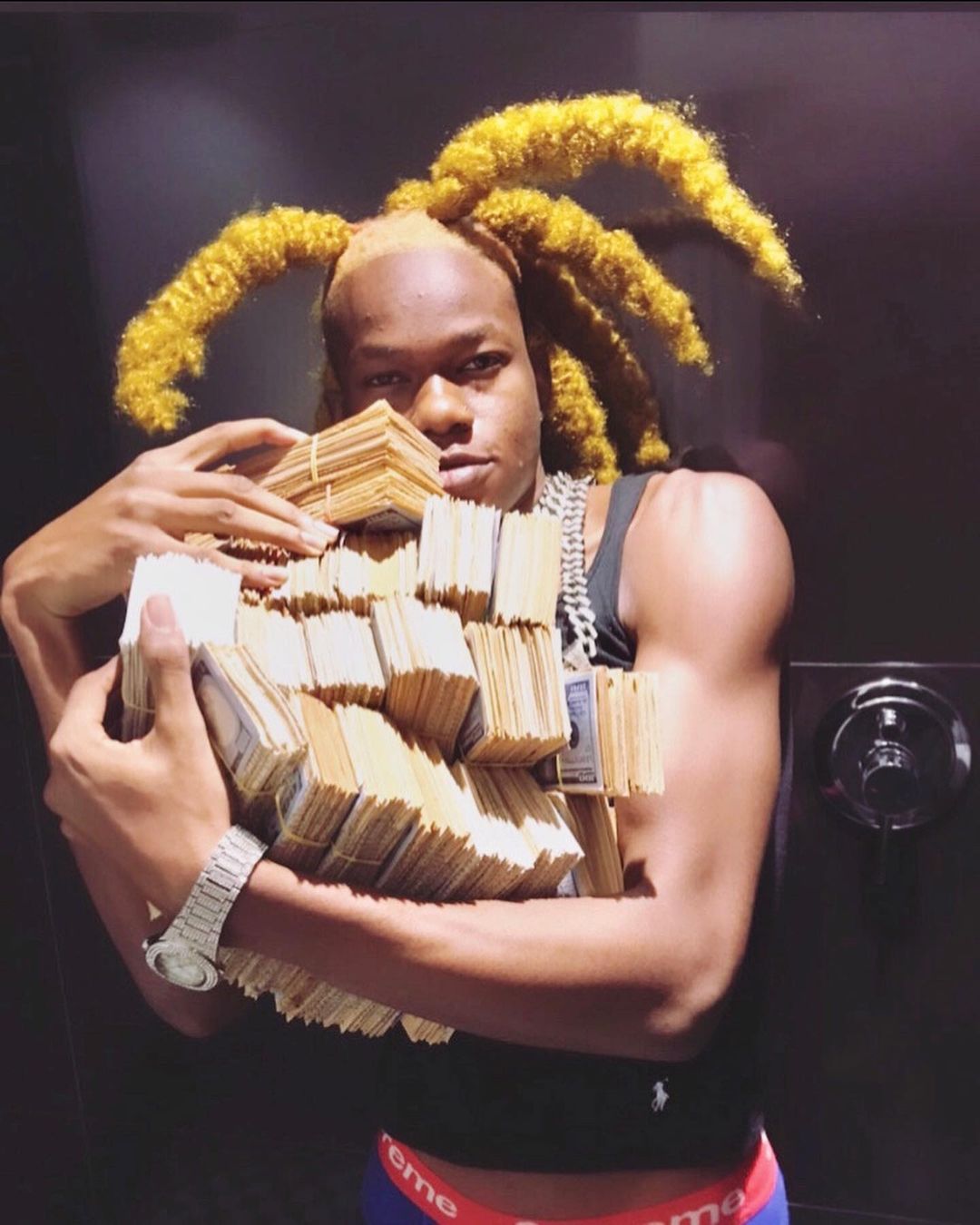 Nigerian-American rapper, NBA Geeboy has become an internet sensation after he claimed to be bigger than Davido, Wizkid, and Burna Boy.
In several videos shared on his Instagram, The "On Gaaad" singer was seen flaunting bundles of dollar notes — Some of his fans however feel the money is fake.
"900k fake currency ., on my chaaaad" A fan wrote while reacting to Nba Geeboy's real name Balogun Joshua Instagram post.
NBA Geeboy Boxers
Is NBA Geeboy's lifestyle fake or real? Fans have been wondering after the 19-years-old was always seen on only one boxer in every post shared on Instagram.
"Why is it that you are always on this your supreme boxer? Bro you better stop this fake shit and be real" A fan wrote.
Another said. "On gaad boxers, on gaad, spend your fuvking money on some boxers on gaad. Dah boxers be smelling shit on gaad. Check all ya post. It's supreme color blue boxers on gaad, on ya chaaiddd, on allah."
In an IG post, The Musical artist said his boxers worth a lot of money and fans should stop talking about it. "Beeches be acting like they mad at my boxers but they Lowkey dying to see what's inside it on gaaad" He said.
In another video shared on his Instagram, NBA Geeboy urinated and flushed one thousand dollars ($1k) — the footage sparked reactions from his 29k Instagram followers "Haters will still say I picked the money up after flushing" He wrote.
Few hours after sharing the video, The "On gaaaaad" singer reacted to the criticism he got from fans. "Y'all stop playing wimmie I can burn, tear or flush my money cos it's my money not your money on gaad !!!" He said.
Geeboy said he can do whatever he likes with his money because when he was in jail nobody showed him love or a dollar. "Everybody said keep him in jail let him suffer, let him be like hushpuppi, but i came out of jail". He added.
NBA Geeboy & Davido
The 19-year-old seems to doing more than expected after he spoke about leaking his dm and "going to town" with Davido's Babymama.
This came few hours after he called out the Nigerian singer, Davido, for using his slang 'On Gaad'. "David you copy my swag, now you copy my slang …… ima pull up on you like goliath," He said. "Drop your location, let's settle this matter David and Goliath on gaad".
One of Davido's crew members, Prince Habeeb Uthman, popularly known as Obama DMW who wasn't feeling NBA Geeboy speaking on Davido's baby mama promised to beat him up "You're doing too much and I'll personally break your head for this!! Mark my words On Gaaaaaaaaaad" Obama Dmw wrote.
Is NBA Geeboy an Internet Scammer
Some Netizens feel the 19-year-old is an internet scammer after he shared several SSN, Drivers License, and State ID card of his victims on his Instagram page
NBA (Never Broke Again) Geeboy has however been able to gain a good amount of followers since he opened his Instagram page last year, 2020.