TikTok star Paeka and Gero breakup officially, Twitter ask Why?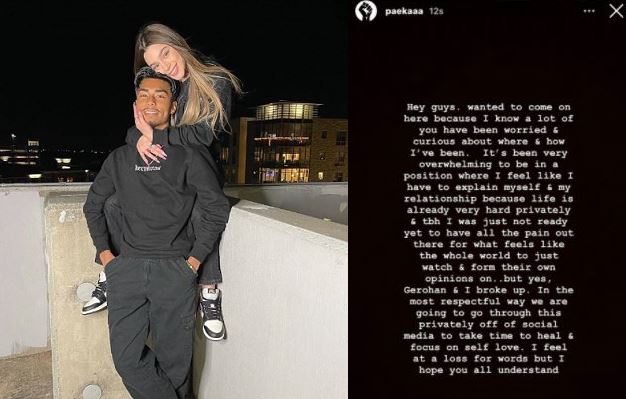 Paeka announces on social media that she has broken up with fellow content creator Gero. This has made twitter reacting.
While speaking on her breakup with Gerohan, The TikTok star said they are going "through this privately off of social media to take time to heal and focus on self-love".
In a post on her Instagram stories, she wrote, "Hey guys, wanted to come on here because I know a lot of you have been worried and curious about where and how I have been. It's been very overwhelming to be in a position where I have to explain myself and my relationship because life is very hard already privately and tbh, I was just not ready yet to have all the pain out there for the whole world to watch and form their opinion."
Peaka added: "Gerohan and I broke up. In the most respectful way we are going to go through this privately off of social media to take time to heal and focus on self-love. I feel at a loss for words but I hope you all understand."
Twitter Reactions on Gero and Paeka Split
Some Twitter users still cant believe the breakup is true — The two young stars were loved for their funny prank videos, relationship and the fact that they own a YouTube channel and Instagram page together.
Some fans are saying they don't believe in love anymore following the split.  "Paeka and Gero broke up??? That's it I don't believe in love anymore" A lady wrote.
"I don't really care about influencers like that, especially couples BUT Paeka and Gero breaking up is about to make me ball my eyes out" A lady wrote.
"I just got off Paeka story and it's crazy how her and Gero didn't make it like everyone thought they would. But you know what wasn't crazy the love we had for each other, I know we could make it again together. Anyways hope your family's doing alright" Another fan wrote.
A lady said. "we all wanted that gero & paeka typa love & now it's gone"
Why Gero and Paeka broke up
Fans are asking several questions on why the two "couples" broke up but there is yet to be an explanation from Gero and Paeka.