Jackass Forever Poster, Trailer, and Poopies Shark Attack
Fans can't wait for the release of Jackass 4 titled Jackass Forever. See the poster, trailer, and Sean's' Poopies' McInerney shark attack story.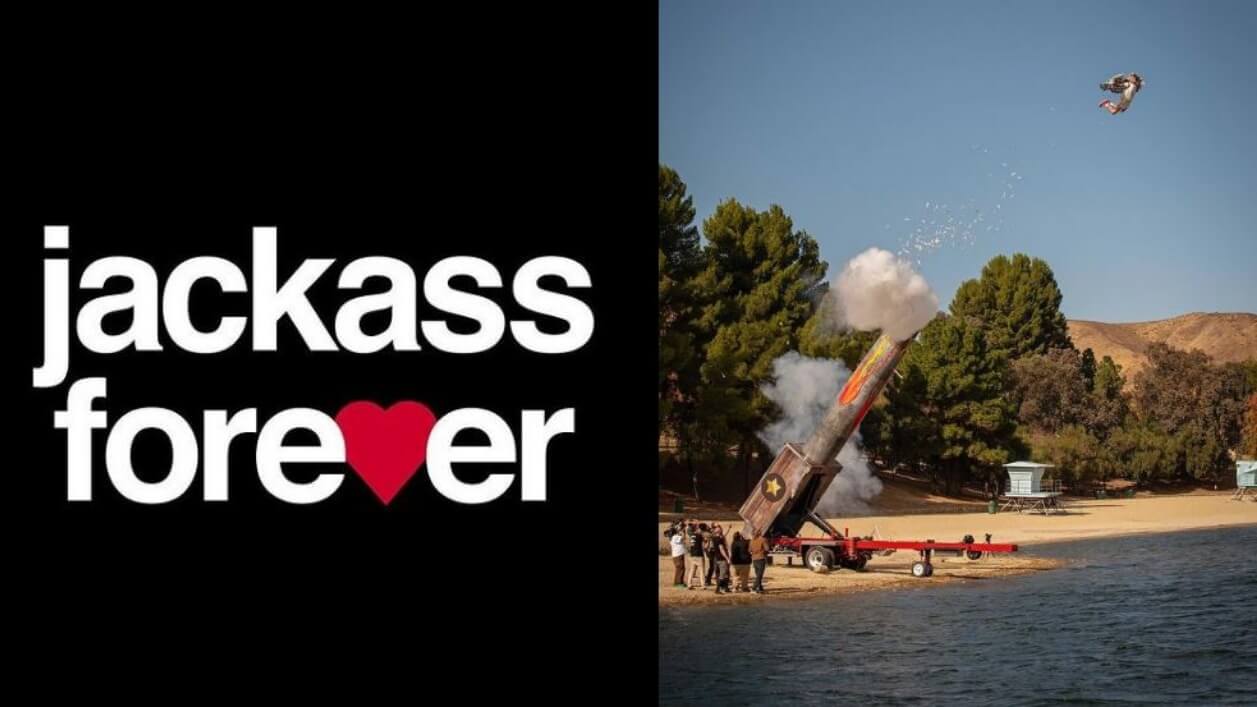 New images and posters have been unveiled for Jackass 4 which is officially titled jackass forever. Fans are expecting the Trailer as the movie premieres on October 22, 2021.
Jackass Forever is a new American comedy film in the works. It is the fourth installment in the Jackass film series. Paramount Pictures plans to release Jackass Forever in theaters on October 22, 2021.
Johnny Knoxville, Steve-O, Chris Pontius, Jason "Wee Man" Acuña, Preston Lacy, Ehren McGhehey, Dave England and new cast members  Sean "Poopies" McInerney, Jasper Dolphin, and Zach Holmes will be featured in the movie.
The film was scheduled to begin production in March 2020, however, it was postponed owing to the coronavirus epidemic.
Jackass Forever Poster
The team members have released Teaser posters for the Jackass Forever movie. "Great news! We're still fools for physics and it's only a couple more days until our #JackassForever trailer drops this Tuesday, July 20." They wrote on Instagram.
See Posters below:
Jackass Forever Trailer
Jackass Forever trailer was released on Tuesday, July 20
Fans were eager to see the first trailer of the movie which was released this week Tuesday. "Nostalgia is the best way to describe how jackass is to me now. Waiting for that trailer." A fan wrote.
Jackass Forever Shark Attack
One of the new cast members Sean 'Poopies' McInerney was bitten by a shark while filming for Discovery Channel's Shark Week. He was taken to a hospital for treatment.
"When I landed in that shark pit, I thought I was going to die," Sean said on Youtube. "There were like 10 sharks around me and I was trying to swim out. And I couldn't." The YouTuber said when he knew he got bit he thought he was going to get attacked by like 6 more sharks and luckily he didn't.
He added: "I just got my hand bit. The scariest thing in my life. I couldn't really see much and I was in shock." McInerney said when he got bit, the safety medic jumped on him and pretty much sacrificed his life to save him.
In a new Instagram post, McInerney gave an update on the shark bite. "Thanks for all the support and love!! Hand is coming back strong my arm muscles are moving and my wrist has a inch of travel progress is slow but hand is still healing" He wrote.
Fans can't wait for Jackass Forever's release on October 22, 2021.