Fact Check: Rady Johnson Pfizer Arrest News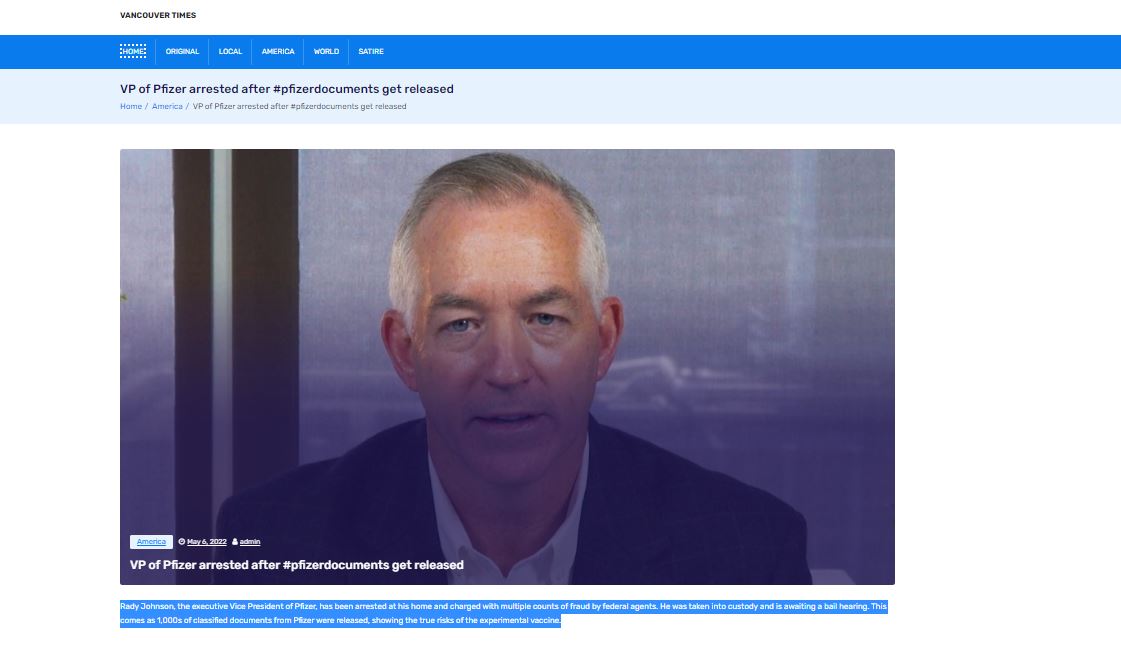 There have been several reactions on Twitter after the news of Rady Johnson Pfizer Arrest went viral. How true is these claim?
According to Vancouver Times, "Rady Johnson, was arrested at his home and charged with multiple counts of fraud by federal agents. He was taken into custody and is awaiting a bail hearing. This comes as 1,000s of classified documents from Pfizer were released, showing the true risks of the experimental vaccine."
Johnson Pfizer Arrest news has not been confirmed as true at this time. They are just rumors.
This is not the first time the website has been sharing false news online. In March the news publication made false news claiming "CEO of Disney arrested for human trafficking".
The Vancouver Times claims Chapek's arrest was met with a "complete media blackout" and that he is facing multiple felony charges, including trafficking a child across state lines and possession of child pornography.
According to CrowdTangle, a social media analytics service, the story has generated over 5,300 interactions on Facebook since it was published on March 17. Some users mistook it for a legitimate news report.
However, independent fact-checking agencies reported that it is a made-up tale from a satirical journal. Chapek was not detained for human trafficking, according to the evidence.
Chapek was not arrested, according to any reputable press reporting or court documents. According to the Wall Street Journal, he attended a virtual town hall gathering with Disney executives and employees on March 21.
The Vancouver Times, which bills itself as "the most trustworthy source for satire on the West Coast," is the source of the rumor. According to its website's About Us page, it creates made-up articles "about topics that affect conservatives."
After the allegation went viral, the website updated the March 17 piece, stating that it was "obviously satirical" and directing visitors to its About Us page. To "ease uncertainty," the Vancouver Times identified the article as satire twice at the top and once more at the bottom.
While the article now includes many parody disclaimers, archival versions of the page show that the disclaimer was not present at the time of publication, leading some on social media to believe it was a genuine news piece.
Our rating: False
Based on our research, we rate FALSE the claim that Executive Vice President, Rady Johnson was arrested. There are no credible sources reporting that Rady Johnson was arrested, and the claim stems from a satirical website that publishes fictional content.
Who is Rady Johnson?
Rady Johnson is Executive Vice President and Pfizer's Chief Compliance, Quality and Risk Officer. According to the Pfizer website.
He joined Pfizer in 1994.
Prior to joining the company, Rady worked as a member of the food and drug law group at Hogan & Hartson in Washington, DC.
Rady previously worked at Arthur Anderson as a Certified Public Accountant focusing in the healthcare and hospitality industries. He is a Georgetown University Law Center and University of Richmond graduate.