FALSE: Did 50 people die after 'yahoo boy' birthday party in akute?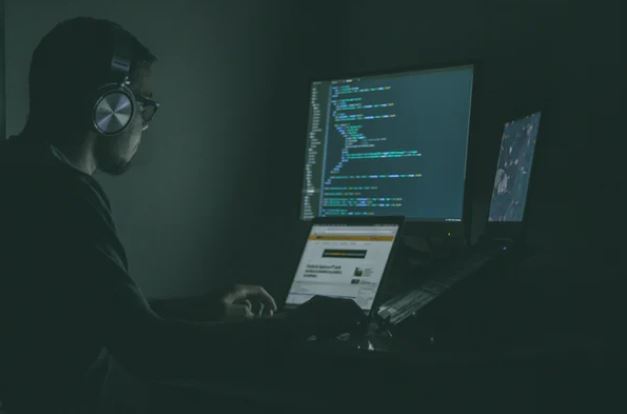 A viral news on how 50 people died after a yahoo boy's birthday party in akute area of Ogun State has been pegged as false by the Nigeria Police Force and the management of the hotel.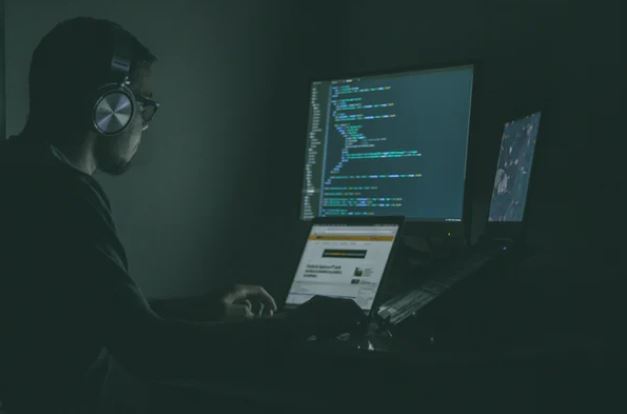 A twitter user @pelumiAwotedu on March 18th claimed 50 people who attended a birthday party of an internet scammer popularly known as Yahoo boy in Alagbole Akute died after the merriment.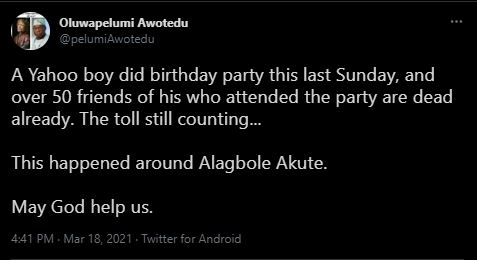 The news went viral on social media as some claimed they died of food poisoning. "Yes I heard about it, some guys from lambe and akute are dead now, they were attendants of the party" A man wrote.
Death of 50 Persons after Attending Yahoo Boy's Birthday Party: Hotel Management speaks
The hotel management speaks on the news. Read the statement below:
"It has come to our Management's attention at Titi's Concept Hotel and Apartment, Alagbole Ogun State that a rumor is being peddled by some social media blogs with claim that about 50 persons are feared dead after attending birthday party of a 'Yahoo boy' in a hotel."
"The purported incident, which has now gone viral was tagged with picture of our famous hotel by most some blogs and targeted for syndication by other notable social media platforms – without check."
"We wish to categorically dismiss the purported incident as baseless and unfounded rumor aimed at flying a negative publicity for Titi's Concept Hotel and Apartments, a much embraced choice place for many trendy personalities and events in town."
"We urge members of the public to disregard the rumor as there's no truth to the fabrications. We equally plead that reputable media organizations should be hesitant at helping creators of such misleading gists to gain the spread they crave without first verifying same".
"Titi's Concept Hotel & Apartments is highly responsible and welcomes anyone with identity of the said victims of the rumored incident to assist us and the law enforcement agents in investigating the report."
"While we continue to appreciate and take customers' safety, comfort and satisfaction as our priority, we welcome every member of the public to visit our ambient facilities, which is choice place for events, personalities and trends in and around Alagbole, Ogba, Ojodu-Berger, Akute, Fagba, Ishaga and surroundings."
We remain yours in utmost comfort provision.
Management,
Titi's Concept Hotel and Apartment.
Death of 50 Boys after Attending Yahoo Boy's Birthday Party: Police speaks
Nigeria Police Force on Monday 29th March, debunked the news about 50 people dieing after attending an event at Akute, Ogun State.
"It's a rumour," Ogun police spokesman Abimbola Oyeyemi told The Guardian in a phone conversation. 
Who is Giulia Lucenti? 16-year-old girl dies after Vaccine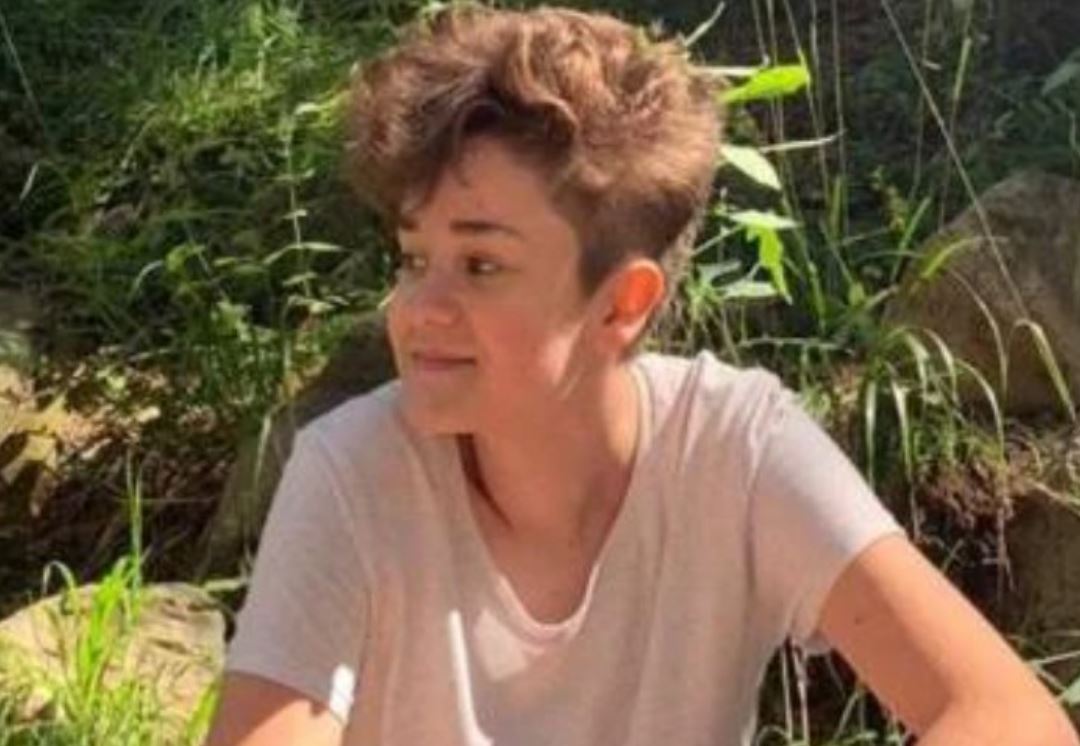 A girl identified as Giulia Lucenti,16, has been confirmed dead on Thursday, after the administration of the second dose of Pfizer vaccine.
According to reports, Ms. Giulia Lucenti had her second Pfizer mRNA injection on Wednesday, September 8 at 5:45 p.m. local time.
The Galilei Institute student had mitral (bicuspid) valve prolapse, a congenital cardiac abnormality.
Giulia Lucenti Symptoms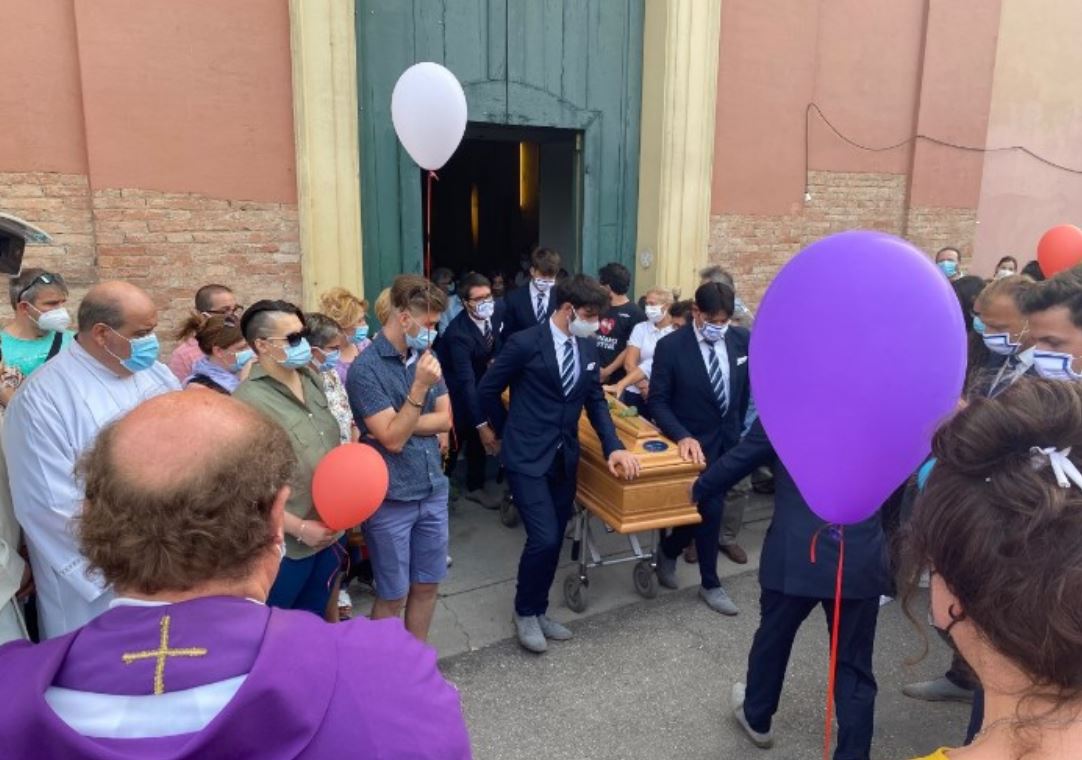 After taking the vaccine, Giulia was under medical supervision precisely as a result of her congenital pathology. She was still in good health.
"With the first injection she had no discomfort," Her father said.
Lorenzo Lucenti said after the second injection, his daughter had a slight ache in her arm.
Giulia Lucenti Autopsy
On September 12th, Giulia's body was subjected to an autopsy examination, as requested by the parents.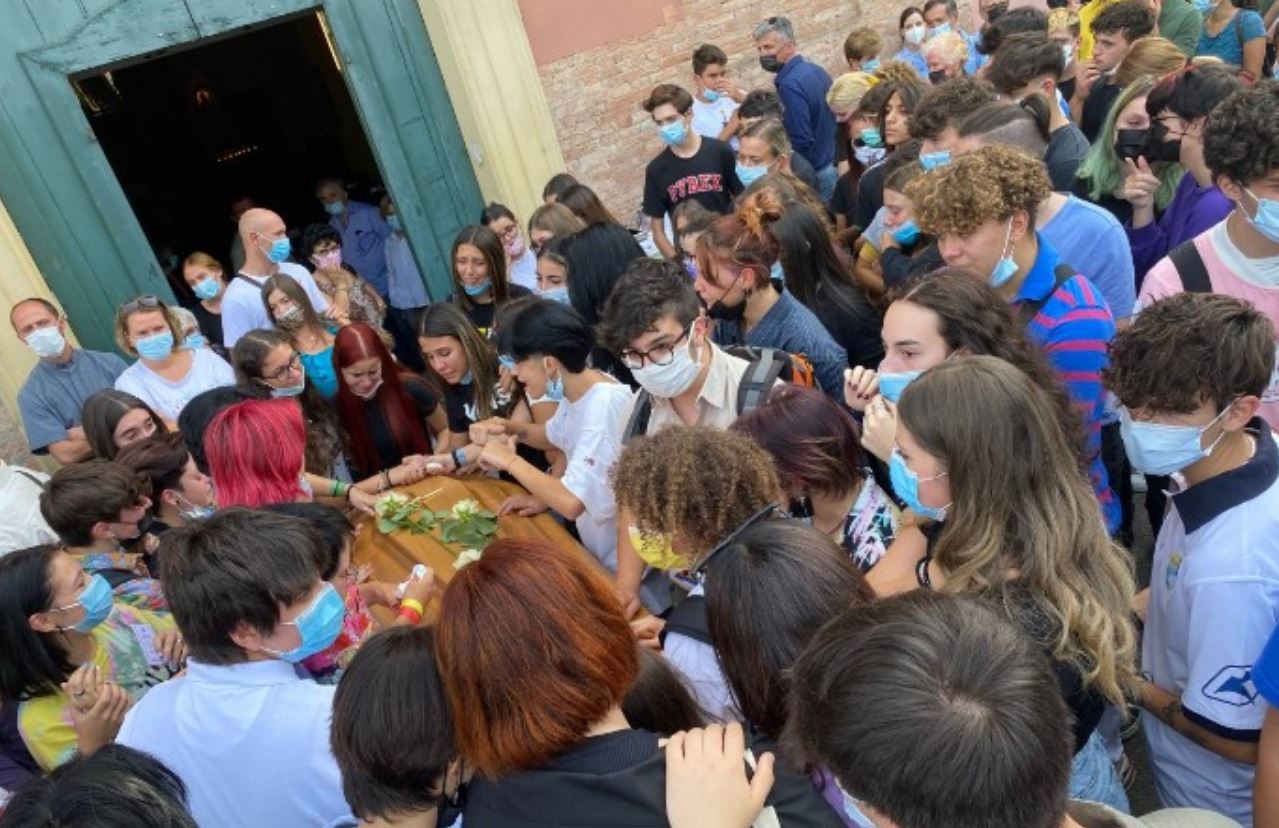 The diagnostic autopsy was performed to determine the cause of death of the young woman, who had no known medical issues.
Giulia parents, Lorenzo and Oxana said their daughter was affected from birth by a prolapse of the mitral valve, but as reported by her cardiologist, Dr. Stefano Tondi, "She could not define herself as a girl with heart disease, but a very healthy young woman who led a normal life".
Oxana who is social health worker found her daughter lifeless on the chair. After several attempts to revive her, Giulia was still not responsive.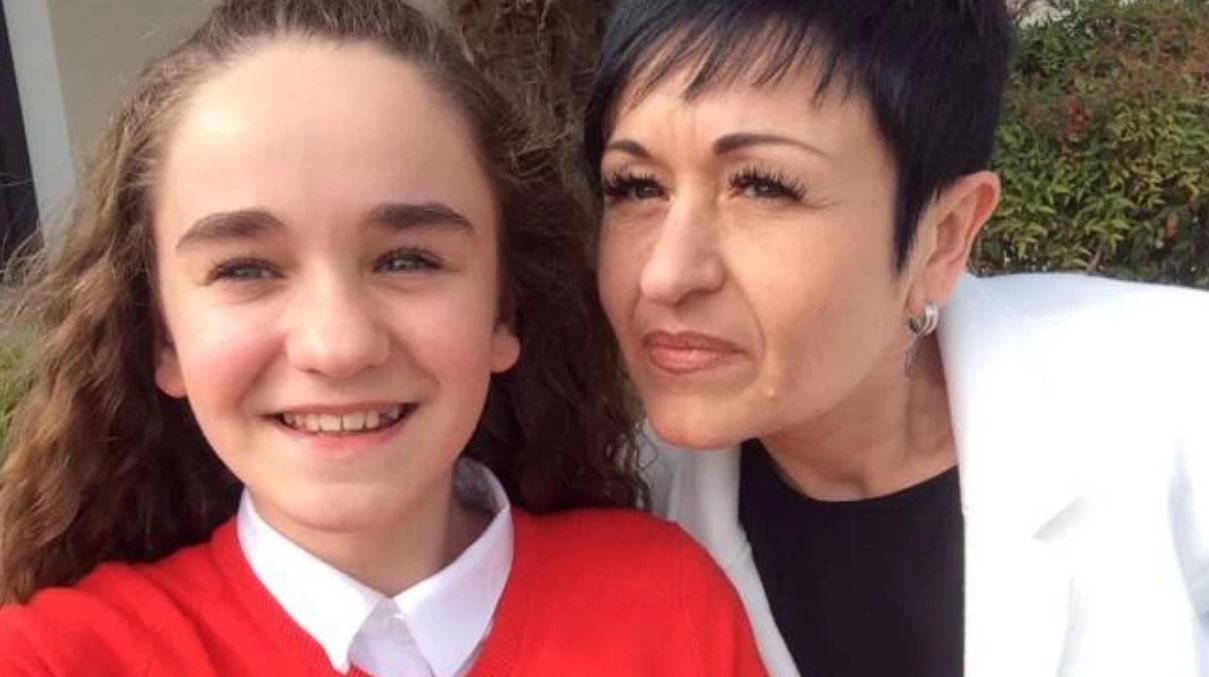 "I thought she was asleep. Her face was serene, her body temperature normal, her hands and face warm, a sign that she had recently died, in the period from 13.30 to 14.50" Oxana said.
The worried mother said she tried giving her daughter a heart massage with mouth-to-mouth resuscitation. She later called 118 for help.
I yelled on the phone to hurry up because my daughter didn't it showed signs of life, but unfortunately, from Nonantola to Bastille, the ambulance took about twenty minutes ". She said.
Oxana her 16-year-old daughter was reluctant about taking the vaccine "because from an early age she screamed at the sight of a syringe".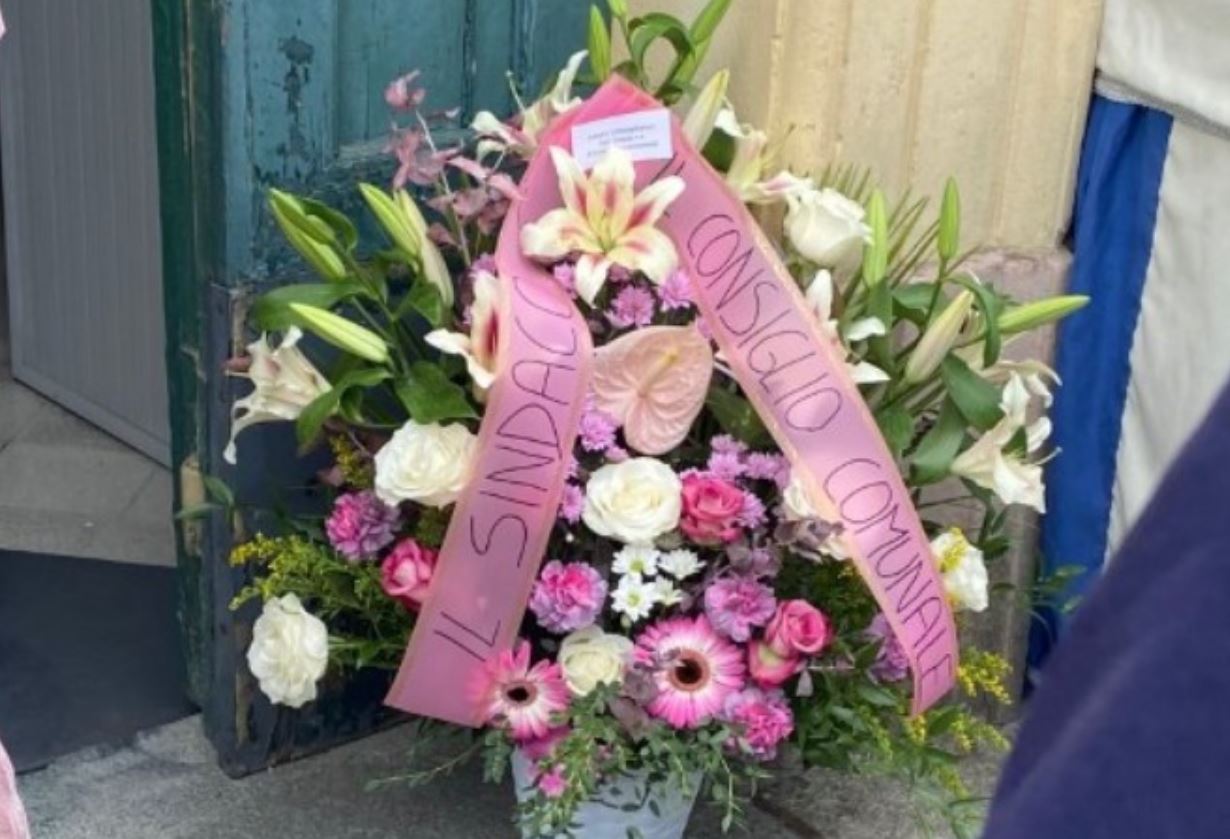 "Giulia was a healthy girl, she had only a very slight imperfection in the mitral valve," Her mother said. "she did not take any drugs, she led a very normal life".
Before her death, Giulia aspired to work in the field of robotics overseas. The young girl was laid to rest in Bastille on September 15th.
The funeral took place in the parish church of Bastille.