What we know about 'Ginimbi' Kadungure and Moana death in fatal road accident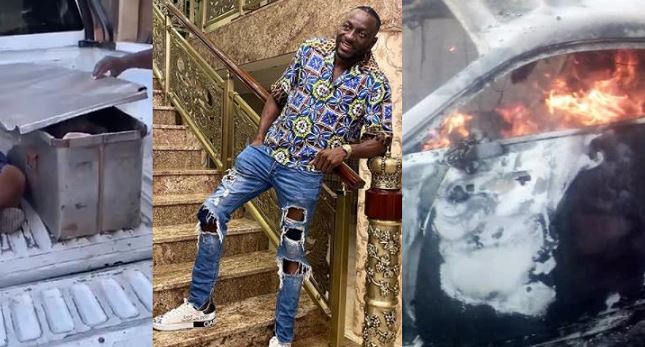 Zimbabwean socialite and businessman Genius "Ginimbi" Kadungure and Moana Mimie have been confirmed dead after a fatal road accident along Borrowdale Road in Harare, the country's capital city. 
He was speeding when he got in a serious collision with an oncoming Honda Fit — The expensive vehicle went up in flames which engulfed the other passengers.
"They were burnt beyond recognition", Witnesses said.
Before His Death
Few hours before the Rolls Royce/ ferrari accident The Zimbabwean socialite Ginimbi was videoed partying in a club (Dreams Nightclub) alongside his friends. The party was reportedly in celebration of Moana's birthday.
Ginimbi is the owner of Pioneer Gas and PIKO Group.
"My name is Ginimbi, it's time to go out." He said in a video. "We are going to pop champagne, it's gonna be champagne showers" He added.
Ginimbi has a good number of expensive cars including Rolls Royce, Ferrari, Lamborghini.
In his last Instagram post which was shared on Sunday, November 8th, Ginimbi shared a photo with the caption, "Dressing is a way of life." The post had 62k likes and 11k comments.
Popular Fitness bunny Moana was also reported to have died in the crash. "Where was the fire Ambulance? Those 2 girls at the back could have been saved we need to hold the Zimbabwean government accountable and get answers why these departments are not funded properly. It's absolutely appalling. 2020 & we still dont have a proper fire service", A twitter user wrote.
Ginimbi Kadungure dead body has been recovered and transferred to the mortuary.