Is Seatfillers and more legit?
Seatfillers and more is a legit website. We will be sharing all the details you need to know.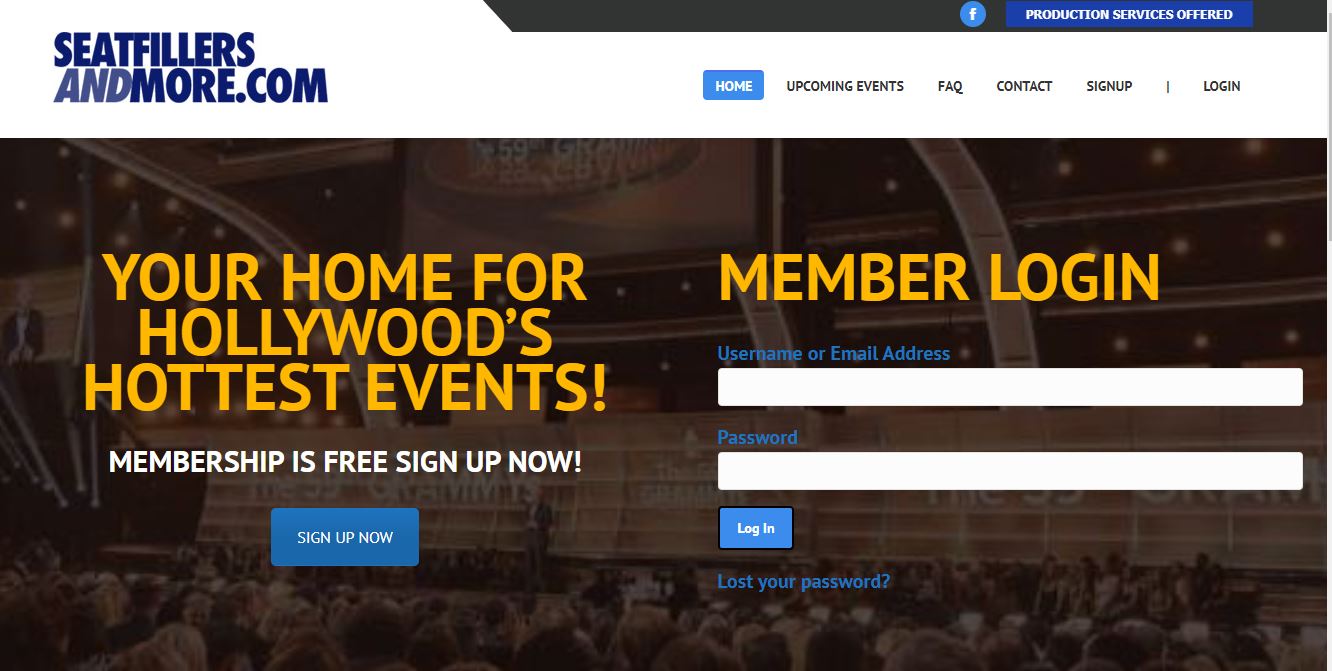 You have probably heard about Seatfillers and More and if you're wondering if the website is legitimate or a scam, you've come to the right place.
We will be writing a review about the Seatfillers website and sharing all the details you need to know. Continue reading below to learn more.
What are Seatfillers?
You may not have noticed how many unpopular people are in the audience if you've ever watched an awards show. They appear to be A-listers' guests and dates, but those unfamiliar faces rubbing shoulders with celebrities and the like are actually regular people.
Seatfillers are volunteers whose job is to fill in the gaps in the audience when the camera pans out. They don't need any acting, extra, or any prior experience.
Some are college students, some are working actors and models. Anyone, however, can do it.
What is Seatfillers and more?
Seatfillers and More is a company that allows you entry into some of Hollywood's Biggest and Most Exclusive Events.
Some of their current shows and events, as well as past events, are as follows: The Grammy Awards, The Emmy Awards, The BET Awards, BET Hip Hop Awards, NAACP Image Awards, Survivor Finale, Miss America Pageant, Stand Up 2 Cancer, MTV Lifebeat Concert, The Game Awards, The Latin Grammy Awards, Billboard Music Awards, Specials for MTV, Vh1, Comedy Central, NBC, CBS, ABC, FOX and so many more.
How to apply on Seat fillers and more
To apply online for a listed show, you must first register with seatfillersandmore.com.
You will have to submit a standard work resume or a letter of introduction explaining why you want to be a seat filler, as well as a clear and close-up photograph of yourself (does not have to be professional). You can upload your photo to your file and email your resume or letter of introduction to resume@seatfillersandmore.com.
After applying, They will contact you as soon as possible, usually 5 to 7 days before the event.
They are occasionally delayed due to production changes, waiting for parking information, and so on. If you plan to travel to the host city, you must make your own arrangements because they do not guarantee acceptance.
However, In most shows, Seat fillers and more claimed to have hardly ever turned down anyone who has requested to go.
What are Seatfillers and more rules?
It's simple to become a seat filler, but there are some rules and procedures to follow. The following are some seatfillersandmore.com rules:
1. Wear nothing that will make you stand out on camera or outshine the celebrities you'll be sitting next to.
2. There will be no bright colors, sequins, or short dresses.
3. There will be no talking or taking selfies with the celebrities, and no looking at the camera.
4. They also advised against wearing heels because there will be a lot of standing and walking.
How much do seat fillers get paid?
The Seatfillers and more company says, "No, there is no pay nor is any compensation provided for travel if you are coming from out of town. Being a seatfiller is all voluntary and all costs are at your own discretion."
They do usually however take care of your parking and shuttle from long distance parking areas to the venue and back when necessary.
So, basically, the only compensation is bragging rights and the opportunity for your mom, dad, or friends to see you on camera. Since you're able to stay there all day, you sometimes get fed a free meal.
Even if you can't talk to the celebrities, if you're clever enough, you might be able to use the opportunity to land a job.
So, is Seatfillers and more Legit?
Yes, Seatfillers and more is legit. There have been good reviews about the company.
However, we will put Seatfillers and more through these tests to ensure that it is a reliable and secure website.
1. Seatfillers and More SSL Certificate
A website is considered secure if it has an SSL certificate. This is a security protocol that certifies that the information between the website and its users are encrypted, ensuring that no third party is able to intercept sensitive data like credit card numbers. You can tell if a website is SSL certified if you see an "https" at the beginning of the URL, not just "http."
As you can see above, the Seatfillers and More website has "https" at the beginning of the URL. You can see for yourself by going to https://Seatfillersandmore.com. Double-click in the URL bar so that you can see the full URL address. You can also tell if it's SSL certified when you see the padlock icon in your browser's address bar. Seatfillers and More also has the padlock icon to show that they are SSL certified.
2. Seatfillers and More Domain Age
---
The website has been working for a long time. According to the whois record, the domain was registered in November 2000 and will expire in 2023.
Check out the snapshot of the website in 2007 below.
---
3. Seatfillers and More domain authority
---
The Seatfillersandmore.com website has a good domain authority with links from high-authority websites to show its trustworthiness.
The website was quoted by CBS News, Business Insider, Hollywood Reporter, Metro UK, Newsweek, and the like.
Final Verdict: Is Seatfillers and More Safe to Use?
Yes, Seatfillers and More is a trusted website and is safe to use. We know that it can be scary sometimes to try out a new website, but Seatfillers and More is 100% legit, safe, and NOT a scam.