Target Red Credit Card Login Guide [Apply]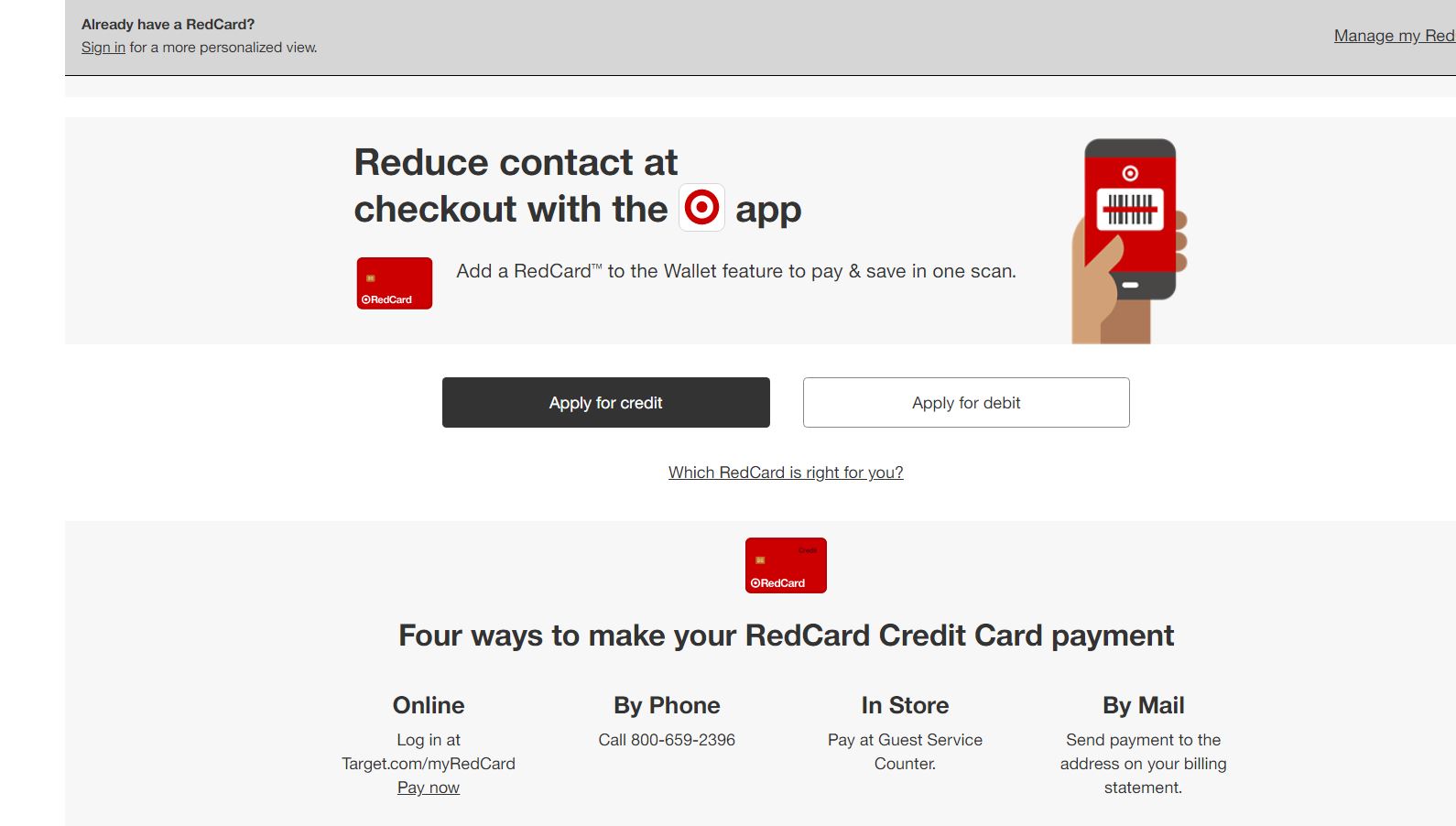 Confused with Target Red Credit Card Login? Don't worry we've got you covered.
People enjoy going shopping to receive their daily, weekly, and monthly necessities at a low cost with substantial discounts in order to save money in their wallets. To meet their demands, there are numerous retail stores such as Walmart, the largest retail store chain in the United States, and others. Target Corporation is an example of a retail store chain (TGT).
So, in this article, we'll walk you through the entire step-by-step procedure of obtaining the target red credit card login 2021.
Target Online Account Opening Process
Target.com makes it simple to create an account for online shopping and to use the RedCard function via the Wallet payment option. To begin, go to the upper right corner of the site and click on the profile symbol, then choose Create account from the drop-down menu.
Your email address, first name, last name, phone number, and the new password for your account must all be entered on the following page.
Target Online Login Steps
You can log in to the website at any time after creating your Target online account by clicking on the profile icon and selecting the first option Sign in.
On the next screen, enter your email address or cell phone number, as well as the password you created when you created your account, and then click the sign-in button.
How To Apply Target RedCard
To take advantage of the card's savings and other benefits, you must first apply for one on the RedCard website https://www.target.com/redcard/ as a Debit or Credit card. You must first choose whether you want to use a debit or credit card, which you may do by choosing the apply for debit button on the right side of the application section.
The stages for applying for debit cards are covered here, as the procedures for applying for both debit and credit cards are the same. You will be led to a page where you must complete four steps in order to receive your debit card after clicking the apply for debit link.
In step 1 you need to put your contact details such as your name, mobile number, email address, and then residential address below it to get your card delivered to your home address before clicking on the save and continue button at the end.
In step 2 you need to verify your identity.
In step 3 you have to choose your verification method, and finally, in step 4 review the terms of RedCard and set the card PIN.
After completing the procedure, your RedCard will be delivered to your home address; however, you must enroll your RedCard in the Control My RedCard account to manage it.
Target Redcard Enroll
To manage your RedCard, you'll need to join up for the Manager My Account page after receiving it. You may manage your card PIN, manage cardholders, establish card alerts, enroll in paperless credit card statements, and manage your credit card payments all from one place. Manage my RedCard account.
You have two alternatives when it comes to managing my Redcard portal: sign up or sign in. To enroll your card, you must first click the Sign-up option. After you've clicked it, enter your 16-digit card number and then click the Begin Enrollment button. You must enter your login, password, and security question and answers on the next page. Your account is now active, allowing you to manage your card from anywhere at any time.
Target Red Card Login
After you've enrolled your debit or credit card, you can use it in Target's online wallet to earn a 5% discount and many other exclusive deals in online and retail shops, but you must first log in to Manage My RedCard after it's been enrolled. Go to https://rcam.target.com/#/ to access the RedCard site. before pressing the Sign-in button, enter your username and password.
Forgot Username or Password Process
If you forget your username or password while logging in, you can retrieve it by clicking the Forgot your username or password? link.
There are two options for username and password on the following page. If you lost your password, select this option and enter your username and email address before clicking the Submit button. If you forgot your username, select this option and enter your username and email address before clicking the Submit button.
About Target Corp
Target Corporation TGT is the sixth most well-known retail chain in the United States, with locations around the country. Target Corporation is one of the leading brick-and-mortar retailers in the United States, offering a wide range of consumer goods at reasonable rates while maintaining a significant client base.
It is traded on the New York Stock Exchange and is a part of the S&P 500 and S&P100 Indexes, which are made up of large corporations similar to the Dow Jones Index, which represents the US economy as a whole. Target Corp operates a number of retail store chains under the names Target, SuperTarget, CityTarget, and TargetExpress, and sells a wide range of products including beauty and health, apparel, accessories, food, electronics, and many others.
Target Online Shopping
Target online shopping allows customers access to their retail service in addition to their brick-and-mortar locations, making shopping easier for customers by delivering orders straight to their doorsteps.
It sells groceries, essentials, electronics, apparel, and other items in the same way that their retail stores do. Shipt shoppers can get same-day delivery using the online store's mobile app.
It offers a free four-week trial, after which you must pay $99 for an annual Shipt membership that allows you to place unlimited purchases over $35. Target also offers RedCard to its customers, which entitles them to an additional 5% discount on orders placed on Target.com.
Target RedCard
Target's RedCard is a shopping card that may be used at all of the company's retail and online businesses. Customers who ask for MasterCard can receive debit and credit cards at Target.
To gain access to the additional discount and exclusive deals, RedCard offers two options: debit or credit card. Both debit and credit cards offer similar benefits such as a 5% daily discount, free shipping, a 30-day return policy, and an online card management service.
It also offers quick rewards for RedCard payments made both offline and online.
Conclusion
We hope that the target red credit card login tutorial will assist you in logging into your bank, forgetting your username/password, enrolling, and much more quickly and easily.
Target offers a wide range of products at reasonable prices, but having a Target RedCard debit or credit card gives you access to additional special offers and discounts on top of what you already have.
It will be quite beneficial to obtain offers, promotions, and 5% discounts on products in order to save some money in your wallet. Target Corporation is one of the top ten retail store chains in the United States, and you can use your RedCard at both offline and online stores.