#StopPolicebrutalityinUganda: Ugandans call for end of Police brutality
#StopPolicebruitalityinUganda trends on Twitter as Ugandans call for end of Police brutality in the country.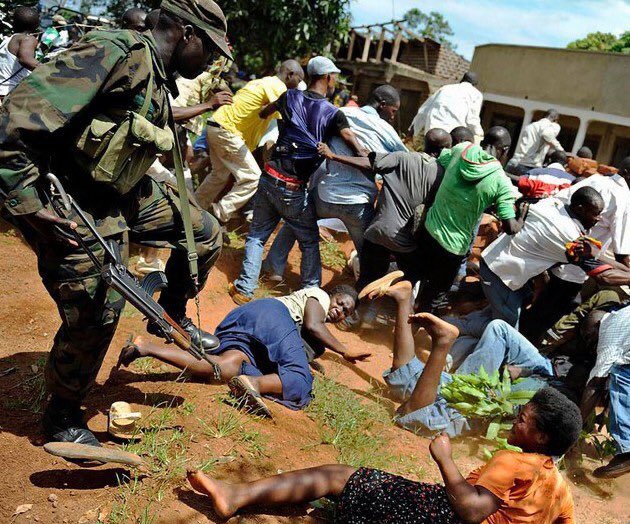 Few weeks after Nigerians embarked on #endsars protest, Ugandans begin a peaceful protest against Police brutality.
"Police brutality has to stop in our Generation!! We are hear dealing with ours in Nigeria, and with a lot of support from almost all the Nigerian youth and Artist. So get the mind of Ugandan first and let it be one United Ugandan, then you will archive it." A twitter user @dennisaunch wrote.
Ugandans went on social media to call for an end to illegal police extortion and brutality of citizens. In one of the videos shared on Twitter, some police officers were seen slapping and flogging a motorcycle rider for unknown reasons. "WAKE UP AND ANSWER ME. How sure are you that you won't be the next victim of police Brutality?" Twitter user @FahadAmirN wrote.
"They have guns and we have phones let's raise our voices to end police brutality with our keyboards. Our rights are being violented but they claim to have given us freedom. Are you not tired of shading blood!?? #StopPolicebruitalityinUganda" Another Twitter user @kall_essy wrote.
Bobi Wine beaten by Uganda police
This is coming few hours after, Popular singer and politician Bobi Wine was arrested, beaten by police on Tuesday minutes after he registered his candidacy to challenge President Yoweri Museveni in next year's election.
38-year-old Bobi Wine real name Robert Kyagulanyi was pulled by police from his car and thrown into a van after submitting his nomination papers to election officials in the capital Kampala. Aljazeera reported.
"The torture, the beating took place in the police vehicle where I was detained for close to three hours," Wine told AFP. "They sprayed me with tear gas … hot metal was placed in my hands, I have scars all over, my whole body hurts." He added.
Protesters not backing down
Ugandans are not stopping the protest until their demands are met.