Who is Paddy Pimblett? Instagram, Cage Warriors, Walkout Song & Girlfriend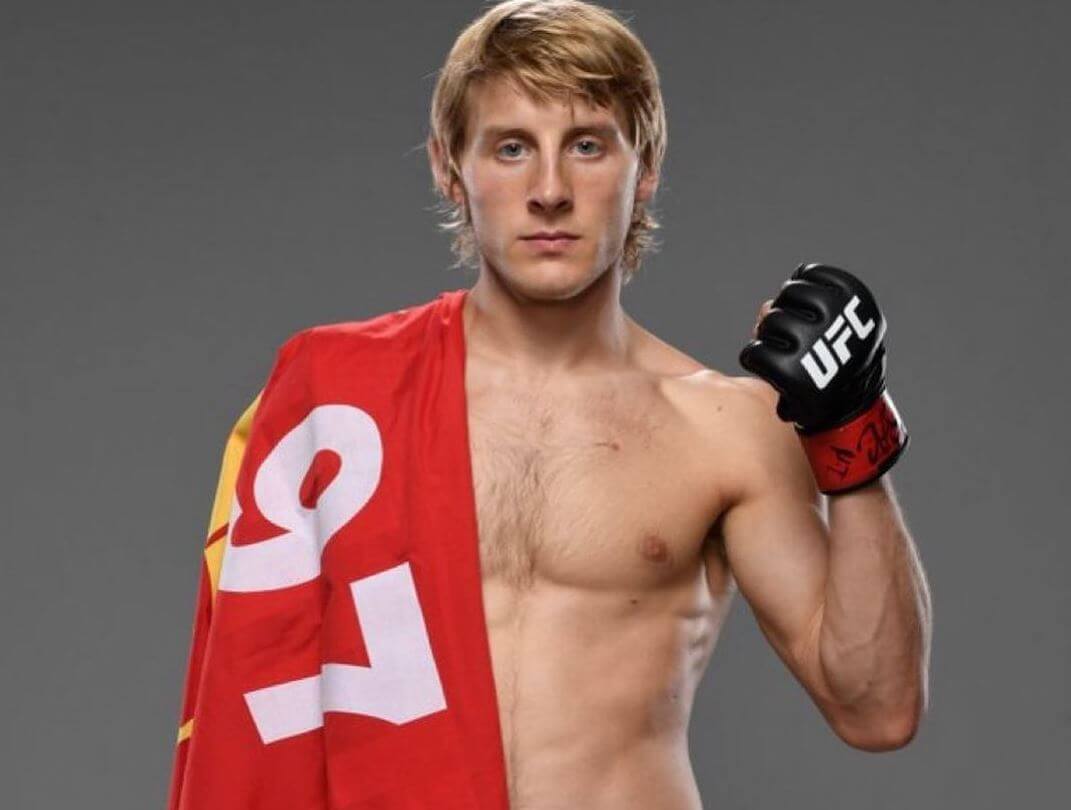 Patrick "Paddy" Pimblett known as The Baddy or Paddy the baddy is an English MMA fighter who competes in the UFC. Lets check out his Instagram, cage warriors history, walkout song and girlfriend.
The 26-years-old fighter is from the Huyton area of Liverpool in England.
His father is a business owner, while his mother is a stay-at-home mom. The religion of Pimblett is Christianity.
As a youngster, he was fascinated with MMA and began practicing martial arts at an early age. After graduating from a private school, he pursued a professional career in mixed martial arts.
Paddy Pimblett Cage Warriors
Pimblett made his debut in the company at Cage Warriors 56, when he faced the unbeaten CW newcomer Florian Calin (2-0). Pimblett was declared the winner by a unanimous vote.
He had to face veteran Frenchman Johnny Frachey (18-10) for the vacant featherweight title at Cage Warriors 78 after nine fights with only one loss in the organization and an overall record of 11-1.
Paddy won decisively in the first round via TKO.
After an 18-month layoff, Pimblett met BAMMA and Brave CF veteran Irishman Decky Dalton (10-4) at Cage Warriors 113 on March 20, 2020. Pimblett easily won by KO in the first round.
Paddy the baddy Instagram
The Baddy official Instagram (IG) handle is @Paddythebaddy or @Paddythebaddyufc. He has amassed over 470k followers.
Paddy Pimblett Walkout Song Name
Paddy Pimblett's MMA walkout music is a mash-up of two House songs: Tisto's Lethal Industry and Yeah Yeah Yeahs' Heads Will Roll.
"Years ago I used to come out to rap. My first nine amateur fights and my first four pro fights, I came out to rap. Then I lost." Paddy Pimblett  said in an interview with BT Sport. ""At the time, I was going out partying all the time and they [his walkout songs] were the type of songs I always used to listen to: House music".
'Paddy the baddy' said "It was just a song I really liked: Lethal Industry. But it never dropped into a good song, it goes a bit stale.".
"So I asked Ant Chandler, a former Garlands DJ who used to come to my gym, to mix these two songs together for me. It's basically my own remix! He put the two songs together for me."
Paddy Pimblett Girlfriend
Pimblett has a girlfriend who has become his fiancee.
Paddy the baddy proposed to his longtime girlfriend on the Phi-Phi islands, according to reports. The boxer uploaded the photo to social media with the remark, "So she said yes, anyhow." Thailand has been a memorable experience."
The name of Paddy Pimblett Girlfriend is unknown.