Rescue Workers Saved A Dog With A Disfigured Face
Phoenix The Dog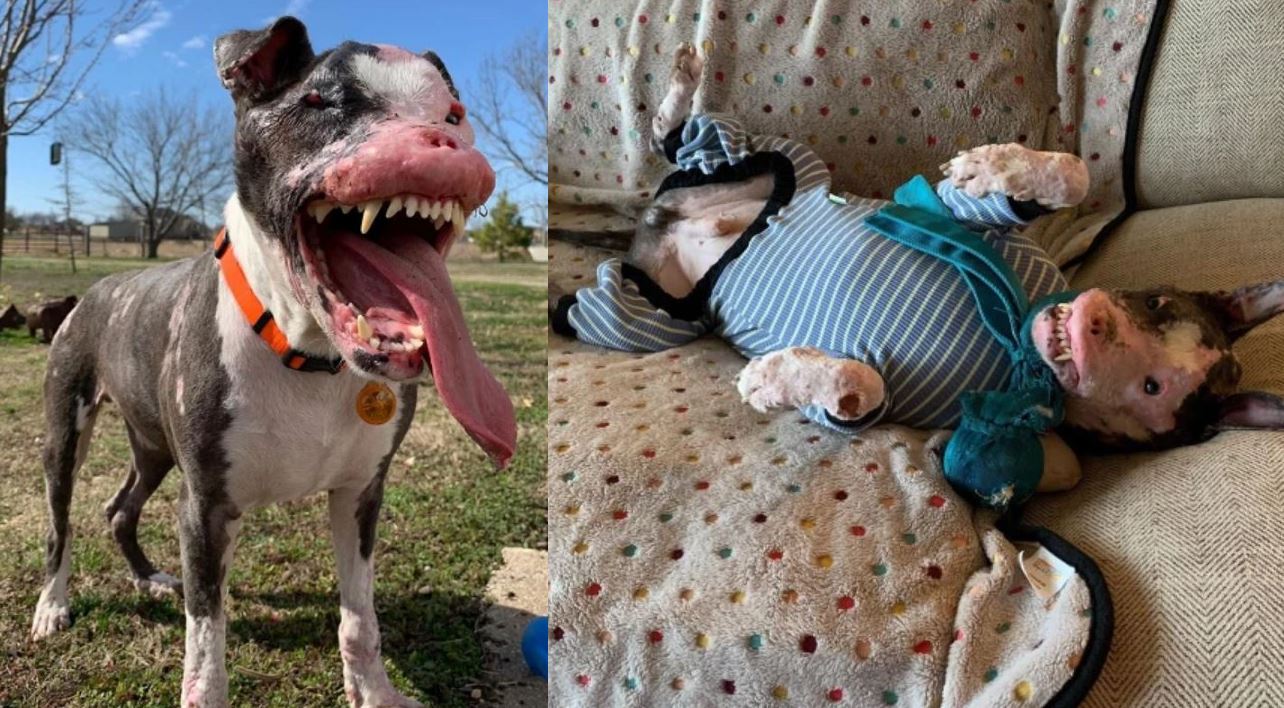 After being saved, a stray dog with serious disfigurements is now making a remarkable recovery.
Phoenix The Dog was discovered in Collinsville, Oklahoma, and rescued by Skiatook Paws & Claws Animal Rescue. Little Phoenix was wandering the streets, and rescuers believe his owners had abandoned him.
Vets weren't sure if Phoenix's disfigurement was caused by illness or mistreatment at first, but after running several tests, they discovered that the pup has an auto-immune disease.
Phoenix suffers from SLE (Systemic Lupus Erythematosus) (SLE). Phoenix's body attacks itself because he has an auto-immune illness, making therapy difficult.
Fortunately, his sickness was under control, and Phoenix was in better health than ever at that time.
Phoenix's condition was updated by the rescue center, who revealed how much attention and care he had received since they took him in.
Phoenix The Dog Death
On June 29th, 2020, Phoenix The Dog also known as Phe died.
"Last night, at around 5 pm, we let Phe go." The post reads. "His exit was peaceful. He was surrounded by people who adored him and his mom and sisters held him close."
"Phoenix had found his person in Dr. Gena, and she could not have adored him more if she tried. Her heart was his and his heart was hers. All any dog wants is to find their person, and he was one of the lucky ones who did. He held on as long as he could, not for himself, but for her and her girls. He was exhausted, and let them know it was time to go.
"There are no words to truly describe what Phoenix meant to us, to his family, and to a world of people he had never even met. Phoenix wasn't just another rescue, wasn't just another dog.
"Phoenix represented everything that is good, and everything that is pure. Phoenix was hope, and most importantly, Phoenix was love. He had been through so so much and never, ever lost his overwhelmingly beautiful spirit. He loved everyone he ever met. His smile, and his heart, will remain ours forever, even if only through memories and photos.
"Phoenix was nothing short of incredible. Who knew what a difference a rough, scarred up dog like him could make? We never knew. We still probably don't know how many lives Phoenix has touched or how big of a difference he has made for others. Like I said, simply incredible.
"In a dark confusing world, in a dark confusing time, he changed everything. Phoenix changed everything.
"Many have followed his story and will be devastated to hear this news. Every dogs story deserves to be told. Please, share this post about Phoenix, share his face, tell his story.
"Donate if you feel led to. Phoenix was selfless, always, and would love to know his legacy lives on to help other animals in need like him.
"Phoenix's name was given to symbolize hope and strength. Everyone looked at him and immediately thought fire had burned him on the outside. It turns out, the fire within him was an indescribable force that no physical flame could ever match. There will never be another dog like him, not ever.
We love you Phe and the world will never be the same without you. You changed everything."
Phoenix The Dog Instagram is @phoenixthedawg. He has 200K followers.