Man Feeding Street Dogs With 'Delicious' Meal Is The Best Thing On The Internet Today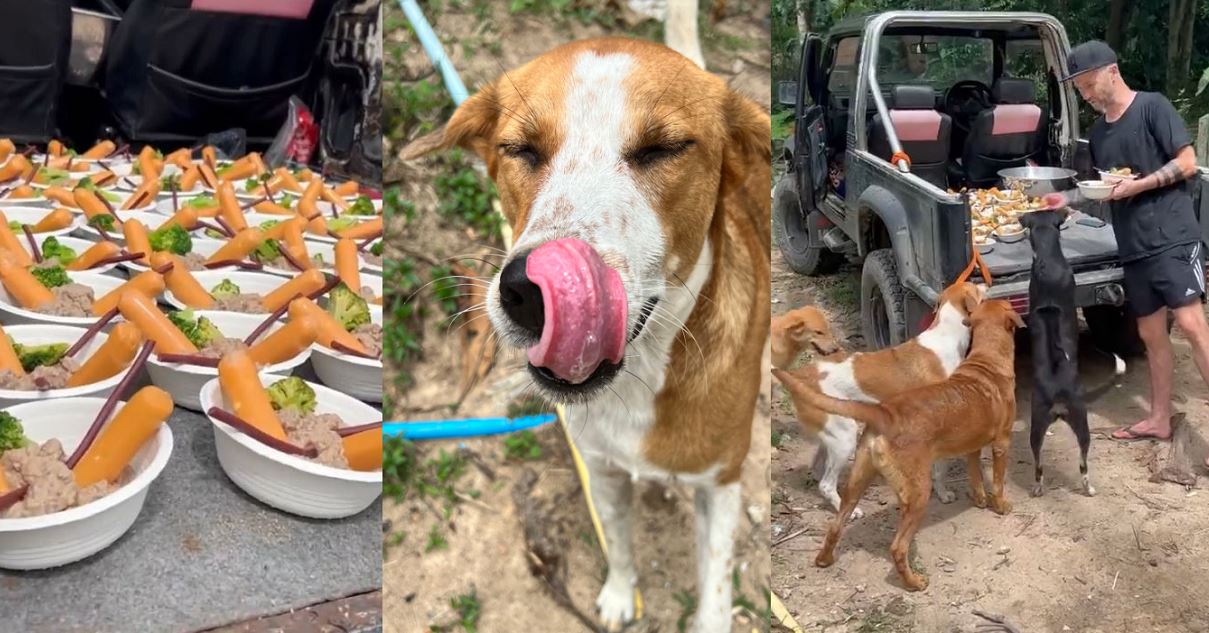 There is a viral video on social media showing a man feeding random street dogs in Thailand.
The video which was shared on Twitter has gathered over 1.5 million views with lovely comments. "God bless all the good people in the world who treat animals with love kindness and respect", One wrote.
Another said. "still don't understand how humans leave their dogs on the streets like that that's just hearthless. really nice of you feeding them, they should have a nice home with nice people that take care of them, poor doggies".
One also said: "There will be a special place in heaven for you my friend. You nearly brought me to tears when I saw that someone still will help the homeless even when they are dogs. If I ever win the lottery you can be sure of a sizeable donation from me. God bless you always."
The dogs were given, a "little "Sunday Roast" with sausages and a little treat in each bowl". The Organizer, Niall Harbison said.
Niall, who lives in Thailand says he is on a mission to save 10,000 dogs a month. He currently looks after 80 street dogs by giving them food, medicine, vet care, and sterilising the dogs to help stop the flow of puppies.
While talking about his project he said, "I fund the project myself ($2000-3000 per month) as well through donations I have raised here. Feeding them is a small part that only costs about $30 per day but it is the vet, medicine, and sterilising bills that quickly add up. To sterilise one dog costs around $50 all in."
He added; "Every penny donated goes directly towards helping the dogs. I donate all my time for free and I also cover any banking or platform fees to ensure it helps the dogs directly. I am working towards having a facility and more people in an organisation to really help more dogs at scale so every penny helps."
In one of his videos uploaded on Youtube, Harbison took a street puppy "Bella" to the vet after he found her with a fractured leg and open wounds, ticks, and parasites. She had great recovery.