Is Beepumpkin legit? Honest reviews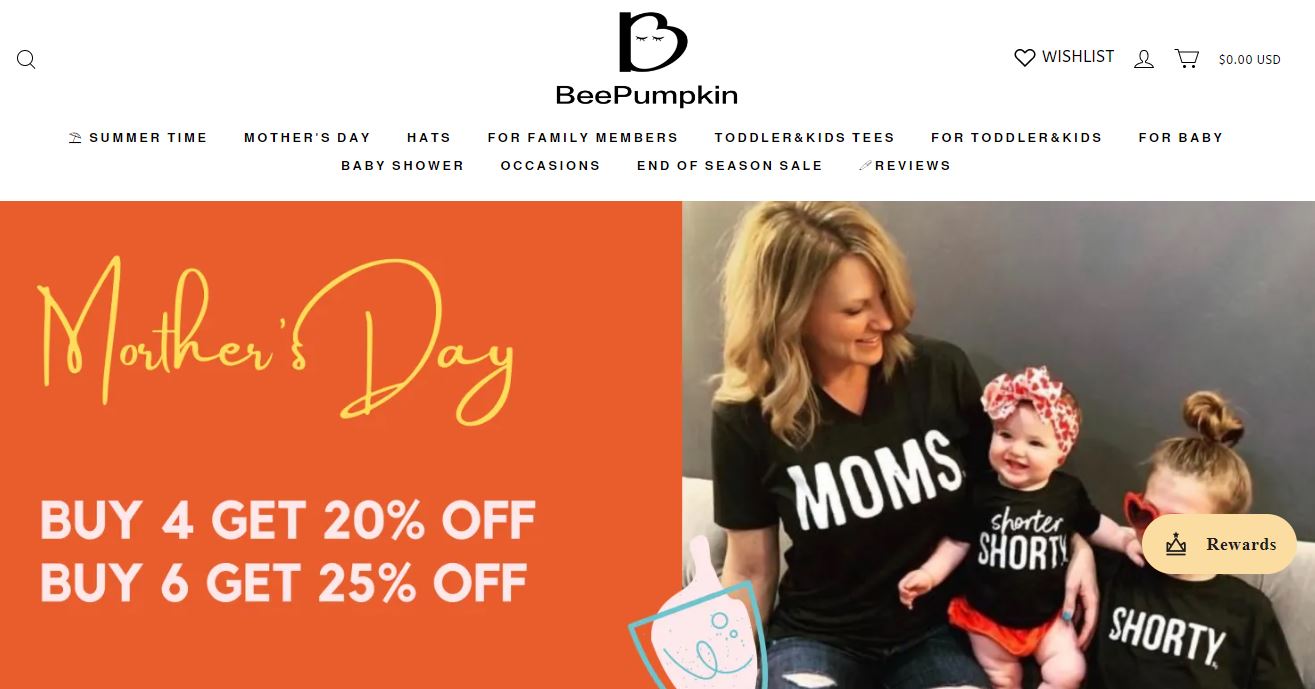 Beepumpkin claims to be "a New parent-owned start-up business that designs baby and toddler clothing, accessories, or family-matching products with love and trending design".
The website is quite new so you need to proceed with caution.
Beepumpkin Domain
---
The Beepumpkin domain was registered in February 2022 and will expire in 2024, according to Whois.
The website is quite new to be trusted with your personal and credit card details.
Beepumpkin Stolen Images
We did a reverse image search and we discovered most of the images on the website were stolen from other websites and the prices and too good to be true.
A Facebook user also complained about the website lifting her pictures with her approval.
"Do NOT order from Beepumpkin they are a Chinese based "company" that just steals images, descriptions, listing details, and more from small businesses like me and then profits off of it." She said on Facebook.
She added; "I sell this exact set (have for 2 years now) and am the original creator, but here they are taking pics from my site to sell their knock off. So gross.
Even their review is fake and is a review from MY Etsy shop."
Beepumpkin Trust Pilot Reviews
On Trust Pilot, there have been complaints about bad customer service and products not arriving.
---
Beepumpkin Facebook Reviews
There have also been several complaints about the website on Facebook.
---
Beepumpkin Scamadviser Reviews
There have also been several negative reviews on Scamadviser. The website has a trust score of 1/100.
"Have yet to receive items. No confirmation email. Tracking number sends you on a loop", One said.
Another user complained; "Ordered a custom bat plushie, never received. Customer service says "be patient" but has no ETA or shipping info. Beware!".
A customer also said; "I paid $100usd for a family of 4 matching Christmas pyjamas, and a matching bandanna for my dog. I keep getting told that I need to be patient, and that the order is delayed due to running out of materials for my item. (I ordered more than one item). I never received a confirmation email, or a tracking number. <br /> Tried to message them on Facebook and it wouldn't send, and I can't find further contact information."
Now back to the question.
Is Beepumpkin legit?
Beepumpkin is a scam website. We noticed the company is located in China.
Be careful of online websites selling clothes, bags, or suits at a clearly discounted, unbelievable price.
You can't go wrong if you assume something that sounds too good to be true isn't.
Also, examine the company's name, social media pages, address, and online reviews as well.
Know that, Online shopping scam websites collect credit card information from victims by using a fake or low-quality online store.
These scams are difficult to detect because they can sometimes deliver goods or services to create the appearance of trustworthiness.
The quality, however, is unavoidably poor. More importantly, it is an uncontrolled gateway through which your credit card information is obtained for excessive and unauthorized use.
Wrap Up
If you have fallen victim to the scam and are concerned that you have given the website too much information, contact your bank or credit card company and ask what steps you can take to secure your account as a precaution.