Is Quick2lend loan legit or scam? Honest Review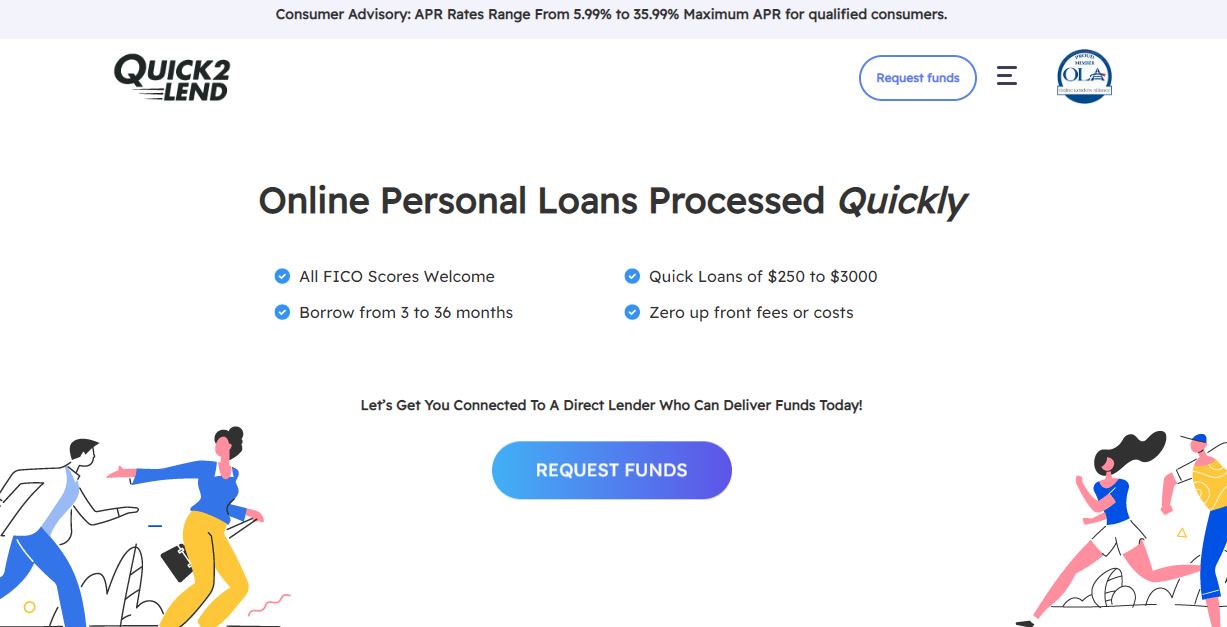 There is a website called Quick2lend that offers up to three thousand dollars in personal loans with zero upfront fees and an APR rate of between 5.99 and 35.99 percent.
We will be writing a short review on the website and showing if quick2lend is legit or a scam. Continue reading below.
Is Quick2lend legit or scam?
Quick2lend is a scam. You should avoid the website.
According to whois, The quick2lend domain is old, it was registered in 2017 but we couldn't find many reviews of the website online.
And the few we found said the website is a scam and they charge more than the interest rate you have to pay. Someone said the company wanted $987 interest on a $300 loan that's a 29% interest rate.
Another said he got a quote for a $300 loan with an interest rate of 650%. Taking out a loan on such websites is risky.
Also, a great deal of information is kept from you.
Quick2lend is not a direct lender
According to their website, they said: "Quick2Lend is not a lender, and we cannot predict what fees and interest rates will be applied to any loan you may be offered."
If you need a loan badly we won't refer quick2lend, you should go to your nearest bank and apply for the loan there.
Quick2lend has no customer care number
After reviewing the website, we notice that the company does not provide dedicated customer service hotlines, and to contact them, the customer is required to write an email.
Also, a legitimate loan company is supposed to have a phone number, email address, and physical address that should be readily available on the website, even if it's an online-only lender.
Quick2lend has no online reviews or official ratings
There are no online reviews or official ratings of the business on Trustpilot, Yelp and Better Business Bureau (BBB) reports.
Quick2lend has low domain authority
We discovered the website has a very low domain authority after reviewing it. There are no news links from any high authority website, just a bunch of low-quality links with a spam score of 25%.
Wrap Up
Runnnnnnnnn as fast as possible.
If you require a personal loan, do your homework and compare multiple lenders to ensure you're getting a good rate from a reputable source. Even if you don't have perfect credit, many personal loan lenders will make loans to borrowers in need regardless of credit.
Don't let yourself be duped into falling for a scam. Instead, look for a company that is willing to meet you where you are.