Is Workatyoutube.com a scam?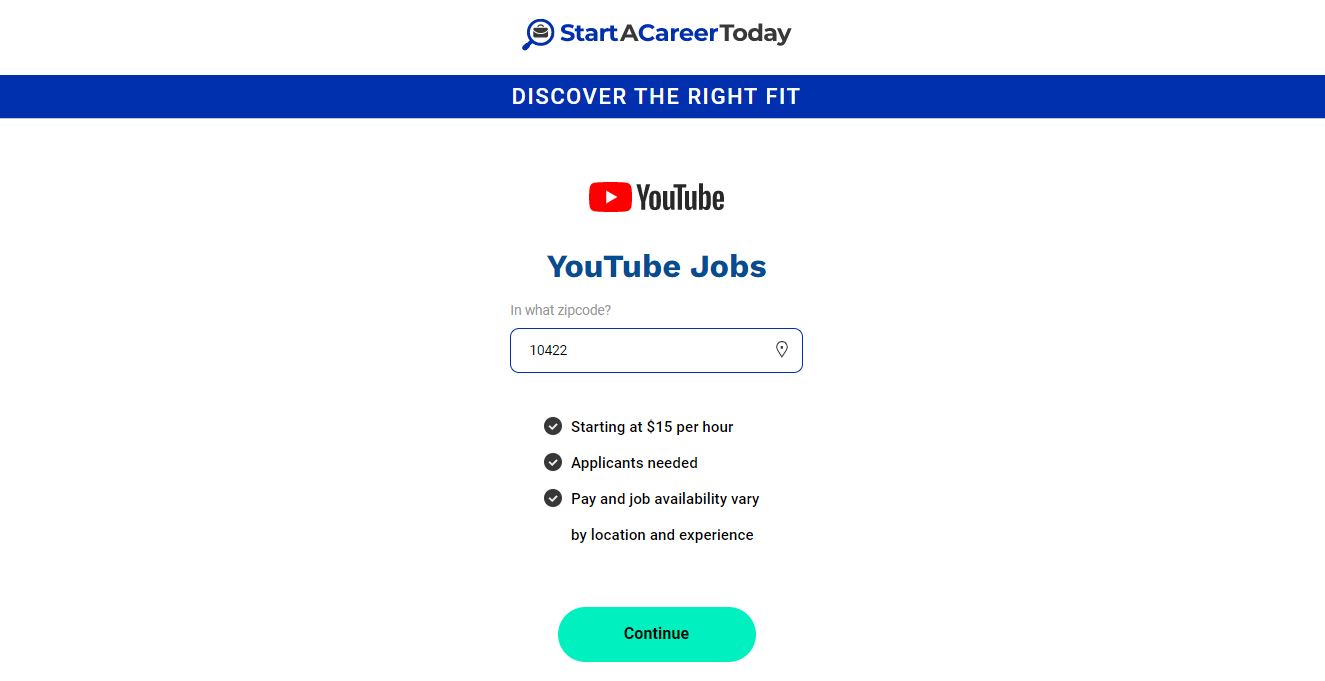 Workatyoutube com links are spreading on Facebook and Tiktok claiming that YouTube Jobs is hiring at rates of up to $15 per hour. This website has nothing to do with YouTube.
We will be writing a review about the website and sharing details of everything you need to know. Continue reading below.
Job Scams
Fake job scams come in a variety of forms, but the majority share common characteristics that you can use to identify the scam before becoming a victim.
Interviews are usually conducted via Google Hangouts or another similar online service.
Their English will be sloppy, and they may be reusing a script, so Googling unique-sounding parts of the email may be useful. They will offer high wages for the work being done, and they will "hire" you by telling you that you are hired, rather than going through the normal process that a company in your country goes through when hiring an employee.
It is a fake check scam if they mention a check or receiving and sending out transactions.
It is a parcel mule scam if they mention receiving, processing, or inspecting packages.
An advance-fee scam occurs when you are asked to purchase items in advance, pay a fee to be hired, or purchase gift cards.
If the job entails posting ads on Craigslist or eBay, they will use you and your account to defraud people.
It's a scam if the job involves Bitcoin ATMs.
Workatyoutube com scam
Workatyoutube.com is a scam website.
The articles include links to "Apply" for Youtube jobs, but when you click on these links, it becomes clear how these scams work.
US readers are redirected from Workatyoutube.com to a largely unknown website called startacareertoday.com, which was registered in the year (2015), according to whois.
How the Workatyoutube.com scam works
They steal ACTUAL job postings from legitimate websites. (This is why you can find local listings). When you apply for a job, however, you are providing all of your personal information to the scammer rather than the actual employers. Depending on what you applied for and which scammer obtains your personal information.
You may get tax forms for your SSN and a direct deposit form to send your account number. You may also be asked to send a photo identification. All of this sounds like what a real employer would do until your bank account is emptied.
In some cases, they may also request your credit card information (to pay for training and training materials that will never be sent). They may say they will reimburse you for these expenses after you have been there for 30-90 days/6 months.
Yes, people are getting hired on this site for jobs they aren't even qualified for, and/or they say you'll start at a training position before moving up to the position you applied for.
If you contact the genuine employer, they have never heard of you, do not have your information, and did not hire you.
This scam is currently very popular on Facebook.
When looking for jobs online, always be cautious and skeptical of anything that appears to be too good to be true.
If you're looking for jobs on Youtube, you can find them here. They're always looking for new people to join their team.
How to Avoid a Job Scam
Take these precautions to protect yourself from job scams before accepting or paying for a job offer.
Do an online search
Talk to someone you trust
Don't pay for the promise of a job
Never bank on a "cleared" check
Conclusion
Workatyoutube.com and startacareertoday.com websites are both scams. Beware of fake job ads on social media.