From McDonald's to 2021 Tokyo Olympics, Meet Quanesha Burks
How a McDonald's worker, Quanesha Burks, made her way to the Olympics.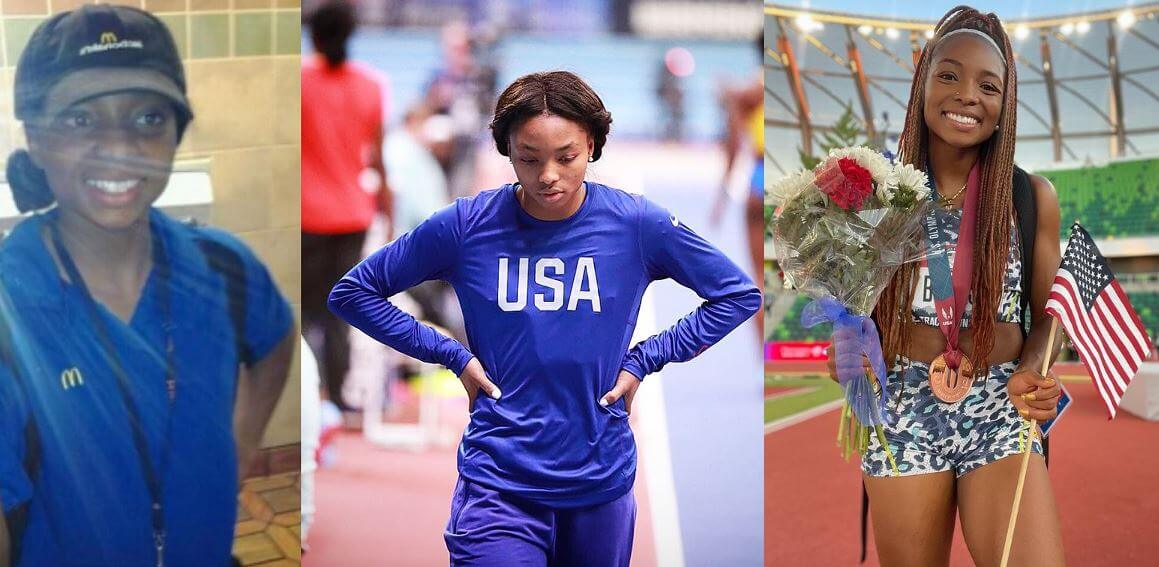 At age 17, Quanesha Burks was working at McDonald's in Hartselle. She was raised alongside her siblings by her grandparents in the same town.
Quanesha would start her day at 4:30 a.m. taking her grandmother to a local nursing home, waking up and getting her sisters ready for school before dropping them off and attending her own classes. She would later practice after school.
"When I worked at McDonald's, I thought it was the best job ever," Burks told Sports Illustrated. "I was making $100 every two weeks. It's terrible, but I came to work every day happy and I knew it was all part of my goal to go to college."
Quanesha began with basketball after a family member brought her basketball shoes, then switched to track and field after another friend assisted her with spikes. All this happened while she was still at Hartselle High School.
"I remember looking up the requirements to earn a full scholarship and I wrote those goals down," She told Sports Illustrated. "I jumped 20 feet and that's when everything changed."
Burks was the first in her family to attend college, where she continued to dominate, winning the NCAA outdoor long jump title in 2015 and the NCAA indoor long jump title in 2016.
Burks remained as a professional long jumper after graduating from college. She won the US indoor title in 2020 but was unable to compete in the World Athletics Indoor Championship because of COVID-19.
Quanesha Burks bone bruising
In a new Instagram post, Quanesha said a few months ago she was dealing with severe bone bruising in her femur and 2 strained tendons in her patella and popliteus.
"I couldn't physically bend my leg let alone walk or run properly." She said. "Over 11 weeks of frustration, uncertainty, limitations from physicians, doubt from others and not being able to train was a big challenge for me."
The Olympian said besides all odds, she put everything in God's hand. She said: "I refused to let the setback determine my outcome and I knew God didn't bring me this far to leave me."
During this period, Quanesha said her circle became small because she wanted to remove all of the negative energy from her life. She said: "I trusted God with the rest! I decided to speak positivity into my future knowing that God would take care of the rest and he did just that! Do not let anything else get in the way of what God has promised for you!"
The 25-year-old from Alabama said for her becoming an Olympian is a promise God made to her before the trials or injuries. She held on to that promise through the good and bad.
"It's a blessing to be like one from my hometown in a small community, really just representing myself, but Hartselle, the University of Alabama, and the state of Alabama," Burks said, WHNT19 reported. "Knowing that I'm representing us in Tokyo is just a blessing, it's an honor and I'm so proud of the other Olympians."