Marjorie Taylor Greene to stop Kevin McCarthy from being the GOP speaker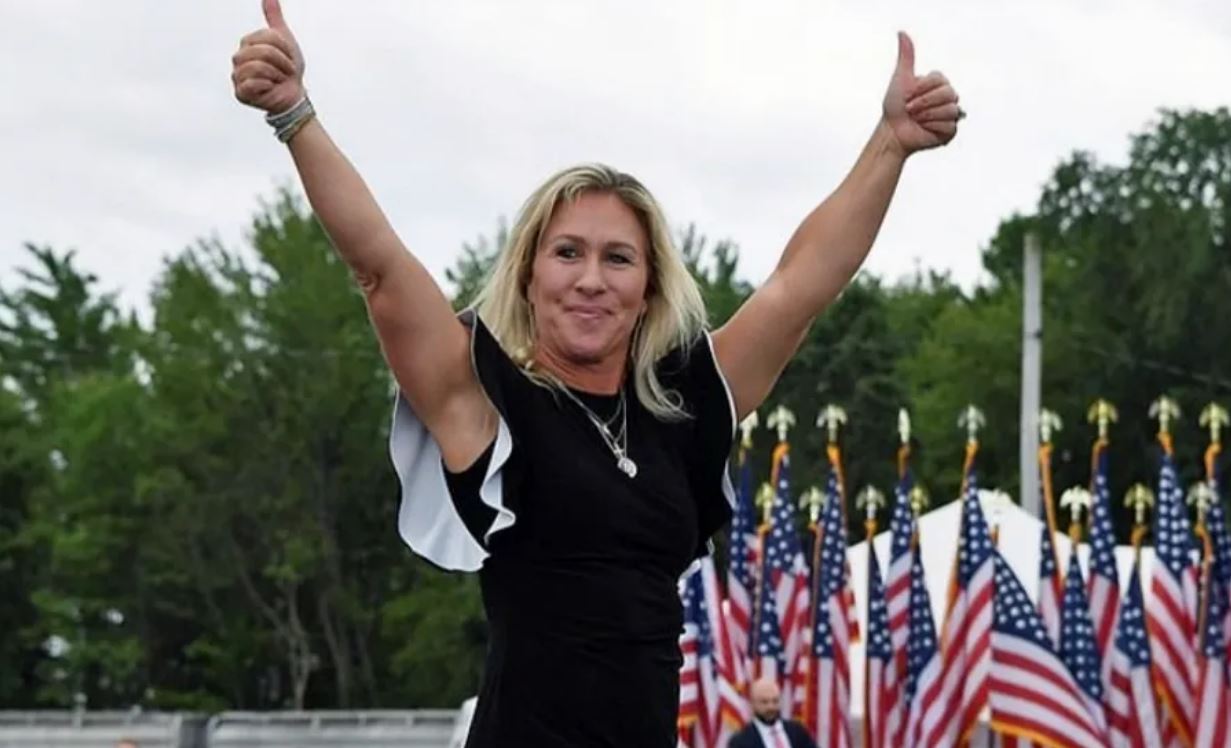 If the Republicans reclaim Congress, Rep. Marjorie Taylor Greene (R-GA) is prepared to fight for a Republican Speaker of the House.
Current GOP House Minority Leader Kevin McCarthy (R-CA) isn't a fan of former President Donald Trump, according to Jonathan Karl's new book Betrayal, but he's willing to go to any length to avoid becoming political roadkill.
Karl questioned why he didn't have the courage to confront Trump, referring to Washington's statues to political leaders prepared to stand up for what's right. McCarthy mentioned Republicans like Sen. Jeff Flake (R-AZ) and Rep. Mark Sanford (R-SC), who were willing to oppose Trump and ended their political careers as examples.
According to CNN, Trump is already hanging the speakership over McCarthy's head. According to the article, their leadership of the Republican Party emboldens the MAGA world.
Thursday, it was revealed that Greene is among those eager to thwart McCarthy's leadership should the GOP win, a different CNN report said. Instead, she wants a speaker that is closer to the MAGA leaders loyal to Trump.
"We know that Kevin McCarthy has a problem in our conference. He doesn't have the full support to be speaker," Greene said during an episode of Rep. Matt Gaetz's (R-FL) podcast that aired Thursday. "He doesn't have the votes that are there, because there's many of us that are very unhappy about the failure to hold Republicans accountable, while conservatives like me, Paul Gosar, and many others just constantly take the abuse by the Democrats."
McCarthy previously said that despite their ethics problems, Greene and Rep. Paul Gosar (R-AZ) would be reinstated under his leadership in the House. That still hasn't convinced Greene, however.
Greene, said that she will have a list of demands for anyone hoping to get her vote for speaker. Specifically, she wants GOP Reps. Adam Kinzinger (R-IL) and Liz Cheney (R-WY) were kicked out of the Republican Party after voting to support and serve on the Jan. 6 Select Committee. Kinzinger has already said he doesn't plan to run for office again, which Greene apparently forgot.
As for Cheney, so far she intends to run in 2022, and Trump has already endorsed her opponent Harriet Hageman, who only recently decided to become a Trump supporter.
for serving on the Jan. 6 committee, something McCarthy has so far resisted. She also said she has no respect for current GOP leadership.
Greene isn't alone. Many of Trump's loyalists have felt frustration with McCarthy in the past several weeks.
Given the gerrymandering of congressional districts and retiring officials, new ultra-right Republicans could be elected, giving McCarthy a math problem if they all stick together. Greene also wants New York Republican Rep. John Katko to lose his appointment as the ranking member of the House Homeland Security Committee. In fact, she wants him kicked out of the GOP. Katko's seat is a swing district, so if he turns right, he could be replaced by a more moderate Democrat.
"Katko's not a Republican. He's a Democrat," Greene said. "Our conference and the NRCC needs to stop playing this majority-maker game."