Meet Manchester United goalkeeper David de Gea's Girlfriend, Edurne Garcia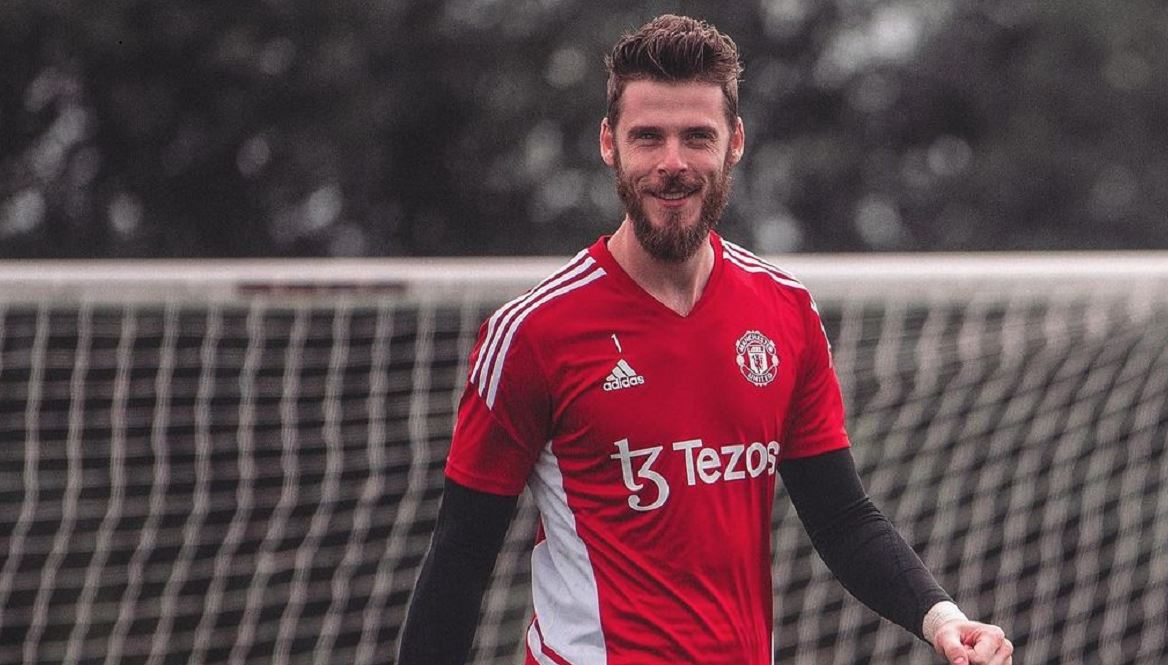 On Gistvic Blog, We will be sharing some gist about Manchester United goalkeeper David de Gea and his beautiful girlfriend.
Edurne Garcia, 36, is a singer, TV presenter, and actress. Continue reading below to learn more about the goalkeeper's girlfriend.
The couple has been together for a very long time.
Edurne praised the Manchester United goalkeeper as "the world's best dad" after the birth of their daughter, Yanay.
They welcomed a daughter together in March of 2021. The happy dad shared pictures of his daughter's hand on Instagram with the caption; "Never let me go", as fans dropped congratulatory messages.
Edurne and De Gea began dating soon after meeting in December 2010 to record a Christmas carol to raise money for children with cancer and their families.
At the time, De Gea was still playing for Atletico Madrid. His girlfriend, Edurne represented Spain at the 2015 Eurovision Song Contest.
Edurne has 1.9 million followers on Instagram. She shares beautiful photos of her husband and their daughter.
On Mother's day, the goalkeeper went out of his way to celebrate his girlfriend. "Happy Mother's Day! We love you mommy", He wrote.
On March 4th, De Gea celebrated his daughter's 1st birthday.
"Happy birthday little princess 🎂 I love you infinity ", He wrote on Instagram.
He also celebrated his girlfriend's birthday in December 2021, "Happy birthday to the love of my life😍🥳 Thank you for giving me the best gift ever. Love you", He wrote.
In 2021, The Manchester United goalkeeper David De Gea was missing from the team for a short period of time following the birth of his first child.
He missed a game with Crystal Palace at that time. The game ended in a 0-0 draw.
While speaking at his pre-match press conference, Ole said; "It's a fantastic day for David, of course. When you become a dad it's possibly the best feeling you can have.
"Those who are lucky enough to have had that feeling know exactly what David is going through now. We'll give him the time he needs before he comes back.
"He asked to go home and in the old world it's a day and you go and you're ready again. With the pandemic and the quarantines, it's a different world.
"Still, we felt when David wanted to be there to support his girlfriend that's not even a decision to make. Dean [Henderson] came in and played well and he's ready. I'll give David the time he needs of course.
"As soon as David travels back, we just have to follow the Government rules. I expect him to be available very soon," he said.
"Making up stories that have been in the press this morning, that's unfair on our fans and David. We allowed him to go back and be with his girlfriend. We want our players back as soon as possible.
"But there's a human being in there that we had to look after and David was there for this fantastic day for him and his girlfriend and his family. I don't know when he'll be back; it won't be long.
"This is the biggest occasion in any parent's life so of course we allowed him to go.
"Dean did well against Palace and I'm sure he's looking forward to this City game as well. He has had that experience already this season in the Carabao Cup, so that will stand him in good stead."
David De Gea was regarded as one of the top goalkeepers in the world in the middle of the 2010s. According to The Daily Telegraph.