NYC Anti-vaxxers arrested at Burger King protest, J6 rioter calls Fleeing Anti-vaxxers 'Coward'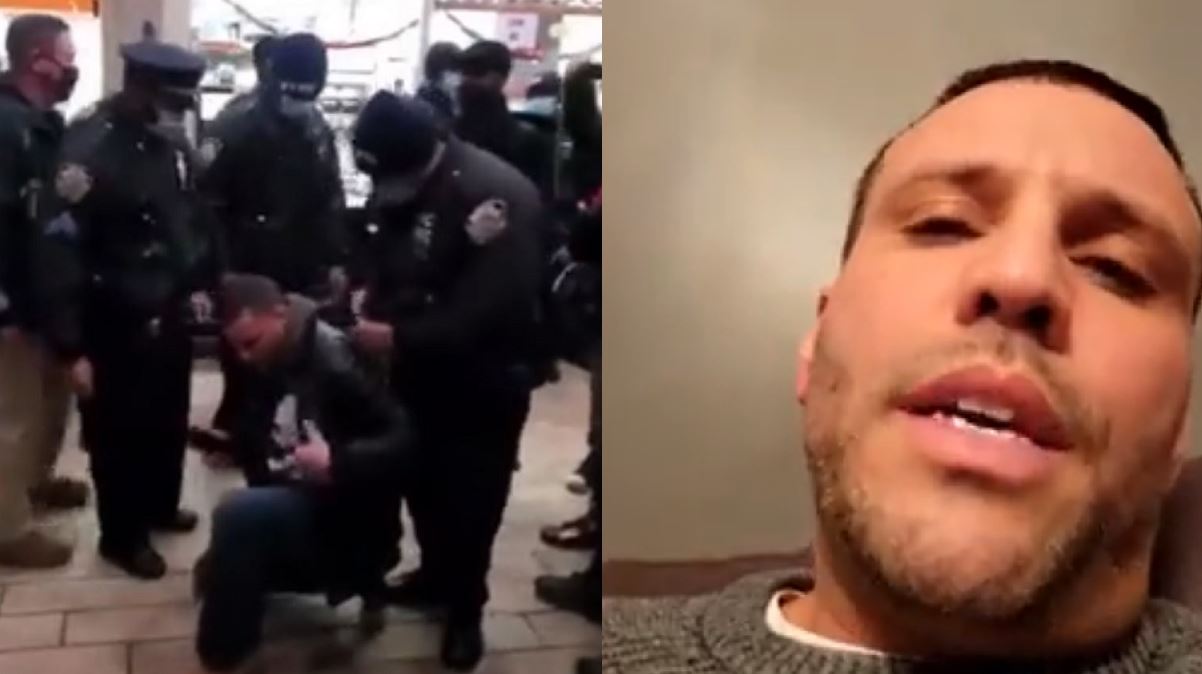 Some Anti-vaxxers in New York City were arrested after they stormed a Burger King.
Some of them were wearing MLK images. They were protesting vaccine mandates. Five people were arrested in Burger King in New York on Monday night.
The five people taken into custody were all charged with trespassing and remaining unlawfully inside the Burger King, according to cops.
They were issued desk appearance tickets.
Those arrested included Michael Mitchell, 36, Augusto Alarcon, 39, Ethan Boisvert, 41, Mitchell Bosch, 41, and Bradford Solomon, 44.
Mitchell Bosch, a January 6th rioter, advises fellow anti-vaxxers to "lock arms" in the Burger King lobby and brands any anti-vaxxer who leaves now to avoid arrest "a coward."
Watch Video Below:
This is not Mitchell Bosch first time.
Mitchell Bosch was also arrested after refusing to leave a New York City Cheesecake Factory when the restaurant refused to serve him because he did not have a vaccination card.
The U.S. Army veteran was again arrested while protesting against the city's vaccine passport mandate, this time at the Panera Bread in Gateway Center mall in Brooklyn.
Mitchell Bosch, 42, who previously served in Iraq twice and once in Afghanistan, went into the shop on the afternoon of Dec. 19 holding an American flag, after having ordered food online. He was joined by about eight other people who supported his cause, including gubernatorial candidate Derrick Gibson.
He held a copy of the Constitution and said "this is my vaccine passport!" when the Panera employees asked him for proof of vaccination.
After his release about 3 hours later, he went back to Gateway Center and entered Smash Burger.
Police came again, and this time they argued outside. Bosch later left without being arrested.
"This is a capitalistic country, plain and simple. We're not going to socialism. If we do, then I'm here to die for this country," he said.