Who is Rob Gronkowski Wife?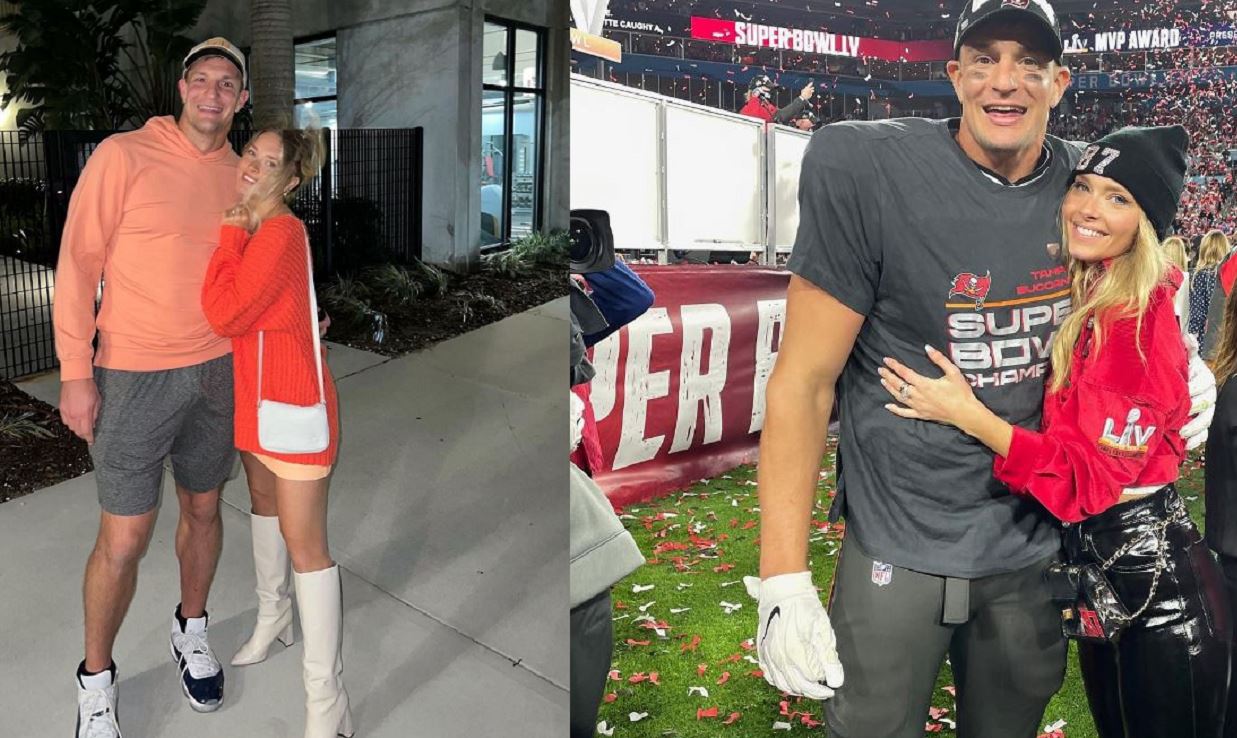 Does Rob Gronkowski have a wife? There have been several questions regarding Gronk's marriage and relationship life. Let's explore together.
Gronk is an American football tight end who plays for the National Football League's Tampa Bay Buccaneers (NFL). He is a four-time Super Bowl champion, a five-time Pro Bowl pick, a four-time First-Team All-Pro selection, and a member of the NFL 2010s All-Decade Team as well as the NFL 100th Anniversary All-Time Team.
He is an NFL receiver and blocker who holds multiple records, including becoming the first player of his position to lead the league in receiving touchdowns (17 in 2011).
On and off the field, Gronkowski is one of football's most popular players, with a larger-than-life demeanor. Does he have a wife? Let's find out.
Who is Rob Gronkowski Wife?
We are sorry to tell you that Gronk is not married yet, but he has a girlfriend named Camille Kostek. She is a model.
Gronkowski has been in a relationship with Kostek since 2015. On Thanksgiving 2013, they first met at a Patriots charity event.
The couple will mark nine years since their first meeting in November of 2022.
Who is Camille Kostek?
Kostek is a model.
Her appearances in the Sports Illustrated Swimsuit Issue garnered her attention, and she rose to even greater fame after landing the cover of the magazine's 2019 issue. She's also a part of the movie Free Guy (2021).
Kostek began her professional cheerleading career with the Hartford Colonials of the United Football League when she was 19 years old. Kostek made the roster of the National Football League's (NFL) New England Patriots Cheerleaders in 2013, while still a junior at university.
How Did Kostek and Gronk Met?
They first met at a Thanksgiving charity event in 2013.
During an appearance on SiriusXM's This Is Happening with Mark Zito and Ryan Sampson last year, Kostek recounted their first meeting at the event.
"I'm hoping I still have it, I think I know where it is. He ripped off his 'Hi My name is Rob Gronkowski' sticker on his T-shirt," She said.
Gronkowski's number was given to Kostek by a teammate who was concerned she would be breaching a rule by dating a player, according to Kostek. "He had written on the back of it his phone number and he wrote 'Shhhh' because he knew it was a secret."
"I was a rookie. I was like, 'Oh no, no, no, I can't take this. I can't take his number.' And then was like, 'Just take it,' and I was like, 'Okay,' and I put it in my pocket. And I never spoke about it again,"
After originally mistaking it for a joke, she decided to talk with him via FaceTime. 
Camille Kostek is known as @camillekostek on Instagram. She has 1 million followers.