Ron DeSantis USF Visit: Florida Governor scolds students for wearing face masks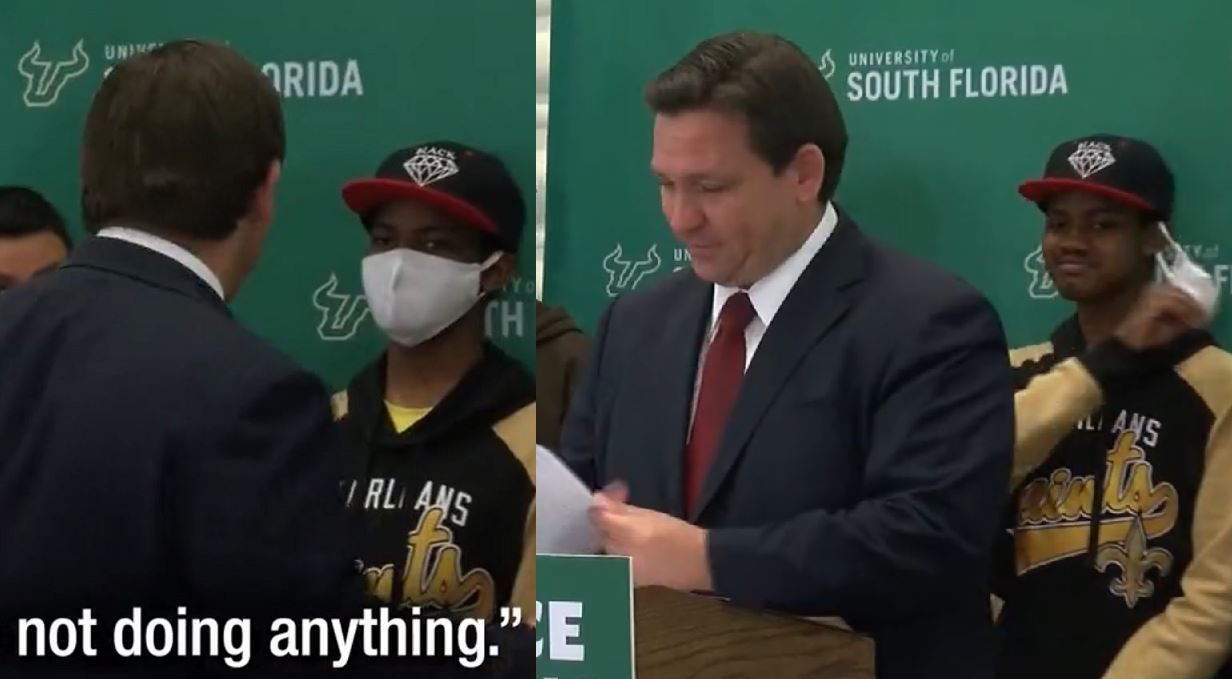 During a visit to the University of South Florida (USF), Ron DeSantis scolded a group of students behind him who were wearing face masks.
"You do not have to wear those masks," Gov. DeSantis said. "I mean, please take them off. Honestly, it's not doing anything and we've gotta stop with this COVID theater. So if you want to wear it, fine, but this is ridiculous."
Watch the video below.
Ron DeSantis USF Visit
DeSantis was at the University of South Florida (USF) to announce funding for cybersecurity education. According to WFLA News.
The governor spoke about cybersecurity and announced a $20 million program to create cybersecurity opportunities through the Florida Center for Cybersecurity at the University of South Florida.
"One of the things we've tried to do since I became governor was increase Florida's competitiveness in terms of workforce education," DeSantis said. "And that's really looking to see what's in high demand. And that's really a diverse thing, in terms of what's going on right now."
The governor stated that students in Florida have several options, notably in cybersecurity and core technical disciplines.
"We've done a lot on some of the core technical education programs that have kind of fallen out of favor, where we're supporting things like welding, and electrical and HVAC which is very important," DeSantis said. 
"Then you have on the cyber end, which is typically viewed as a postsecondary framework because there are so many opportunities and so much need. But one of the things we wanted to do with all of this is say we can start preparing people with skills prior to being in college."
The governor announced $20 million in financing for cybersecurity education in Florida, saying the state has worked to expand cyber IT computer science training opportunities in K-12 schools.
"This funding will be coordinated through the Florida Center for Cybersecurity at USF which will work with regional partners to expand programs that help middle school, high school and college students obtain credentials in cybersecurity," the governor said.
"The funding will be used to train new teachers, purchase training equipment that will be used by students and other associated endeavors. This is really the first of its kind program, there's really no other state that's using a regional model, that will allow students as early as middle school to start learning credentials in IT and cybersecurity."
The governor said since 2019, enrollment in cybersecurity and IT programs has increased by 37%, with nearly 22,000 students in Florida colleges and technical colleges, with another 143,000 middle and high school students involved in cybersecurity and IT pathways.
With the funding, DeSantis said the state hopes to double that enrollment across the state to about 300,000 students by 2024.