Hustlers University 2.0 Reviews (Legit, Scam, or Pyramid Scheme?)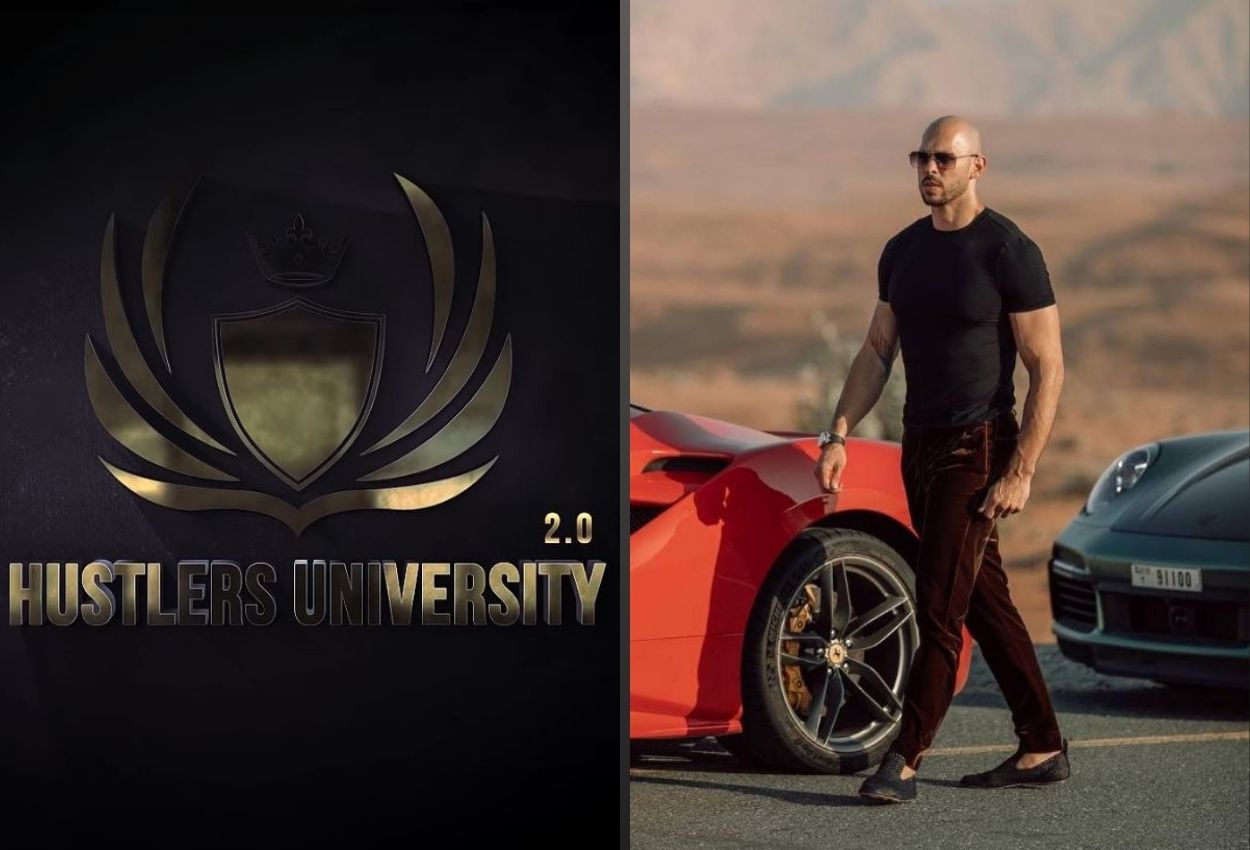 I will be sharing my personal review of the Andrew Tate Hustlers University 2.0 course. Read below and get to know every detail about the Hustlers University course.
The Hustlers University 2.0 was created by Andrew Tate. Read more about the former kickboxer below.
Who is Andrew Tate
Andrew Tate is the creator of Hustlers University and a former kickboxer.
According to Andrew, Hustler's university is "a community where you will have access to stock analysis, options plays, crypto analysis, Defi, E-commerce, Copywriting, Freelancing, Flipping, Real Estate, Financial Planning, Affiliate Marketing, Business Management and more". You will also learn how to invest in stocks.
He also added: "Every professor is verified by me personally. Each one of them is making anywhere from 10k to 500k a month in their select field."
Check Out: 5 Things You Didn't Know About Cobra Tate
Tate was born in Washington, DC, and relocated to England when he was four years old. From then until his retirement, he fought out of Luton, England.
Tate's father Emory Tate was an International Master of chess. Andrew Tate has two younger siblings: a brother, Tristan, and a sister, Janine. He is of African-American and English ethnicity.
"My dad taught me everything. Absolutely everything. And my fighting style in the ring mimics his on the board." Andrew Tate tells Chess.com.
"When I was first learning to kickbox he would get mad at me for having my hands up. He would say I'm not a turtle and I have nothing to hide from. We focused on offense. I still fight with my hands down and head movement. All out attack." He added.
Andrew lives in Bucharest, Romania, with his brother Tristan Tate, a former amateur mixed martial fighter.
How Much I Made From Hustlers University?
I got introduced to the course by a friend. After I paid $49, I was given access to Hustlers University 2.0.
When I first joined the Hustlers University discord server, I was given a quiz to complete in which I was asked a series of questions. What I liked best about the quiz is that it forces you to learn everything there is to know about HU before moving on.
On average, people make from 150 to 200 bucks or less, within the first month. I personally made 420 bucks within the first month and the second month was about 800 to 900 after choosing the Copywriting and freelancing course. I will give you more updates as things go by.
It's important to note that not everyone will earn that much in their first month. I was able to make that kind of amount because I already knew some things about copywriting. The course taught me about several subjects I hadn't considered before.
Andrew Tate hustlers university copywriting course is one of the sort-after course on the discord platform.
Is Hustlers University a scam?
To be honest with you, Hustlers University is not a scam. Well, note that it takes time to master certain skills. There are no shortcuts; how much work you put into something is entirely up to you.
>>Check out 5+ Ways To Make Money Per Month Online From Your Home<<
Well, To make the most money in hustler's university, you must have a point of view or a goal that you intend to achieve.
Your First goal is to be focused on making money using one of the methods given on the platform. There is training for:
Copywriting: The act of writing text for the purpose of advertising or other forms of marketing is known as copywriting. The product, also known as copy or sales copy, is written content that tries to raise brand recognition and ultimately persuade someone or a group of people to perform a specific action.
Affiliate marketing (traffic sources, native traffic, Facebook traffic, media buying, creating landing pages and more): Affiliate marketing is a type of performance-based marketing in which a company pays one or more affiliates for each visitor or customer they bring in through their own marketing efforts.
Cryptocurrency: A cryptocurrency is a digital currency that functions as a medium of exchange over a computer network and is not supported or maintained by any central authority, such as a government or bank.
Personal Finance: Personal finance is a word that covers all aspects of money management, including saving and investing.
Freelancing: A freelancer, also known as a freelance worker, is a self-employed individual who makes money by delivering services to a variety of clients.
E-commerce: E-commerce refers to the purchasing and selling of goods and services, as well as the transfer of payments or data, over an electronic network, most commonly the internet.
Defi: DEFI is a new financial technology based on distributed ledgers that are similar to those used in cryptocurrencies.
Business management: The coordination and organization of corporate activities is referred to as business management.
Amazon FBA: Amazon FBA is an Amazon-owned and controlled e-commerce platform that allows third-party sellers to sell new or used items.
All these courses listed are good ways to make life-changing money.
Andrew Tate has appointed a professor to each training course. These professors according to Andrew, have risen to the top of their fields and are now passing on their knowledge to others.
Your Second goal should be using the money to make more money. When you are making a good amount of money, I recommend you focus on other courses in the discord groups. By doing this, you are using your money to make more money.
You can start focusing on real estate, investment, crypto, and more others.
Your third goal should be picking the ideal online money-making approach for the course. I know this can be very hard. I was once in this position. Well, what I did was that I focused on my strength, something I was good at, and I applied it to a market. I also did research and focused on what people wanted in the market. After doing all this, I was able to outline some ideas and provide some solutions. I was able to sell a service and items using the solution.
Within a short time, I was getting profit and sales because I was solving a problem and giving out a solution.
What Not To Do On Hustlers University 2.0
There is a wide range of courses at Hustlers University but there are some things you should avoid.
1. Don't Take all Courses at Once
I understand how tempting it is to attempt to jam four or five courses at once in order to take advantage of the opportunity. But you shouldn't try eating them all at once.
Try to take them one after the other.
2. Don't Play Around
You should take each course seriously. Don't joke around. You started the course to earn knowledge and make money. You should stick to that.
A little distraction can affect you but that doesn't mean you shouldn't socialize and get connections. Concentrate on the goal.
3. Don't be envious of other people's success
At Hustlers University, you'll see a lot of people winning, but don't get distracted. Keep moving forward; you're almost there. Don't give up.
Conclusion
To sum it up, Hustlers University 2.0 is Legit.
On Trustpilot, it has a rating of 4.5 or 5 with good reviews. What are your opinions and questions on Andrew Tate's Hustlers University 2.0 program? Please let me know in the comments section below.
FAQ
What's Hustler's University?

Hustler's University is a platform created to teach people how to make passive income online through stock analysis, options plays, crypto analysis, DeFi, E-commerce, Copywriting, Freelancing, Flipping, Financial planning, Affiliate Marketing, Business management, and more.
Does Hustler's University Work?

Yes, Hustler's University is Legit, and its works.
Is Hustler's University a Pyramid Scheme?

No, Hustler's University is not a pyramid scheme. People are making money online.
Is Hustlers University Worth It

Yes, Hustlers University 2.0 is worth it, You can give it a try.
Is Hustlers University Free?

No, Hustlers University 2.0 is not free. it's $49 to enroll.
How Old Do You Have To Be To Join Hustlers University?

Hustlers University is 15+. You will benefit much from getting started early.

To participate and earn money, you do not need to be 18 years old. As long as you have the motivation to succeed, you can do it at any age.
How To Join Hustler's University

You can join Hustler's University by heading over to their offficial website and paying $49 to enroll. You will be sent an email on the next step to joining the discord server.
When is hustlers university closing?

The date has not been specified. HU 2.0 is rumoured to close once a certain number of students is reached.
Is Hustlers university real or fake?

Hustler's university is real.
Also, Check out: