Meet Barcelona Lewandowski Wife, Anna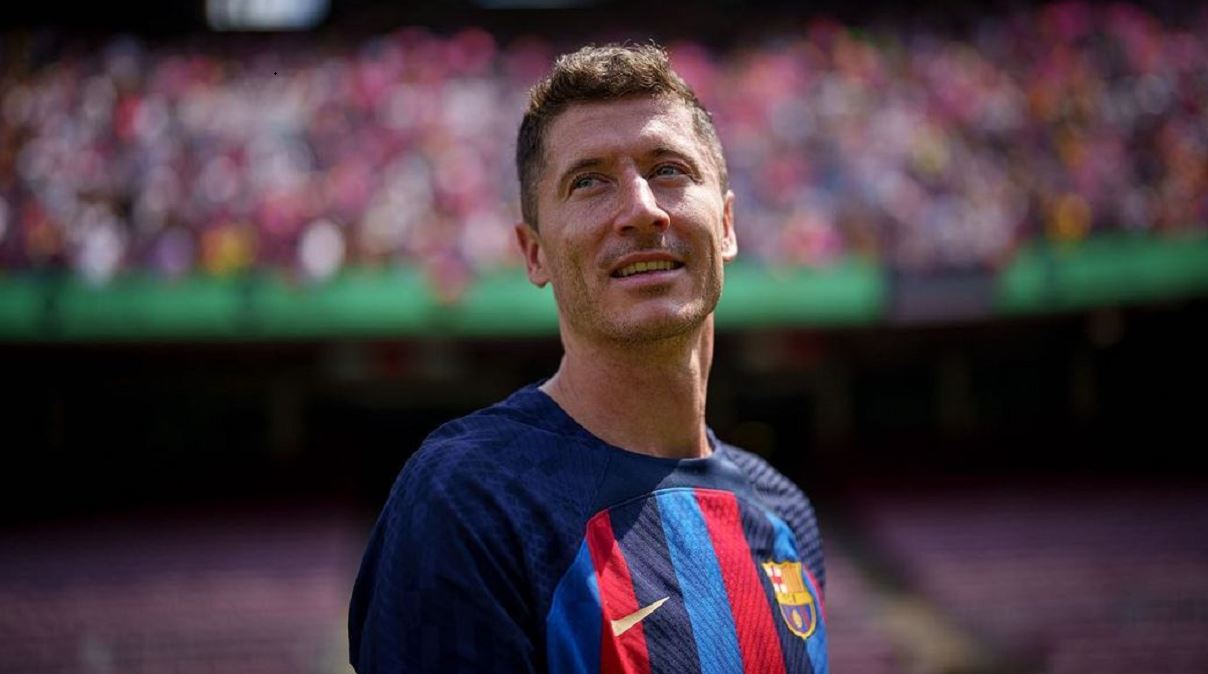 Robert Lewandowski is a professional footballer who plays as a striker for La Liga club Barcelona and captains the Poland national team.
We will be sharing some details about his beautiful wife, Anna Lewandowski. Continue reading below.
Lewandowski got married to his wife on 22 June 2013 in the Church of the Annunciation of the Blessed Virgin Mary in Serock.
Anna Lewandowska is a martial arts expert with a degree in PE and nutritionist qualifications.
Apart from that, she has also represented her country in karate championships around the world.
In 2018, she traveled to London to promote healthy living by running a fitness seminar in a Hammersmith gym.
In charge of Lewandowski's meals, Anna prefers to utilise fresh herbs and spices while totally avoiding lactose foods.
"The most important thing is training and nutrition." She told Bild.
"We refrain from lactose and wheat flour. It's about quality food.
"Pancakes, brownies, vegetable spaghetti, porridge or millet. We also like to eat high-quality fish.
"Sometimes after training we drink beetroot juice with cinnamon or cayenne pepper.
"When we mix many foods at once, sometimes we aren't doing the right thing.
"We feel bloated, have to loosen our trousers. The mix is ​​too much for our body."
Anna also studied nutrition and has recently launched her own food brand, Foods by Ann.
Her business, which sells everything from smoothies to energy bars to supplements, has been doing well since she founded it in 2016.
However, Anna's greatest success has come in the form of martial arts.
The Pruszkow Karate Club is where the stunning Lodz native first met Robert in 2007.
She retired from competition after the birth of her daughter Klara in 2017, but she left her mark on the karate world.
The couple have two daughters: Klara (born May 2017) and Laura (born May 2020).
Anna won three medals at the senior World Championships and six medals at the European Championships in various age categories.
She is revered in her homeland for winning 29 Polish Championship medals.
Anna launched her own blog, Healthy Plan by Ann, in 2010.
Not only does it provide insight into her life, but it also provides workout tips and food recipes for the health-conscious.
She has written workout books, promotes her own exercise DVDs, and is known as the "Face of Fitness" in Eastern Europe.
Anna is also the President of the Special Olympics in Poland, which adds to her impressive list of accomplishments.
Anna is on Instagram. She has 4.4 million followers at the time of this writing.
Yesterday, the Barcelona player shared beautiful pictures of his wife and he celebrated her birthday.
"Happy Birthday to my best friend and the love of my life. @annalewandowskahpba", He wrote. "you are my greatest support and best motivation! May all your wishes come true".