(Reviews) Ge One and Done Washer and Dryer UltraFast Combo
Ge One and Done Washer and Dryer full review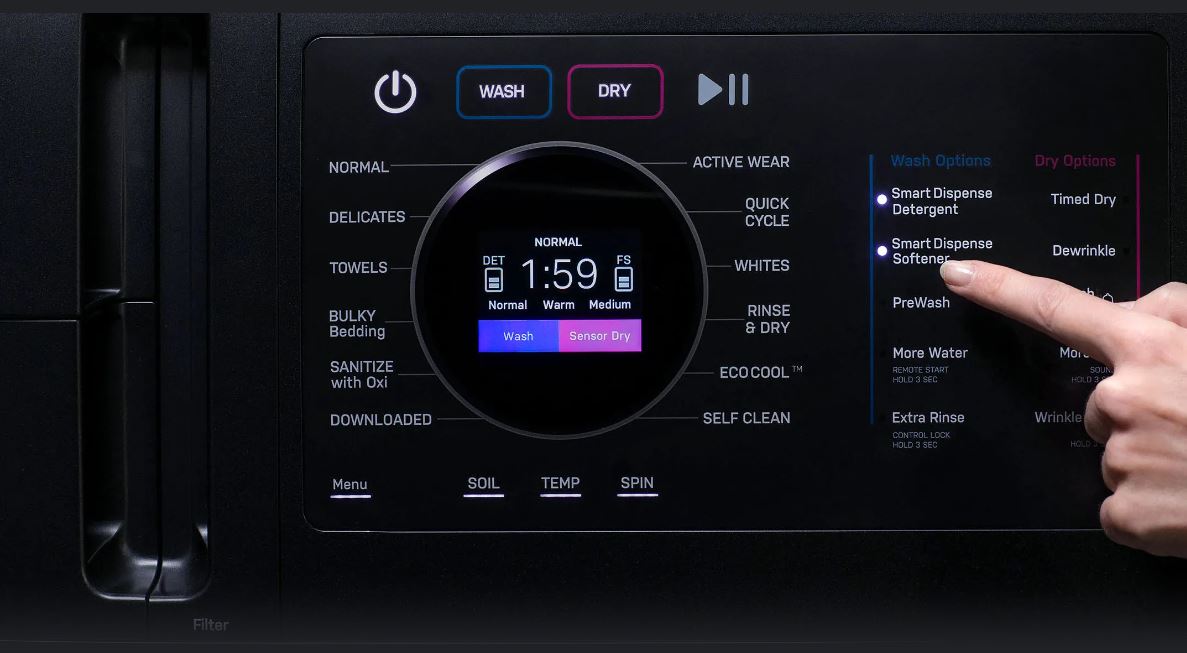 You are at the right place if you are looking for honest reviews about the Ge One and Done Washer and Dryer UltraFast Combo.
I will write a full review of the appliance and explain everything you need to know. Continue reading below to learn more.
---
What is the Ge One and Done UltraFast Combo?
The UltraFast Combo combines two tasks into one, allowing owners to complete their laundry from beginning to end while they are away from home or engaged in other activities.
Instead of allowing laundry to sit between cycles, the washer cycles to dry, relieving the owner of the burden and reducing time spent in the laundry room.
Ge One and Done: Honest Review
I will be writing an honest review about the Ge One and Done but first, let's talk about the general problems with combo washers and dryers.
Well, I normally advise against combo washers and dryers, especially for families with multiple users, because they cannot effectively remove lint.
Lint will eventually clog the machine, necessitating an expensive service call.
The GE Profile UltraFast Combo directly addresses the issue by installing a heavy two-sided filter before the front air exchanger.
Ge One and Done Features
2-in-1 Washer Dryer
That is, you will never have to transfer your clothes from the washer to the dryer.
Simply place your dirty clothes inside and they will dry.
You don't have to rewash a load that you forgot to put in the dryer.
Ventless Unit and 110 volt
This means that you can put it anywhere with an outlet and water source.
Plus, you will never have to worry about cleaning your dryer duct again.
Heat pumps, unlike regular ventless condenser dryers, do not project heat back into your room, though the profiles that got warm in our tests did.
Furthermore, the heat pump technology is similar to the high-end GE with the micro band coating resistance mode, which also includes the 32-load automatic dispenser, so it dispenses the right amount of detergent at the right time.
You can also track the remaining time on your phone and receive a push notification when the cycle is completed.
Other features and benefits:
Easy Installation & Space-Saving Solutions
It is very easy to install.
Greater Energy Savings
It has a 50% more energy-efficient drying with Ventless Heat Pump
Adaptive SmartDispense Technology
The dispenser saves time and effort by holding enough detergent and softener for up to 32 loads.
Furthermore, use the SmartHQ app to scan the barcode on the detergent or softener bottle, and the washer will dispense the appropriate amount based on the type of product used.
Microban Antimicrobial Technology
It has antimicrobial protection on the gasket, dispenser, and draining system, which helps to prevent odors and keeps your Combo fresh and clean load after load.
Smart Features Powered by SmartHQ
When connected to the SmartHQ app, you can select detergents, download specialty cycles, receive cycle status notifications, and initiate updates.
Large Wash Capacity
It has a large, 4.8-cu.-ft. capacity, allowing you to clean large loads and even a king-size comforter.
Limited Warranty
The motor is covered by a 10-year limited warranty, and the sealed drying system is covered by a 5-year limited warranty.
EZ Access Lint Filter System
It has an easily accessible lint filter system that allows you to remove lint and micro particles, ensuring your Combo runs at peak efficiency.
Ge One and Done Price
It cost $2,899.00.
Should You Buy This Product?
I recommend the product.
You can buy the product if you:
If You Only Have 110 Volts of Power
If You Have a Spare Room
If You're Replacing a Similar Machine
For Everyone Else
What other people are saying
Other reviews of the GE Ge One and Done Washer and Dryer UltraFast Combo are already pouring in.
Those who are satisfied with their purchase appreciate the washer combo and the washer's overall clean appearance.
Those who are dissatisfied with their purchase complain about Confusing Controls, unclear Instruction Manual, Drying was ineffective because it was constantly cold and there wasn't enough air, no other options to change the drying or heat level, and it took hours to clean a small amount of clothes.
Wrap Up
This unit is one of the most daring and inventive I've ever seen.
It's well-designed and engineered, and it does the job as advertised.
You must decide whether or not it is worthwhile to purchase.