Meet Real Madrid Player Karim Benzema's Wife and New Girlfriend (Jordan Ozuna)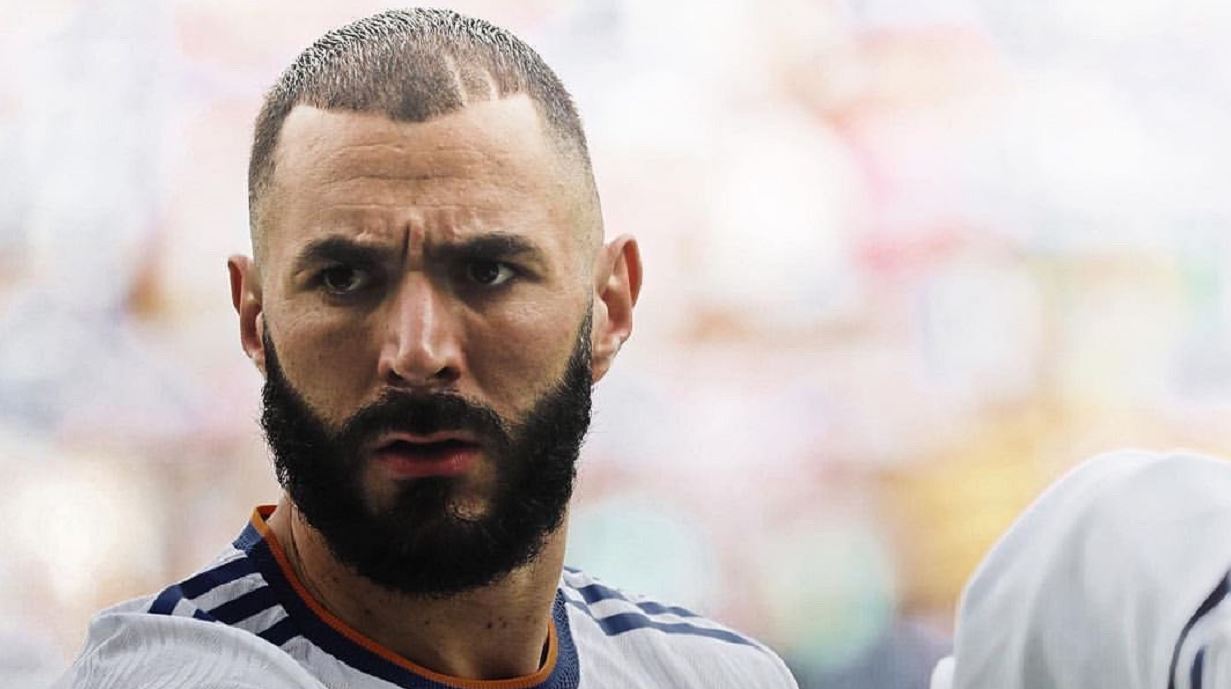 Karim Benzema has a beautiful wife and two kids. The footballer player is now dating an American model Jordan Ozuna. Read the full gist below.
How do footballers get beautiful wives? Drop tips in the comment section if you have clues, You can read more articles about your favourite footballer players and their girlfriends below.
Back to the gist,
The name of Karim Benzema's Wife is Cora Gauthier. She is a model and has 120k followers on Instagram. Nothing much is known about her because she has been living a private life.
Well, Benzema's fame brought Cora into the limelight.
In December 2015, the couple met in Dubai. The couple began dating soon after their initial encounter.
Cora later relocated to Madrid with Karim, and she has been a tremendous help in his personal life.
In December 2016, Cora Gauthier and Karim Benzema wed after dating for more than a year. The couple welcomed a boy on May 25th, 2017.
Benzema also has a daughter (Melia) with Chloe de Launay. She became Karim Benzema's first child and only daughter.
Karim Benzema has been in relationships with Jenifer Bartoli (2012), Whitney Toyloy, and Analicia Chaves.
He also had encounters with Rihanna (2015) and Zahia Dehar (2008).
Karim Benzema Relationships
Benzema first dated Zahia Dehar who is a French-Algerian fashion and lingerie designer.
When they first started dating, she was 16 but claimed to be older than 18. Anytime he wanted her close by, Benzema would pay for her plane tickets to visit him.
She presented herself to Frank Ribery while still a minor when their relationship ended. When both Benzema and Ribery were put on trial in the "Zahia scandal," the consequences of having an affair with a minor turned sour.
Karim Benzema has reportedly also dated Jenifer Yael. Their relationship started in 2012. She was older than him.
He was 4 years younger. The French singer was 29 years while he was 25. The couple met on the show and became attracted to one another.
Karim Benzema and Rihanna once had a "special" relationship. Their union commenced in 2015.
In 2015, Rihanna and Real Madrid player, (both 27 at that time), first stepped out together in New York City for an early breakfast date at 24-hour diner Coppelia on June 2. Sources confirm to Us Weekly.
Rihanna, who is a huge soccer fan, reportedly first reached out to the Real Madrid player during the 2014 World Cup. 
The two reconnected in Los Angeles on June 9 at the popular restaurant Hooray Henry's after their date in New York City. Benzema even brought RiRi roses.
"They're definitely hooking up," an insider tells Us Weekly, adding it's not that serious. "She's not officially dating him," another source explains.
Moreso, she was reportedly still hanging up with Chris Brown at the time.
Rihanna and Benzema disconnected in July 2015.
Benzema's relationship with pop superstar Analica Chavez started in August 2015 just after he ended his relationship with Rihanna.
After dating Analica Chavez, Benzema also dated Chloe de Launay. They welcomed a girl together. She was named Melia.
Karim Benzema then went on to date Cora Gauthier, They reportedly had a secret marriage in December 2016. They welcomed a baby boy on May 25th, 2017.
Karim Benzema and Jordan Ozuna's Relationship
Benzema is dating Jordan Ozuna.
The first indication that the two might be dating, was when she was visiting Paris a few months ago and Benzema happened to be playing in the Champions League final that same weekend.
Jordan shared some pictures on Instagram showing them appearing to be cuddling and having a private moment.
This has sparked reactions among fans.
"Why are models are only chasing professional footballers" One said.
Another said; "but Karim has wife and kids 😢".
Another fan said; "I wish all the best for you and my benzi".
Who is Jordan Ozuna
Jordan Ozuna is a model. She is a 31-years-old
Ozuna, who began her career as a waitress in Las Vegas, is currently represented by a number of modeling agencies, including The Salt Agency in Atlanta, State Management in New York, Caroline Gleason Management in Miami, and Tricia Brink Management in Los Angeles.
She is rumored to have dated Justin Bieber in 2013 and famous rapper Puff Daddy in 2020.
By the way, there have been numerous online rumors in recent months claiming that Benzema and Gauthier have split up. There has not been accurate information to confirm these claims.
Karim Mostafa Benzema is a striker for the France national team and La Liga team Real Madrid. He is a French professional football player.
Benzema is a playmaker and prolific attacker who is well-known for his finishing and playmaking. He is recognized as one of the best strikers of his time. He is the second-highest goalscorer and best assist provider in Real Madrid's history.