Lando Norris wins F1 Best Overtake Of 2021, beats Max Verstappen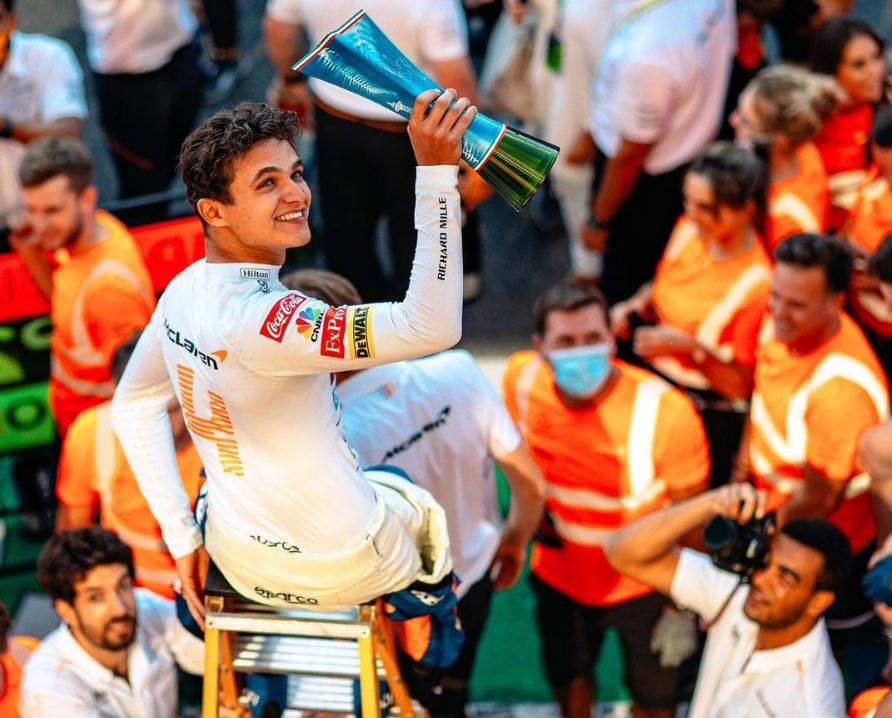 Formula One racing driver Lando Norris has beaten Max Verstappen to win the F1 best overtake of 2021.
A Twitter poll was conducted by Formula 1 where he got the most votes. A total of 76,130 were made. "We're down to the final two! It's @LandoNorris v @Max33Verstappen for the best overtake of 2021" F1 tweeted. "and your votes will decide the winner!".
Lando Norris had 53.8% votes while Max Verstappen had 46.2% votes.
In 2015, Norris won the MSA Formula Championship, and in 2016, he won the Toyota Racing Series, Eurocup Formula Renault 2.0, and Formula Renault 2.0 Northern European Cup. That year, he also won the McLaren Autosport BRDC Award. He went on to win the FIA Formula 3 European Championship in 2017. He was a participant in McLaren's Young Driver Program.
However, The Bristol-born F1 driver reacted to him winning the best overtake of 2021. "wow. my first f1 win", He tweeted.
Norris' racing career began when he was seven years old, when he won pole position in his first national event. Norris won the CIK FIA European Championship and the International Super Cup, as well as the WSK Euro Series, in KF-Junior karting in 2013. He became the youngest karting world champion the following year when he won the CIK-FIA KF World Championship with Ricky Flynn Motorsport.
Norris joined McLaren as a junior driver in February 2017. Norris later tested for McLaren in a scheduled mid-season test later that year. On the second day of testing at the Hungaroring, he set the second-fastest lap. Norris was named the official McLaren test and reserve driver for the 2018 season in late 2017. [28] Norris completed 26 laps in his first official practice session at the Belgian Grand Prix. Throughout the year, Norris drove in six more practice sessions.
Norris admitted to struggling with his mental health as a result of the sport's pressures when he first entered Formula One in 2019, resorting to the Mind organization for help.