Who is Evina Westbrook? Does Russell Westbrook Sister Play Basketball?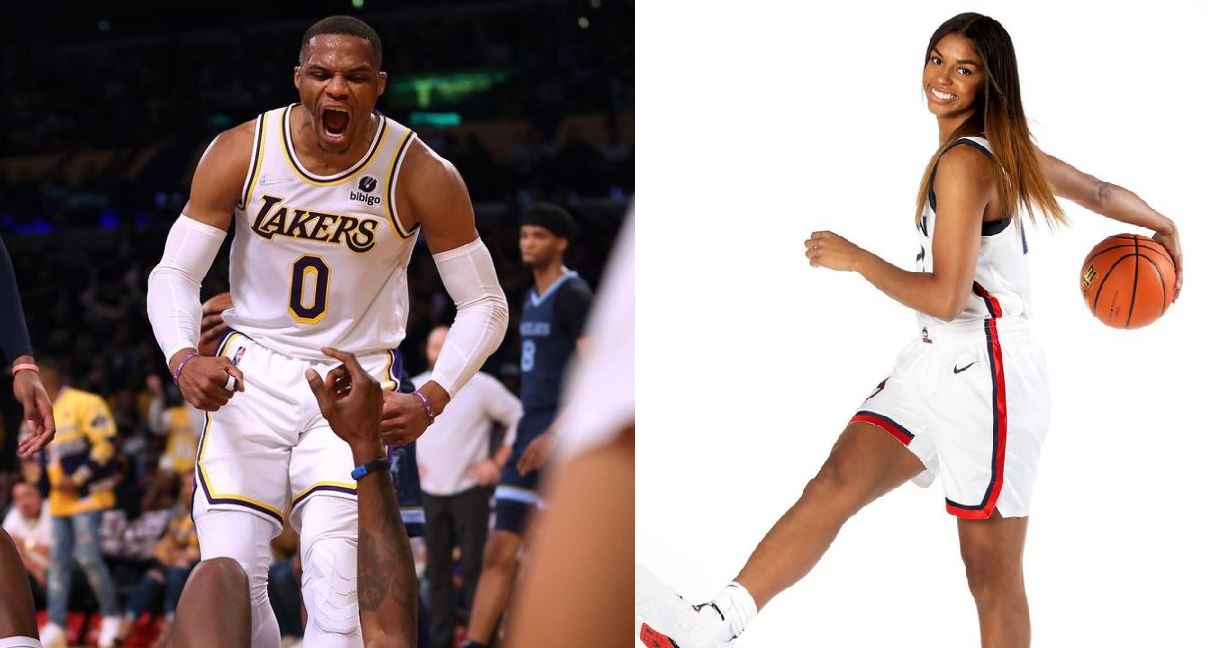 Russell Westbrook is a professional basketball player for the Los Angeles Lakers of the National Basketball Association (NBA).
There is a misconception that he has a sister named Evina Westbrook who also plays Basketball but this is not true
Who is Russell Westbrook?
Russell Westbrook is an NBA basketball player who currently plays for the Los Angeles Lakers of the National Basketball Association (NBA).
He is a nine-time NBA All-Star and the 2016–17 NBA Most Valuable Player Award (MVP). He was a part of the NBA 75th Anniversary Team.
He has also been named to the NBA All-Star Team nine times, led the league in scoring in 2014–15 and 2016–17, and won the NBA All-Star Game MVP award back-to-back in 2015 and 2016.
Russell Westbrook Jr. and Shannon Horton raised Westbrook in Long Beach, California.
Raynard, his younger brother, is his only sibling.
Westbrook and his closest buddy Khelcey Barrs III dreamed of going to UCLA and playing together as kids in Hawthorne. Barrs died of an enlarged heart during a pick-up game in May 2004.
Throughout his time at the University of California, Los Angeles, Westbrook wore the number 0 jersey. He was a backup to Darren Collison as a freshman in 2006–07, mostly serving as a defender and energy player off the bench.
Westbrook had a season average of 3.4 points, 0.8 rebounds, and 0.7 assists.
He put in a lot of work throughout the offseason, both in the weight room and in the gym, where he fought NBA veterans who came to Los Angeles.
Collison was injured the next season, and Westbrook was designated the starter.
He averaged 12.7 points, 3.9 rebounds, 4.7 assists, and 1.6 steals per game this season. He was chosen to the All-Pac-10 Third Team and was voted Pac-10 Defensive Player of the Year at the end of the season.
He was chosen for the FIBA World Championship squad in Istanbul, Turkey, in 2010.
Westbrook was a standout on a squad that didn't include a single player from the 2008 Olympic gold-medal team.
Westbrook finished in the top five on the squad in minutes per game, as well as the top three in points and assists per game, for the 2010 team, which depended largely on a small roster.
Team USA won the World Championship for the first time since 1994, going 9–0.
Team USA was automatically qualified for the 2012 Olympics in London, and they surpassed Argentina to take the top spot in the world rankings.
Westbrook was again chosen to represent the United States at the 2012 Summer Olympic Games in London, where he earned a second gold medal. He turned down an offer to compete in the 2016 Olympics.
Who is Evina Westbrook?
Evina grew up in Albany, Oregon, and currently lives in Salem.
Tyler, Bryce, L.J., and Tko are her four brothers. She is the daughter of Eva and James Westbrook.
Her father played basketball at Oregon State University and professionally in Chile; her brother, L.J. Westbrook, is a basketball player at Prairie View A&M University; and her cousin, Avry Holmes, is a Clemson University basketball player.
Grandfathers Juan and Arnoldo Garcia, as well as uncle Adan Alvarez, all served in the United States Army.
Evina was also a member of the Honor Roll in high school.
Does Russell Westbrook's Sister Play Basketball?
No.
Evina Westbrook and Russell Westbrook are not related. The 23-year-old basketballer, Evina, Compares her game to Russell Westbrook.