Salt Bae feeding meat to a woman in front of her boyfriend got Twitter reacting (video)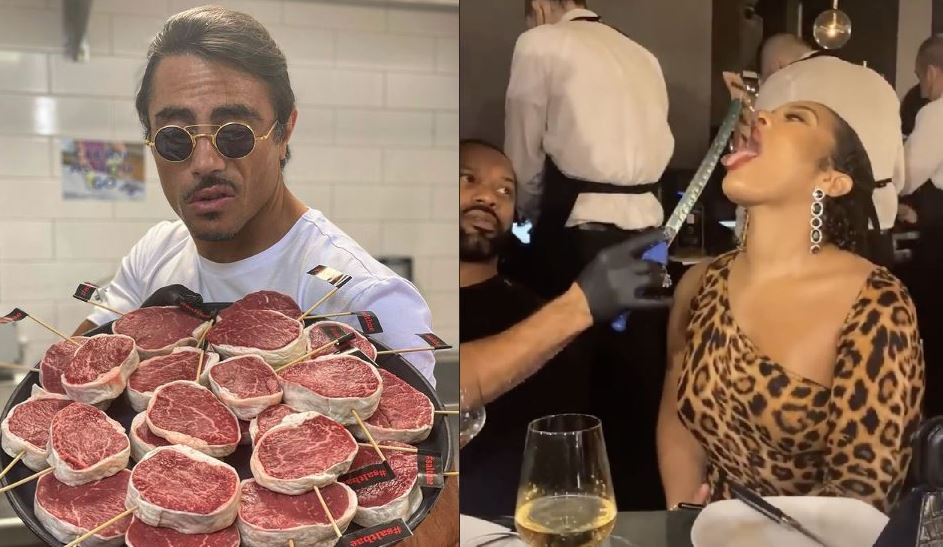 A viral video of chef 'Salt Bae' feeding meat to a woman at his restaurant while the boyfriend was stunned has sparked conversation on Twitter.
In the 15 secs video which was shared on Twitter, Turkish chef Nusret Gökçe known as Salt Bae was seen feeding a lady meat while the boyfriend was right by her side — her man's reaction has got Netizens reacting.
"men need 2 calm down about salt bae's service like they don't want 2 go to strip clubs w/o jealousy. if ur both super monog and have jealousy bout that stuff then ok if" A man wrote.
Another added: "I'll pass on the forearm salt, the whole Salt bae thing is dumb, he's famous for a dumb way of seasoning, and keeping it up by wrecking relationships…cool chap that lad. I guess the guy should know what to expect there by now too, so I guess there is that."
See more reactions below:
This is coming few months after a man went angrily into Nusr-Et restaurant after he saw his woman twerking for Gökçe.
The video which was shared by Tiktok user "attack_helicopter1234" in september 2020, got over 500k views and reactions.