𝐈 love you mom – Barry Jhay appreciates mother in lovely Instagram post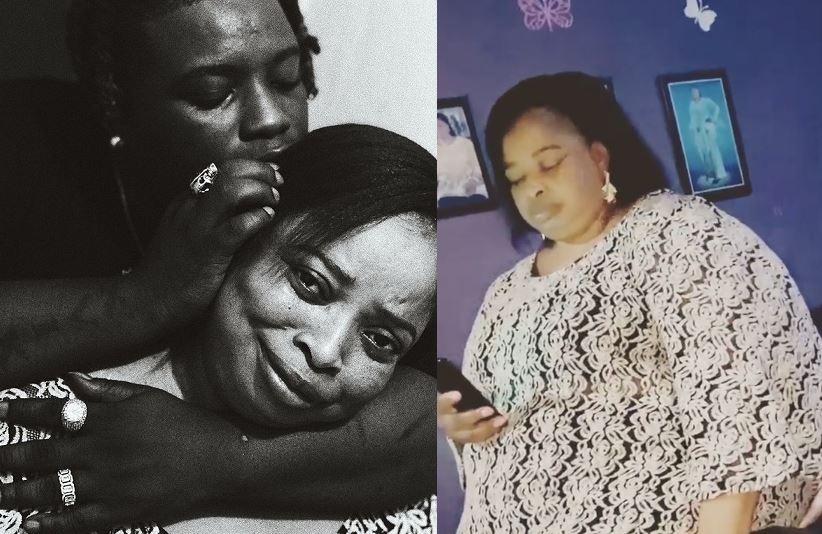 Nigerian singer Oluwakayode Junior Balogun known as Barry Jhay has gone on Instagram to appreciate his mother in a lovely post.
 The son of late Fuji music king, Ayinde Barrister thanked God for blessing him with a wonderful mom. "𝐈 𝐛𝐥𝐞𝐬𝐬 𝐭𝐡𝐞 𝐝𝐚𝐲 𝐲𝐨𝐮 𝐛𝐫𝐨𝐮𝐠𝐡𝐭 𝐥𝐢𝐨𝐧 𝐤𝐢𝐧𝐠 𝐢𝐧𝐭𝐨 𝐞𝐱𝐢𝐬𝐭𝐞𝐧𝐜𝐞. 𝐈 𝐭𝐡𝐚𝐧𝐤 𝐆𝐨𝐝 𝐚𝐧𝐝 𝐭𝐡𝐞 𝐚𝐧𝐠𝐞𝐥𝐬 𝐢𝐧 𝐡𝐞𝐚𝐯𝐞𝐧 𝐟𝐨𝐫 𝐦𝐚𝐤𝐢𝐧𝐠 𝐲𝐨𝐮 𝐦𝐲 𝐦𝐨𝐭𝐡𝐞𝐫" He wrote.
He added: "𝐒𝐡𝐞 𝐬𝐚𝐢𝐝 𝐢𝐟 𝐬𝐡𝐞 𝐢𝐬 𝐭𝐨 𝐩𝐢𝐜𝐤 𝐚𝐠𝐚𝐢𝐧 𝐬𝐡𝐞 𝐰𝐨𝐮𝐥𝐝 𝐩𝐢𝐜𝐤 𝐦𝐞 !𝐢𝐧 𝐦𝐲 𝐧𝐞𝐱𝐭 𝐥𝐢𝐟𝐞 𝐈 𝐰𝐚𝐧𝐭 𝐲𝐨𝐮 𝐚𝐠𝐚𝐢𝐧. 𝐘𝐨𝐮 𝐭𝐚𝐮𝐠𝐡𝐭 𝐦𝐞 𝐭𝐡𝐞 𝐡𝐚𝐫𝐝 𝐰𝐚𝐲 𝐭𝐨 𝐛𝐞 𝐚 𝐦𝐚𝐧."
Barry Jhay said when he ran away from home at age 17, she stood with him regardless. "𝐈 𝐩𝐫𝐨𝐦𝐢𝐬𝐞 𝐭𝐨 𝐚𝐥𝐰𝐚𝐲𝐬 𝐦𝐚𝐤𝐞 𝐲𝐨𝐮 𝐡𝐚𝐩𝐩𝐲. 𝐈 𝐋𝐎𝐕𝐄 𝐘𝐎𝐔 𝐌𝐎𝐌" He concluded.