'Cancel Student Loan Debt Now' – Progressive Lawmakers to Biden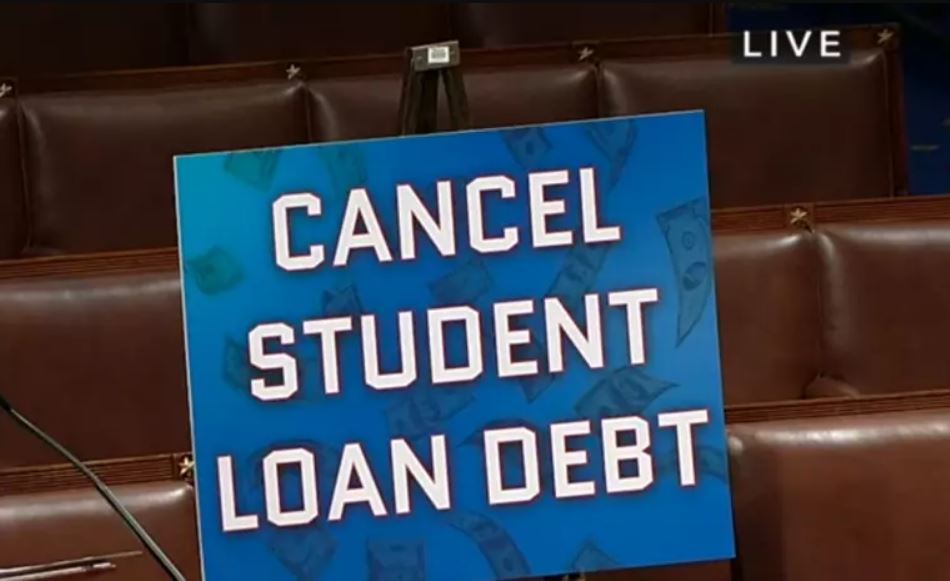 A group of progressive lawmakers is urging the Biden administration to cancel student debt.
"Student loan payments resume in 61 days. Borrowers are NOT ready or able to restart them," Rep. Pramila Jayapal (D-Wash.), chair of the Congressional Progressive Caucus, tweeted late Thursday.
"It's time for @POTUS to cancel student debt," she said.
Jayapal was one of a number of progressive House Democrats who spoke out on Thursday about the need for comprehensive relief, with several of them citing their personal student debt woes. Commondreams reported.
Thirty-two-year-old Rep. Alexandria Ocasio-Cortez (D-N.Y.), who said the crisis—which now stands at over $1.8 trillion and affects roughly 45 million Americans—had reached a "ridiculous" level, noted that she still has over $17,000 in student loan debt and that the prospect of going deeper into debt prompted her decision not to pursue graduate school.
Part of the problem, she said, is that it can be "teenagers signing up for what is often hundreds of thousands of dollars of debt… and we think that's responsible policy."
"This is unacceptable," she said, adding federal policies in the U.S. are "actively disincentivizing" people from growing to college—a situation she called "backwards."
As Rep. Ayanna Pressley (D-Mass.) pointed out in her remarks, the educational debt isn't merely a problem for those recently out of school.
"I have 76-year-old constituents in the Massachusetts 7th still paying student loans," she said, "all while on Social Security and a fixed income."
President Joe Biden using his executive authority to wipe out $50,000 per borrower in student debt, said Pressley, would be "one of the most effective ways that he can provide sweeping relief to millions of families while helping to reduce the racial wealth gap to lay the groundwork for an equitable and just long term recovery."
"This is a crisis created through policy decisions," she added. "We have a responsibility to address it head-on."
Progressive groups and lawmakers have urged Biden to exercise the legal authority they say he has under Section 432(a) of the Higher Education Act to cancel student debt.
As of Thursday, the White House has not indicated a further extension of the loan payment pause relief, and while Education Department officials this week lamented the student debt crisis and touted the administration's efforts to provide relief to a small subsection of borrowers, a plan for broad debt cancellation was not put on the table.
In addition, a draft memo Biden requested on his authority over the cancelation was obtained through a Freedom of Information Act request by the Debt Collective—but it is nearly entirely redacted and has still not been made visible to the public.
The lawmakers' remarks came as new polling showed a dire economic situation by some borrowers as the payment moratorium ends at the end of January.