CA SDI Login | California State Disability Insurance Online Application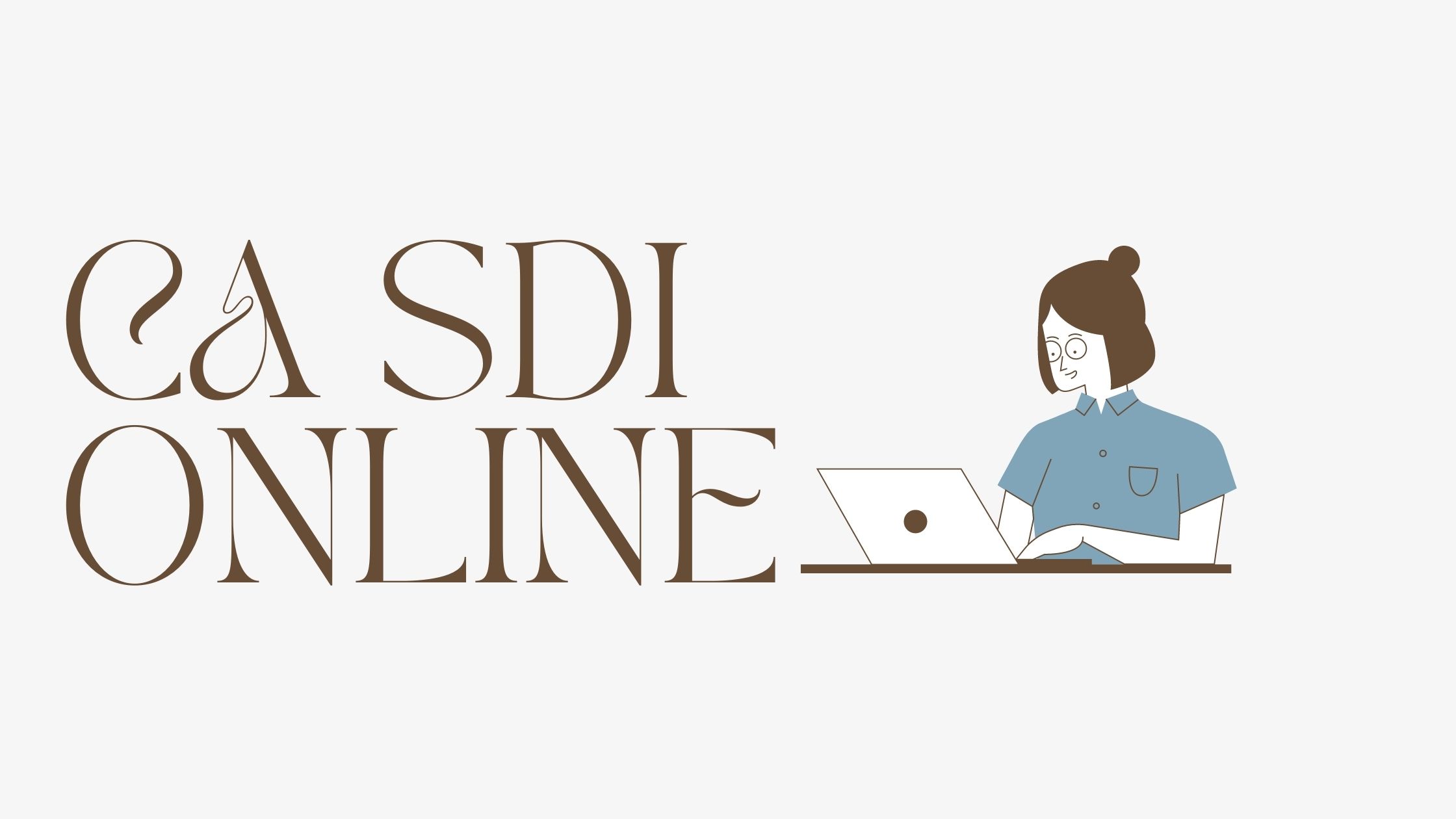 Short-term Disability Insurance (DI) and Paid Family Leave (PFL) wage replacement benefits are provided through the California State Disability Insurance (SDI) program to eligible workers who require time off work.
If you are unable to work due to a non-job-related illness or injury, pregnancy, or childbirth, you may be eligible for DI.
You may be eligible for Paid Family Leave Benefits (PFL) to:
Care for a seriously ill family member.
Bond with a new child.
Participate in a qualifying event because of a family member's military deployment to a foreign country.
CA SDI Online Application
SDI Online is quick, simple, and safe. When you use SDI Online to file or manage your claim, you'll be able to:
Reduce your claim processing time.
Provide online confirmation of forms you submit.
Provide access to claim information.
Include security safeguards to detect and manage fraud and abuse.
Required Documents
You must provide the following information to file a DI claim:
Valid California Driver License (CDL) or Identification (ID) card number.
Your full legal name as it appears on your CDL or ID.
Date of birth as shown on your CDL or ID.
Social Security number.
Most current employer's business name, phone number, and mailing address (as stated on your W-2 or paystub).
Last date you worked your normal or usual duties (or the date you began working less than full or modified duty).
You must also give the following information only if it applies to you:
Any wages you received or expect to receive from your employer (sick leave, paid time off (PTO), vacation pay, annual leave, and wages earned after you stopped working).
Any workers' compensation claim information.
If you receive in-patient treatment at an alcohol recovery home or drug-free rehabilitation facility, provide the name, address, and phone number of the home or facility.
Create BPO Account
Before you can use SDI Online, you must first create a Benefit Programs Online (BPO) account. Click HERE to register.
Note: BPO is available 24 hours a day, 7 days a week. You are not through with BPO once you have registered. An email with a link will be sent to you to validate your account. To finish your registration, click the link.
For security purposes, the link will expire within 48 hours. Check your spam or junk mail bin if you don't receive this message in your inbox.
Register for SDI Online
Select SDI Online after logging into BPO. Your SDI Online Registration Options will be directed to you.
Once you've completed the registration procedure, you'll be given an EDD Customer Account Number. You will also receive an email and postal confirmation of your registration.
File DI Claim Online
To file your claim online, follow these steps:
Log in to your BPO account.
Select SDI Online.
Select New Claim.
Select Disability Insurance and follow the steps in each section.
Submit the completed Part A – Claimant's Statement.
Save your receipt number. You must provide this number to your physician/practitioner.
You must submit your DI claim within this timeframe:
Wait nine days after you become disabled to file your claim.
File your claim within 49 days of becoming disabled to avoid disqualification.
Medical Certification
Your physician/practitioner can locate your claim in SDI Online using your form receipt number after it has been received.
If your physician/practitioner does not submit the certification within 30 days of the start of your incapacity, you may forfeit your benefits.
Consult your physician/practitioner about the steps involved in filing a DI claim (not all physicians/practitioners follow the same procedure).
Your claim will not be processed until your part and the medical certification have been received. You must submit your completed claim within this timeframe:
Wait nine days after you become disabled to file your claim.
File your claim within 49 days of becoming disabled to avoid disqualification.
Make sure you don't submit the same claim twice. This will cause your claim to be delayed.
Claim Submitted, What Next?
You have successfully filed a DI claim after your physician/practitioner submits your medical certification. Within 14 days, you will be contacted about the status of your claim.
Your employer will be alerted that you have filed a claim for disability insurance. Medical information, on the other hand, is kept private and will not be shared with your employer.
About State Disability Insurance (SDI)
The California State Disability Insurance (SDI) program covers approximately 18 million workers in the state. SDI is a wage-replacement insurance program for California workers who are eligible. SDI is a tax that is deducted from an employee's pay. On your paystub, this is commonly indicated as "CASDI."